Meghalaya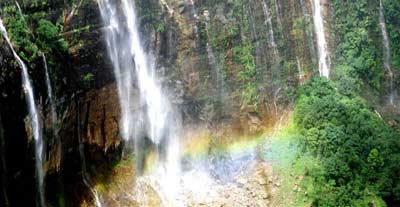 Meghalaya, swaddled amidst wraith-like mists is aptly called the abode of the clouds. It is one of India's prettiest and youngest states (the 21st), having split away from Assam in 1972. Inhabited by the Khasis, Jaintia and Garos, it is best known for the pretty hill station Shillong, which has been Meghalaya's First City for a long time. Christianity has been a compelling force amongst all three. Meghalaya borderlines with Assam
and Bangladesh.
Standing out amongst the other states, not just for its traditional and natural beauty, Meghalaya is also known for its unique matrilineal society, which governs lineage and ancestral inheritance through the female line.
With British conquest, Bengalis came in as administrators, the Nepalese served in the military and the Marwaris stepped in as traders. Christian missions were established among the Khasis and in the Garo Hills and Shillong was to become an important educational centre, a summer resort and also a garrison station. It was not just the British who ended up enjoying the benefits of these developments.
for centuries now, Meghalaya's historical strengths have been irreversibly linked with its superlative natural setting. For the discerning holiday-maker, nothing could be more enticing...
Meghalaya's natural beauty is most conducive for extended holidays with the hill station of Shillong continuing to be a hot favourite. Three hundred varieties of orchids are found in the state which is also rich in wildlife. Meghalaya has two national parks which are home to some rare species of flora and fauna. The gentle hills of Meghalaya are inter-spersed with rich meadows and pine forests.
Amongst these is that intriguing phenomenon - the traditional Sacred Forests that are steeped in spiritual belief and held in great veneration. They also represent some of the earliest representations of preserving the ancient eco-systems. Just 20 km from Shillong you will find the Mawphlang Sacred Forest in all its pristine wonder. Meghalaya is also home to that unique carnivorus plant, the Pitcher Plant. From the Jaintia Hills, Sir Joseph Hooker the renowned botanist took the blue vanda (vanda coerulea) to propagate it in London's famous Kew Gardens. You will discover the blue vanda, lady's slipper and other rare orchid varieties in the flower gardens of Shillong.

Meghalaya - Information on Fairs & Festivals, Wildlife, Excursion, Adventure, Weather, Travel, Tourism, tours and Major Cities of Meghalaya india