Uttar Pradesh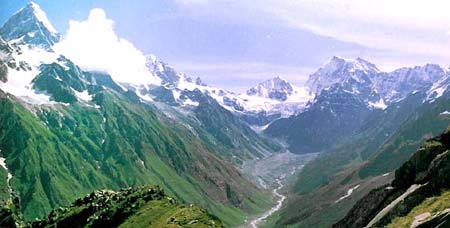 Situated in the northern part of India, it has the distinction of being the most populous state of India. In terms of area, it is the fourth largest, among all the states. The wealth of its monuments, mystical call of its mountains and lakes, and the religious fervour that it evokes, have rendered Uttar Pradesh, one of the most fascinating states of the Indian Union. Whether one is on a spiritual quest, or in search of adventure, or just on a curiosity trip, Uttar Pradesh has something to offer to everyone.
It is divisible into three distinct regions geographically; the Himalayan region on the north, the vast Gangetic plain at the centre, and the Vindhya Range and plateau on the south. Uttar Pradesh is watered by the mighty rivers of northern India - Ganga, Yamuna, Ramganga, Gomati and Ghaghara. Almost all the important towns and trading centres of the state, are clustered around these rivers. The confluence of the Ganga and Yamuna, the two most sacred rivers of India, at Allahabad, has been a vital pilgrimage site through the centuries.
Uttar Pradesh offers an endless array of attractions, to the tourist by way of monuments, health resorts, mountain peaks, a wealth of ancient temples and viharas, rich flora and fauna, fascinating rivers and captivating valleys. Agra, Ayodhya, Sarnath, Varanasi, Lucknow, Mathura and Prayag combine religious and architectural marvels; Nainital, Mussorie, Ranikhet and Almora are hill resorts of rare charm; Corbett and Dudhwa National Parks head a long list of wildlife reserves and sanctuaries; Yamnotri, Gangotri, Kedarnath, Badrinath, Hemkund and the Pindari Glacier, enfolded wthin the Himalayan ranges, offer a combination of adventure, pilgrim centres and natural beauty.
World famous Taj Mahal, a mausoleum of matchless beauty , the deserted city of Fatehpur Sikri in Agra; the capital city of Lucknow - the erstwhile state of Nawabs; the birth place of Lord Krishna - Mathura are some of the other places of great interest. Besides, Uttar Pradesh boasts of many beautiful hill stations like Mussoorie, Nainital, Almora, Ranikhet, Pitthoragarh. Last but not least, there are wildlife sanctuaries of world fame - Corbett National Park, Dhudwa National Park and endless options for trekking, mountaineering and white water river rafting on the Ganges.

Uttar Pradesh - Information on Fairs & Festivals, Wildlife, Excursion, Adventure, Weather, Travel, Tourism, tours and Major Cities of Uttar Pradesh India