Karnataka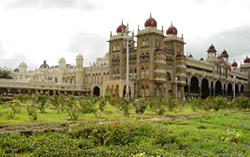 Karnataka, created in 1956 from the princely state of Mysore is the land of roses, the land of enchanting perfume of sandal and agarbathis, the aroma of fresh roasted coffee beans and the head fragrance of the Mysore Mallige. It has a balanced mix of natural attractions and superb historic architecture. The poem of greatest Kannada poet K.V.Puttappa is the best description on Karnataka, The description says
"Hail ! the beloved daughter of the Mother India;
Hail ! the Motherland Karnataka!
Hail ! the land of beautiful mountains and forests,
Hail ! thy abode of gifted saints and poets! "
Karnataka is situated in the Deccan Plateau and is bordered by the Arabian Sea to the west, Goa to the northwest, Maharashtra to the north, Andhra Pradesh to the east, Tamil Nadu to the east and southeast, and Kerala to the southwest. It is situated at the angle where the Western Ghats and Eastern Ghats of South India converge into the Nilgiri Hills. Topographically, Karnataka consists of the Arabian Sea Coast , Western Ghats , Deccan Plateau and Eastern Ghats.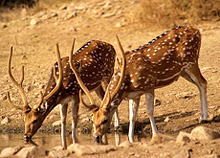 Karnataka is India's one of the most treasured state. Endeavor this season, the most unusual experience with the excursion to the finest cities and places in the state. If you are a wild life freak, the state can take you on the expedition of its richest natural beauty flourishing its enchanting wild life. Relish the traditional flavors of the state and pep up your taste buds. Celebrate each n' every moment with peculiar fairs and festivals of the state. Enjoy the opportunities for adventures and sports that are as varied as the state's terrain.
The state has its exclusive cultural ethos that is manifested through its traditional crafts. Enjoy shopping during the unforgettable excursion to the magnificent villages and royal cities of the state. Savor the splendors of the state from a varied range of Hotels and Accommodation facilities available.
| | |
| --- | --- |
| Capital | Bangalore |
| Districts | 28 |
| Population | 5,27,33,958 (2001 census) |
| Area | 1,91,791 sq km |
| Religions | Hinduism, Islam, Christianity and Jainism |
| Principal Language | Kannada |
Karnataka - Information on Fairs & Festivals, Wildlife, Excursion, Adventure, Weather, Travel, Tourism, tours and Major Cities of Karnataka india