Delhi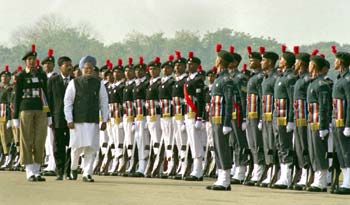 Delhi, Capital of India and the third largest city in India, lies at an altitude of between 700 and 1,000 feet (213 and 305 metres) and covers an area of 1,485 square kilometres. Situated on the Yamuna River (a tributary of the Ganges River) Delhi is bordered on the east by the state of Uttar Pradesh and on the north, west, and south by Haryana. It generally has been presumed that the city was named for Raja Dhilu, a king who reigned in the 1st century BC , and that the various names by which it has been known (Delhi, Dehli, Dilli, and Dhilli) have been corruptions of this name.
Walk into the majestic capital city New Delhi and you soar high, feeling the attraction of the surroundings. The India Gate pays deference to the soldiers who laid their lives for India in the Afghan war. The Raj Ghat glorifies the memories of Father of the Nation, Mahatma Gandhi. The other historical moments like Red Fort, Qutab Minar, Humayun's Tomb, Lodhi Gardens, Chandni Chawk etc. stand in pride to enliven the Mughal era and Indo-Islamic architecture in India. The Rashtrapati Bhawan and other modern building, shopping centres, Metro Project and huge flyovers present a perfect blend of modernity with tradition.
Delhi as a city has faced many wars, witnessed many thrones and seen many heirs moulding the city in their own way. Still Delhi has resumed its capital status again and again. Today Delhi has two distinct projections that wait for a tourist. Whereas the Old Delhi represents Delhi of Mughal empire with narrow and crowded roads with monuments like Red Fort, Chandni Chawk etc.; New Delhi is an educational, political and administrative hub of India.
Delhi is surrounded by a high stone wall, erected in 1638, and is approached through seven arched gateways, including the Delhi Gate in the south, the Ajmer Gate in the east, and the Kashmere Gate in the north. Within the walls is a maze of congested narrow streets, alleys, busy bazaars, and some of the nation's most spectacular Indo-Muslim architectural features.
A well-connected and efficient air, rail and road network in New Delhi has aptly made it the focal point of India travel. All the flights, trains and buses commence from New Delhi and terminate into the major tourist destinations of India like - Goa, Kerala, Rajasthan, Himachal Pradesh, Jammu Kashmir, Tamil Nadu etc. The nearby tourist excursions possible from Delhi include Neemrana, Kesroli, Mud Fort, Sultanpur, Surajkund etc. other than the adjoining National Capital Regions (NCR) - Noida and Ghaziabad in Uttar Pradesh, Gurgaon and Faridabad in Haryana.


Delhi - Information on Fairs & Festivals, Wildlife, Excursion, Adventure, Weather, Travel, Tourism, and Tours of Delhi India