Wildlife
Owns the land ruled by 269 Royals. West Bengal's wild life offers a fascinating diversity of terrain, flora and fauna. It is a delight for nature lovers. It is the home to the World Heritage Site – Sunderbans.
Sunderbans - A World Heritage Site
Rediscover the natural treasures
Ever thought of spending a whole day in the midst of mudclad crocodiles, hopping Cheetals and majestic Royal Bengals! If not, then come to Sunderbans.
A World Heritage Site (awarded by UNESCO in '97) that evokes the feeling of an animal lover in you. Where after a close encounter with the wild you can spend the adventurous night in the launch under the shooting stars.
Situated on the lower end of the Gangetic West Bengal, 22.00° N – 89.00° E, is this world's largest delta covered by mangrove forest and vast saline mud flats. A land of 54 tiny islands, crisscrossed by innumerable tributaries of Ganga, that was once infested by Arakanese and Portuguese pirates is now the abode of varied flora & fauna population. An area of 9630 sq. km., where 70 percent is under saline water makes the life of commoners, mostly honey-catchers, prawn-catchers and fishermen, very difficult. This is Sunderbans, the world's largest estuarine forest.
The undiscovered greenery
Sunderbans, the place that owes its name to Sundari trees, consist of a large flora population like Genwa, Dhundal, Passur, Garjan and Kankra. Apart from these trees, impenetrable Goran trees between 1.8 mtr. & 3.6 mtr. high covers almost the entire region. One of the most remarkable feature of this place is the bayonet like roots of mangrove forests that stick out above the water level.
A land ruled by 269 Royals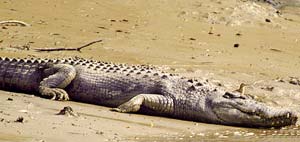 The land that is inhabited by Royal Bengal Tigers is not far from Calcutta. You can explore unknown wildlife of Sunderbans that harbour jungle cats, fishing cats, Axis deer, wild boar, Rhesus monkeys, mongooses and the largest estuarine crocodiles in the world.
Sunderbans is the breeding ground of immense variety of birds like Heron, Egret, Cormorant, Fishing Eagle, White Bellied Sea Eagle, Seagul, Tern, Kingfisher as well as migratory birds like Whimprel, Black-tailed Godwit, Little Stint, Eastern Knot, Curlew, Sandpiper, Golden Plover, Pintail, White-eyed Pochard and also Whistling teal. Come and discover wide variety of aquatic and reptile life forms that include Olive Ridley sea turtle, hardshelled Batgur Terrapin, Pythons, King cobra, Chequered killback, Monitor and lizards including the Salvator lizards.
Best Season
The best time to be in wildlife belts of the region is September-March. Although the luxury tours to the Sunderbans carry on the year round, and the monsoon holds its own magic over tourists on the expanse of the Sunderbans, September-March is the most likely time for tiger-sighting.
---
The D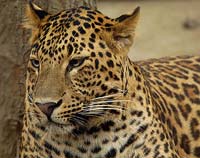 ooars
The forested areas of Northern West Bengal present a plethora of Wildlife.
Imagine a stretch of land 130 km. long by 48 km. wide where nature has lavished all her bounties. And you know it's Dooars.
Here, an unending stretch of virgin forests is crisscrossed by the river Teesta and her innumerable tributaries. Beautiful motorable roads cut through deep forests, rich with wildlife. Mauve hills stand at the end of velvet green plains. The forests echo with the melody of birds. In between, there are fabulous wildlife sanctuaries with picture-postcard, log cabin lodges and valleys carpeted with tea gardens.
---
Jaldapara
Jaldapara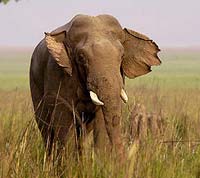 Wild Life Sanctuary situated in Alipurduar Sub-Division of Jalpaiguri District in West Bengal is about 124 km from Siliguri. This sanctuary was constituted in the year 1941 for the protection of Wild Life, particularly one-horned rhinos, an animal threatened with extinction.
River Toorsa runs through the Sanctuary. The forest is mainly savannah covered with tall elephant grasses. The wild life, in addition to one-horned rhinos, consists of Royal Bengal Tigers, wild elephants, deers, sambhar, barking deer, spotted deer and hog deer, wild pig, bisons and a number of birds, peafowls. Elephant ride is arranged for viewing of wild life preferably at dawn.
Nestled in the heart of the picturesque Dooars, is the habitat of the rare one-horned rhinoceros, the mighty bison, the spotted deer, the barking deer, huge tuskers, fearsome wild boars and a variety of birds and animals. Elephant safaris can be enjoyed at the Sanctuary.
Best Time To Visit
Between September and March, specially in winter to catch a view of the migratory birds. October to May, particularly March and April, when new grass is growing.
---
Buxar Tiger Reserve
Not only the tiger, but a wide range of animals including the elephant, gaur, leopard and sloth bear can be found here. The Rydak River is rich in Mahaseer.
Best Time To Visit : November to April
---
Singalila National Park
Singalila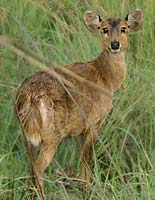 National Park located on the north-western border of Darjeeling District of West Bengal, with the state of Sikkim on its northern boundary and Nepal on its West. A motorable road from the nearest town of Moneybhanjyang to Phalut serves as an internation border between Nepal and India. Singalila National Park extends within an altitudinal range of 2400-3636 Mts. covering an area of 78 sq. km.
The park hordes a variety of rare and important medicinal plants like Aconitum spp., Vaccinium spp., Swertia Chirata, Iris spp., Acorus spp., Aralia Pseudoginseng, Meconopsis spp. There exist a varity of orchids in the park some of which are Satyrium spp., Pleione Kumilis, Rhynchostylis spp., Coelogyne spp. etc. During the post monsoon season a varity of wild flowers are in room like Primulas, Geraniums, Saxifraga, Bistora, Senecio, Cotoneaster etc.
The park has major mammalian fauna like the Red Panda, Himalayan Black Beer, Leopard Cat, Clouded Leopard, Barking Deer, Serow, Yellow Throated Marten, Wild Boar, Himalayan Mouse Hair.
The park is very rich in avifauna and has many interesting galliform specis like the Satyr Tragopan, Kaleej Pheasant, Blood Pheasant and the Red Brested Hill Patridge. Besides this birds of all shapes, sizes, colors and hues have their homes in this park.
Singali National Park is one of the most popular trekking zones in West Bengal. Two popular tourist season can be distinguished, one in the spring during March - April - May and the other in the pre - winter months beginning in September to early December. Tourist mainly visit the area for the unique view of the mountain ranges including the famous Kanchendzongha and its whole range and also the mount Everest ranges which can be viewed on clear days from Sandakphu and Phalut.
Best Season
Two popular touristseasons can be distinguished, one in spring during March - June with the peak in April - May and the other in the pre winter months beginning in September to early December. The Park remains closed to visitors from 16th June to 15th September every year.
---
Mahananda W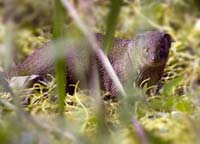 ildlife Sanctuary
Mahananda Wildlife Sanctuary spreads over a total area of 158.04 sq km. In the District of Darjeeling and Jalpaiguri. This has a spread both to the north and south of the region where the Himalayan ranges meet the bhabar track in a continuum. 30.82 sq km of Stately Sal forest of the Laltong Block standing on the high banks of river Teesta, North of 7 Th. mile in the Jalpaiguri District, also form a part of this Sanctuary.
This sanctuary is the home of Harbivores both large and small and carnivores both greater and lesser. Any visitor may be taken by surprise by a mighty lonely tusker standing on his way to Golaghat or a small herd of this Pachyderm leisurely making way for him. Open glades or grass lands may occasionaly bring out rippealed muscles of Gour or Indian Bison glistening in sunrays against the backdrop of wet mixed forests.
Birds of all shapes and sizes and hues have their home in this Sanctuary. Peacock - The National Bird displaying it's colorful plumes in the right mood is quiet a common sight; the Red Jungle Fowl making a flurrying escape may quite often surprise a visitor. Parties of Scarlet Minivets fly restlessly amongst the canopy foliage and draw lines of red and yellow through them. Loud scraping sounds of a big bird in flight give out the presence of the Great Pied Hornbill, Eagles, Orioles, Shrikes, Drongoes, Magpies make bird watching a pleasurable past time for the nature lovers.
Best season for visit
Throughout the year, excepting rainy months of June to September.

Information on wildlife tours, wildlife viewing, wildlife park and nature of West Bengal - India