Traditional Crafts
The immortal inheritance of Indian Culture has moulded its artists of the people, joyful exciting, intricate in imagination intuitively creating, but each with its individuality of his own. This is the expression that found incarnation in the traditional masters of arts and artifacts of West Bengal. Here cheek by jowl are stacked the wonderful worlds of our weavers, potters, metal-wrights, shell-artists, carvers in wood, bone or stone. And these amazing variety of creation, the aesthetic, varied, living pulsating life are expressed in vibrant collections of colour, hue, tone, shape and size.
Artistic Leather Craft
A fine example of contemporary art and craft, the Bengal leather crafts owe their widespread popularity and developmen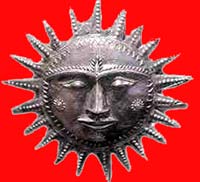 t due to some innovative work done by gifted artists at Santiniketan.
Brass & Bell Metal
A many-splendoured craft of West Bengal. Handed down to generations of metalworkers. From domestic utensilsfor everyday use to vessels for observance of rituals, the emphasis is always on strength of form. Copper, one of the earliest known metals was transformed into alloys like bronze, brass and bell metal by Indian metallurgists of Harappan times.
Archaeological evidence indicates that Bengal's metallurgists too were practicing the art and science of metal workings as early as 2nd millennium B.C. Artisans of Bankura, Bishnupur, Ghatal and Chandanpur in Midnapore, have a superb lineage of shaped and engraved brass and bell metal work.
Cane & Bamboo
From the depths of time and the earliest chapters of civilization, comes a craft that endures. Bengal's very own tradition in creating everyday and fancy articles from bamboo and cane, is rich and varied. More than 35,000 artisans practise this craft in different districts of rural Bengal.
Ceramic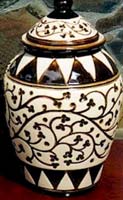 This is a radition built up in contemporary times-several centuries of interaction with foreign craftsmen and a legacyleft us by many years of British rule. The craft, however, is today flourishing in and around Calcutta and in some places in Birbhum district. New ceramic technologies have joined hands with a heritage of handicrafts to produce a range of fine, glazed ceramic products for decoration, dolly, toys, wall-hangings, household pottery and industrial application.
Clay Dolls
Clay fantasies of real-life stylized, sometimes even graphic in their representations, mark traditional Indian clay dolls and toys. But the dolls and figurines of Krishnanagar in Bengal, are unique in their realism and the quality of their finish. Patronized by Maharaja Krishnachandra himself in the late 18th century, they truly represent a breakaway from the traditional form.
Dokra
Nomadic tribes who roam the earth restlessly - what permanence do they leave us with, as a mark of their passage ? The Dokra or Dhokra group of tribal craftsmen who range through the landscapes of Bengal, Orissa, Madhya Pradesh and Andhra Pradesh – give us a timeless heritage of beautifully shaped and ornamented products of cast metals. The Bikna group of Dokra artisans of Bankura and the Dariapur group of Burdwan, were rehabilitated in the sixties. There are similar concentrations at Kharagpur in Midnapore and Malda.
Horn Work
The early pages of Indian civilization are full of descriptions of 'horn combs' which adorned the tresses of women in ancient times. in shining black and translucent shades of greys, Bengal horn work is still a fascinating craft.
JuteProducts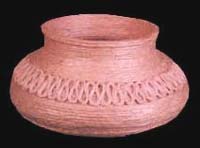 Jute, the 'golden fibre' has traditionally been woven and knotted and braided by women of Bengal, often for domestic storage. Jute as a fabric was much popular in ancient times. Today Bengal is not only a major producer of jute goods ranging from pllush jute-blended carpets, to decorative tapestries, garden pot hangings, decorative hand bags, bedspreads and more. in 50 villages of the Kaliaganj area in West Dinajpur, the process of colouring, weaving of jute on single looms goes on, as the world outside turns once again to this wonderful natural fibre.
Masks & Puppets
Once upon a time, priests masqueraded as gods, demons or spirits. Sorcerers and wizards wove their spells. Today they are more popular as items of interior decoration. in Bengal, masks used by the Chhou dancers of Purulia and those who perform the Gambhira dances of Malda, actually represent the theatrical tradition. While the masks use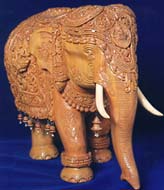 d in Devil Dances and other socio-religious festivals of Darjeeling and Tibet, are colourful relics of priesthood.
Papier Mache
Papier mache is not a craft traditional to this state. The Santiniketan school of artists did some pioneering work in introducing this craft in West Bengal. Today quite a number of craftsmen in and around Calcutta have taken up the craft and their products mainly dolls and masks, have found a market for their beauty in designs and excellence in craftsmanship.
Sandalwood Carving
Once upon a time, elephant tusks were carved into great and tiny delicate pieces of art by master craftsmen of Khagra and Jiaganj in Murshidabad district. But then the elephant population stood threatened, ecological disaster became imminent and so a ban came upon ivory. But that did not stop the wizardry of the craftsmen. Their deft fingers found the aromatic, oily sandalwood as an ideal substitute. And so those legendary ivory creations grew in sandalwood.

Information on Traditional Crafts, arts, handicrafts of West Bengal - India