Shantiniketan
Nobel Laureate Rabindranath Tagore formed Shantiniketan as an International University. He intended it to be a place where the cultures of the East and the West could meet and mingle. Named Vishva-Bharati, the University maintains Indian traditions while incorporating the best of other cultures.
Shantiniketan, the abode of peace, was initially an Ashram founded in 1863 by Maharishi Devendranath Tagore. In 1901 his son, Rabindranath converted it into an experimental open-air school with just five students. It proved a success. He widened the scope of studies and gradually formed the nucleus of a University. The splendid sculptures, frescoes, murals and paintings of Rabindranath, Nandlal Bose, Ramkinkar, Bindobehari Mukhopadhyaya and others adorn the campus.
Excursion
Shantiniketan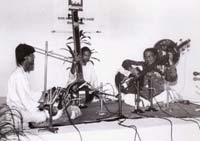 is a University town and a centre of learning. The Uttarayan complex where the poet lived consists of several buildings such as Udayana. Konark, Shyamali, Punascha and Udichi which reflect the architectural genius of the poet's illustrious son the late Rathindranath Tagore. In addition there are Kala Bhavan (College of Fine Arts and Crafts). Sangit Bhavan (College of Music and Dance), Vidya Bhavan (College of Humanities), Siksha-Bhavan (College of Science) and Vinaya Bhavan (Teacher's Training College), Cheena Bhavan and Hindi Bhavan. The Shantiniketan campus of Viswa Bharati has grown up to be a centre for learning with a bias towards art, music and humanities. At Shriniketan, mainly a Centre for Rural Service and Studies (Palli Samgathan Bibhaga), there is a college of Agriculture (Palli Siksha Sadan) as well.
The places of interest are mainly on the campus and have a distinctive feature of some of the best in Indian art and culture.
China Bhavan
The Chinese Faculty.
Chhatimtala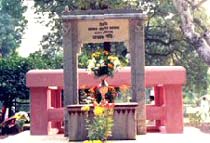 Here Maharshi Devendranath, the father of Rabindranath Tagore, used to meditate. Prayersare held usually at Convocation time. Successful graduates of the Vishwa Bharati University are presented a branch of five leaves each from the Saptaparni trees which abound in the area.
Kala Bhavan
The College of Fine Arts & Crafts has an museum exhibiting sculptures, frescoes & murals and a library of art books.
Patha Bhavan
Now a secondary school, it is of particular interest as an example of the traditional `Brahmacharya Ashram'.
Prayer Hall
Founded by the poet's father in 1863, the hall is made of glass. Prayers are held on Wednesday.
Bichitra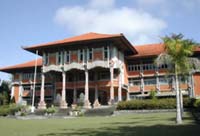 Also called Rabindra Bhavan, a Research Centre and Museum where the poet's personal belongings, paintings & various editions of his works are exhibited.
Sangeet Bhavan
College of Dance and Music. The University is replete with works on Art, Music and the Humanities.
UttarayanComplex
The poet lived and worked in the Northern Complex consisting of several buildings as : Udayana, Konarka, Shyamali, Punascha and Udichi. The Bichitra ( or, Rabindra Bhavan ) designed by the poet's son Rathindranath Tagore.
Fullora (40 kms), Nalhati (104 kms), Kankalitala (7 kms), Bakreshwar (58 kms): Nearest railway station Dubrajpur 12 kms. WBTDC Tourist Lodges & PWD Inspection Bungalows available
Massanjore (78 kms)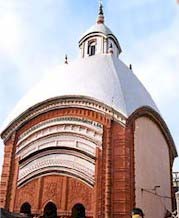 Mayurakshi Bhavan, Youth Hostel available to stay there.
Kendubilwa (42 kms)
Buses ply from Bolpur railway station. Buses also ply or Kenduli from Calcutta for tourists.
Nanoor (23 kms)
Birthplace of the Vaisnava poet,Chandidas (14th century). Buses ply from Bolpur railway station. Travet Sng time: one hour.
Tarapith (80 kms)
One can reach Tarapith firstly from Bolpur to Rampurhat by train or bus and then 5 kms by bus or cycle rickshaw. Ramkanai Dharamshala a number of hotels are there.
---
Fairs & Festival
Rabindra Janmotsab
Though the birthdate of Rabindranath falls on May 8/9, the anniversary as well as the Bengali New Year is celebrated on the first day of the Bengali New Year (mid April).
Briksharopan
Planting of saplings and Halakarshan, ploughing of fields on 22nd &23 Sravana (August).
Varshamangal
The festival of rains during August/ September.
Poush Utsav
(December 22/23-25). A fair is held at Shantiniketan from 7th to 9th Poush and Visva Bharati observes its foundation day. Tribal sports dances and folk songs including songs by Bauls, the-wandering minstrels of Bengal, are a part of the fair and festivities.
Maghotsav
Celebrated on the 11th of magha (January), to mark the anniversary of Brahmo Samaj.
Vasanta Utsav
Held to mark Holi. The students dance and sing their ways through Amrakunja, followed by open-air variety programs.
---
Getting There
By Air
The nearest airport is Calcutta 213 kms away.
By Rail
The nearest railhead is Bolpur, 2 km away. Trains connect Bolpur with Howrah/Sealdah in Calcutta.
By Road
Motorable roads connect Shantiniketan with Calcutta, Burdwan 48 kms, Durgapur 56 kms, and Sarnath 197 kms
Local Transport
Tourist cars and buses available from the Manager, Tourist Lodge.
General Information & Accomdation info on Shantiniketan city of West Bengal - India