Jalpaiguri

A district with abundance of natural beauty mainly tea plantations and deep forests teeming with wild life is situated in the foothills of lower Himalayas in North Bengal boarding with Bangladesh, Bhutan and North Eastern States of India. The larger part of the Dooars valley comes under the Jalpaiguri district of the state. Innumerable rivers and their tributaries enhance the scenic beauty of the place. The undulating slopes covered with lush green teagardens and forests separated by meandering streams and small ethnic villages have brought Jalpaiguri in the most favoured tourist places in North Bengal.
Jalpaiguri - this narrow stretch of land lying between the Sikkim - Darjeeling Himalayas and Gangetic West Bengal has more than often evoked a sense of both eerie and romanticism in many a heart since the early British Rule. Veined by mighty rivers like the Teesta,Torsa, Jaldhaka, Dyna, Neora, Sankosh etc. this piece of land has been aptly named as the land of 'Tea, Timber & Tourism'. A major stretch of area is bordered in the north by Bhutan and hence the name - DOOARS/DUARS which mean - Door of Bhutan.
Excursion
Buxa Tiger Reserve
Bux
a Tiger Reserve, in the subdivision of Alipurduar, Jalpaiguri district, was set up in the year of 1982-83 at the north eastern corner of West Bengal bordering Bhutan and Assam. It is declared a National Park in January 1992. The name "Buxa Tiger" has been derived from Buxa Fort - a fort at an altitude of 867 meters on the Sinchula Range guarding the most important of the eleven routes into Bhutan, which once was used for detainees during freedom movement of India. With an area of 759sq km this picturesque reserve with its prodigious Terai, Bhabar as well as Hilly landscape, crisscrossed by numerous rivers and their tributaries, presents a breathtaking landscape.
Buxa is rich with bio-diversity and has a great collection of rare orchids and medicinal plants. Because of inaccessible terrain some parts of Buxa hills in the Sinchula range are still unexplored. The veritable flora and fauna of these wet forests attracts tourists and nature lovers every year. The Generic diversity of mammals is second highest among all the tiger reserves of India. Astonishing bio-diversity of animals comprise of a reach avifauna of more than 230 identified species, 67 mammals and 36 species of reptiles.
Mammal
Apart from Bengal Tiger the flagship species, there are plenty of Leopard, Fishing Cat, Leopard Cat, Jungle Cat, Indian Civet, Palm Civet, Wild Dogs, Malayan Gaint Squirrels, Mangooses, Asian Elephant, Gaur, Small Clawless Otter, Chital, Sambar, Barking Deer, Hog Deer, Wild Buffalo, 3 varieties of Pythons, Monitor Lizard and a host of land tortoises. A number of animals like Chinese Pangolin. Regal Python (reticulate) Clouded Leopard are endemic to the region.
Birds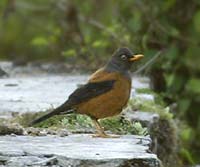 The Avifauna is rich in both endemic as well as migratory species. The swift rivers of Rydak and Jainti are visited by Trans Himalayan Migratory Goosanders, the beautiful Ibis Bill, resident Fork-tails, varieties of Red-stars, Wag-tails, the Narathali Lake is visited by migratory Common Teal, Gargani Teal, Large Whistling Teal, White Eyed Poachared etc. The Hornbills including greater Pied Hornbill abound the area. One of the rarest birds of India the Black-necked Crane has been sighted in the Reserve during the early winter. The migratory beautiful Black Stork is a visitor of the area. The monsoon ends and beautiful Minivets, Sultan tits arrive, during summer rare Ashyminivet is also sighted.
Buxa fort
Several trek routes originate from Buxa. Most popular trek starts from Santrabari (914ft) to Buxaduar. A 5kms trek through the dense forested hills leads to Buxaduar Forest Bungalow. Accommodation is available here for the trekkers. Another 4 kms trek through the forest track leads to the Rover's Point-the land of unknown birds (4500ft). It is difficult to ignore the lure of Rupam Valley in Bhutan, another 12 kms from there. The journey through the entire region is full of unknown adventure and excitements and gives some breathtaking views of Jayanti River Valley far below, ever green forest canopy and glimpse of rare animals, flight of birds and colourful orchids.
Jayanti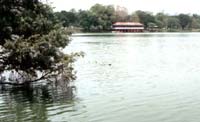 A picturesque spot along the meandering Jayanti River forming a natural border with beautiful Bhutan hills Jayanti is a place to stretch your weary legs as the cool breeze brushes away all the exhaustions. Buxaduar to Jayanti is another popular trek in the region. This 13 kms trek passes through the dense forest of Buxa Tiger Reserve. The music of wilderness, the chirping of unknown birds, the song of wild streams, fragrance of nature will never allow you to feel the least stress of a long journey. The journey ends with a warm reception of an old staggering priest at the stalactite cave of Jayanti, popularly known as the Mahakal cave. It is difficult to enter into the narrow, dark, damp cave but trying the same may be another precious adventure. The downhill trek from here leads to Jayanti Forest Bungalow.
Rajabhatkhawa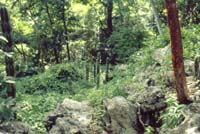 Rajabhatkhawa is only 12 kms from Jayanti and approachable by both road and rail form Siliguri (153kms) and Alipurduar (17 kms). Surrounded by dense forests of Buxa tiger reserve Rajabhatkhawa is an ideal place for the wild life lovers. A watchtower deep inside the forest gives the best opportunity to view elephant, bison and even tiger. The Nature Interpretation Center at Rajabhatkhawa is another attraction. There is a small bazaar and a beautiful small rail station. Accommodation is available in forest rest house and also in a private rest house named Gracilips.
Malbazar
At a distance of 40 km from Siliguri and 65 km from Jalpaiguri, Malbazar is one of the more important towns in Dooars. The town itself does not have much to offer to the tourists except for the beautiful Mal Park. However, due to its strategic location on the national highway, you can stay at Malbazar and visit the important tourist destination of Eastern Dooars. Gorumara National Park, Chapramari Wild Life Sanctuary, Jhalong, Bindu, Samsing, Suntalekhola are the famous tourist spots in this area. Kumlai is a famous picnic spot near Malbazar.

Rasikbill
74 km away from Alipurduar (via high road), Rasik Bill is situated on the way of train journey from Alipurduars to Kamakshyaguri. There is a huge lake ideal for eco-tourism activities. What attracts tourists here is the wide variety of avifauna that is seen around here. The bird variety includes cormorants, different varieties of storks, ibis, spoonbill, kingfisher, parrots, owl and many others. There is a large aquarium, a dear Park and a crocodile rehabilitation center at Rasikbill.
---
Weather
Temperature
Maximum Temperature : 30.9 degree celcius
Minimum Temperature : 10.8 degree celcius
Rainfall : 3160 mm.

General Information & Accomdation info on Jalpaiguri city of West Bengal - India