Durgapur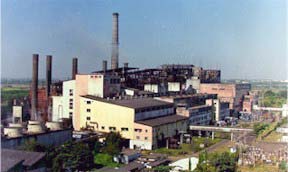 Durgapur is located in the district of Burdwan, in the state West Bengal, India, 168 km to the north of Calcutta. It is a well-planned industrial city on the banks of the river Damodar.
Excursion
Being an industrial city, Durgapur as such, has very little to offer to the casual tourist. The main tourist attraction is the Durgapur Barrage over the Damodar. It is most beautiful during the monsoons, when the river is swollen. The gardens around it are a good place to picnic. The Kumarmangalam Park in the Steel township with its artificial lakes and small hills is another attraction for picnickers and joggers. There is very little else you can see in Durgapur.
About 100 km to the north of Durgapur is Shantiniketan (district Bolpur), the university town founded by the Nobel Laureate (1913) Rabindranath Tagore (1860-1940). It is home to the famous Vishwabharati University, renowned for its fine arts departments. It also houses the great poet's works, where he spent the last 2 decades of his life. Among other places nearby, good for spending a day, are Mayapur (headquaters of ISKCON), Maithon, Tilaiya.
Asansol
42 kms. Connected with Durgapur by train and bus.
Chittranjan
77 kms. Connected with Durgapur by train and bus.
Jaidev
22 kms. The birthplace of the famous Bengali Vaishnava poet Jaidev. Regular bus service available upto Ajoy river from where the river can be corssed on foot. Ferry service across the river is available during the monsoons. A fair is held during the first half of January which lasts from 10 to 15 days.
Shantiniketan
61 kms. International University Founded by Rabindranath Tagore
Vishnupur
72 kms. Ancient-city reputed for temples and terracotta sculpture
---
Getting There
By Air
Nearest national and international airport Calcutta is 176 kms away.
By Rail
Durgapur is the railway station on the Eastern Railway.
By Road
Durgapur is connected by good motorable roads with Calcutta 176 kms, Patna 414 kms, Asansol 50 kms, Shantiniketan 62 kms, Vishnupur 72 kms.
Local Transport
Taxis, City Bus services, Cycle Rickshaws are available.
---
Weather
Temperature (deg C) :
Summer- Max.46.1, Min. 37.8;
Winter- Max. 32.2, Min. 29.4
Rainfall : 150 cms June to September.
Clothings : Summer- Tropical, Winter- Light woollens.
Best Season : Through out the year.

General Information & Accomdation info on Durgapur city of West Bengal - India