Chunchura

A district with both agriculture and industrial activities at their heights. Bandel Charch, Debanandapur, the birthplace of Sarat Chandra Chatterjee, Joyrambati and Kamarpukur with its connection to the life of Ramakrishna and Sarada Devi are the places of attraction in the district.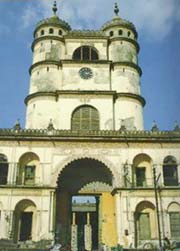 Excursion
Hooghly
Hooghly was founded in 1537 by the Portuguese while Chinsura / Chunchura was the site of a Dutch factory built in 1656. They later passed into British hands. The main attraction is the large mosque - the Hooghly Imambara which was built in the 19th century.
Bansberia
Bansberia is about 15 kms north of the Hooghly. The temple complex here has two temples. The smaller is the Vasudeva brick temple built in 1679. It has terracotta carvings. The larger temple with thirteen towers is the Hangsheswari temple and was built in the 19th century.
Bandel
Bandel de Hooghly was founded in 1580 by the Portuguese. They carried out slave trade from here. A flourishing town (for the wrong reasons) it was destroyed, in 1632, by the Mughal Emperor Shah Jahan (who built the Taj Mahal at Agra). The Church of our Lady of Bandel was consecrated in 1599. It was later rebuilt after the ransacking of Bandel.
Barrackpore
Barrackpore is about 24 kms north of Calcutta and lies opposite to Serampore. It probably derives its name from being the military barracks of the company forces. It still serves as a cantonment. The main attraction today is the Gandhi ghat on the banks of the river Hooghly.
---
Getting There
By Road
All the towns except Barrackpore are on the left bank of the river Hooghly. The G.T Road (NH 2) starts from Howrah and passes through all these towns except Barrackpore. The bridges across the river Hooghly provide the connection to Calcutta.
By Rail
Frequent Suburban train services for all the towns (except Barrackpore) are available from Howrah Station. From Sealdah North, to get to the towns on the opposite bank, one has to change trains at Bally Halt.


General Information & Accomdation info on Chunchura city of West Bengal - India