Adventures & Sports
Adventure sports comprises trekking in the forests and the hills, mountaineering, mountain biking, rock climbing, canoeing, kayaking, water skiing, yachting, river rafting, long-distance swimming and para sailing, car rally etc.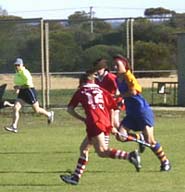 Adventure Tourism is being promoted by the State Tourism Department in consultation with Darjeeling Gorkha Hill Council, the Forest and Environment Department, the Himalayan Mountaineering Institute at Darjeeling, the Netaji Institute of Sports (SAI centre) in Calcutta, the Sports and Youth Services Department and various NGOs.
Calcutta is a city of sports lovers. West Bengal and specially Calcutta have famous Football & Hockey Clubs, Cricket Clubs and centres of Table Tennis, Lawn Tennis, Polo and Golf. Eden Gardens is often used for holding world-class cricket matches. There is Yuba Bharati Krirangan, the biggest sports stadium in Asia. Apart from the Netaji Indoor Stadium in Calcutta, there are good stadiums at Durgapur, Kharagpur and Siliguri as well. Water Sports have acquired a remarkable position besides cricket and football. Swimming and Boating facilities have been made readily available by many prestigious hotels and resorts in Calcutta.
Efforts are being made to develop Golf Villages of international standard in the Dooars and in the outskirts of Calcutta to make Calcutta city the gateway to South-East Asia, a centre of big business and the headquarters of big industries and a paradise for golfers and to give a boost to the hotel industry in the city.
Tourism Department with the State Sports and Youth Services Department and various non-Government sports organisations is planning and organising national and international sports meets at regular intervals not only in Calcutta but also at Durgapur, Kharagpur and Siliguri in such a manner to ensure flow of both domestic and foreign tourist to West Bengal round the year.
Trekking in Darjeeling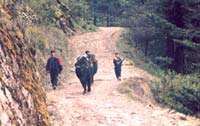 Apart from being acclaimed as one of the best Hill Resorts, Darjeeling is also a veritable paradise for trekkers and adventure seekers. Trekking in Darjeeling is an experience which no lover of nature should miss. It takes one to places from where one can feel the proximity of the stars and is still in its premival majesty. It brings one face to face with the snow-capped mountains with the sublime grandeur of the Himalayas. The region abounds in rhododendrons, magnolias, primulas, orchids and ferns of numerous varieties. About six hundred species of birds inhabit the emerald green forests on the slopes of the mountains.
Mountaineering is a sport reserved for the trained and well equipped personnels, but as far as trekking is concerned, it is a sport for one and all. There is no need to be a professional climber to enjoy the magnificient grandeur of the Himalayas, just an ordinary person who has the will to walk along the narrow paths of the hills and who has the inquisitiveness of viewing the serenity and sublime of the mountains.
Jungle Safaries
Jaldapara Wi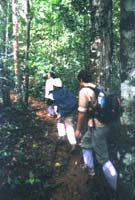 ldlife Sanctuary
In North Bengal, the great expanse of Terrai grasslands is held by Jaldapara Sanctuary intersected with raverine forests, dry mixed forests and wet-forests. Rhino and Asiatic elephant's favourite homes are the tall riparian grasslands lined with bamboo clumps. Various other kinds of species like the python, monitor lizard, cobra, kraits and frogs are available for visitors to see. On approach, Hog Deer, a typical animal of short grasslands quite often shoots out of cover in small groups. The sambar conceals itself in a good shrubby undergrowth. The cheetal is confined to the edge - areas between treelands and grasslands. Gaurs - Indian bison - can be found roaming over grasslands and forest. A tiger or leopard may be found on the sandy banks of a stream. Ride on elephants gives an exhilirating experience at Jaldapara.
White Water Rafting
White Water Rafting is an Adventure Hill Sport, which is relatively new in the Darjeeling Hills having introduced in 1991. Since then the sport has gained immense popularity all over the region.
Graded on the international scale at Grade II, III & IV, the icy cold waters of the rugged Teesta with a series of rapids with varying intensity and character, extend a challenging invitation to one of the finest rafting stretches in the world. The turbulent waters of the Rangeet with its multidimensional rapids provide rafters of all age groups with a variation meant for professionals. The spectacular scenery confronting a rafter while one snakes down the mountain rivers make this experience a must for all lovers of adventure.
Info on Adventures, Sports, Trekking, Mountaineering , Water Sports etc of West Bengal - India