Wildlife
Kaimoor sanctuary
Hastinapur Sanctuary
Chandra Prabha Sanctuary
National Chambal Sanctuary
Nawabganj bird sanctuary
Mahavir Swamy Sanctuary
Dudhwa National Park


Nestling in the foothills of Himalayas, Uttar Pradesh has been an abode to the rare species of the world. The state has many wildlife sanctuaries and various national parks. Visit the most famous Corbett National Park gifted with a varied topography and vegetation. The park has the highest density of Tiger in the country. View the wild animals in their natural habitat. Rajaji National Park possesses as many as 23 species of mammals and 315 birds' species. Nanda Devi National Park in Garwhal Himalaya offers a delightful combination of flora and fauna. Other places of interest are Valley of flowers, Kaimoor Wildlife Sanctuary, Ranipur Wildlife Sanctuary, Dudwa National Park and so on.
Kaimoor sanctuary
Kaimoor sanctuary, located on the Uttar Pradesh - Bihar border, is spread over an area of 500 sq. km. The sanctuary, established in 1982 is easily accessible by road. The wildlife population comprises leopard, blackbuck, chital, chinkara, ratel and peafowl.
The main species of wild animals found in the sanctuary are those of antelope, blue bull, wild cat, karakal, and bijju. There are quite a few varieties of local & migratory birds forming a large part of the wild population.
Important Vegetation includes saal, sheesham teek, mahua, jamun, siddha, salai, koraiya and jheengar.

Getting There
Air: The nearest airport is at Varanasi (100 kms).
Rail: The nearest railhead is Varanasi.
Road: Kaimoor is accessible by road from Varanasi and Mirzapur (100 kms). The nearest town, Robertsganj, 3 kms, is connected by bus services to major centres in the region.
---
Hastinapur Sanctuary
Location: 30 kms. from Meerut, (Uttar Pradesh).
Main Attractions: Swamp Deer, Blue Bull.
Founded in 1986, in Meerut, Ghaziabad, Bijnore and Jyotiba Phule Nagar, The Hastinapur Sanctuary sprawling in an area of 2073 sq. kms.
The population of the wild animals includes various species of animals including antelope, sambhar, cheetal, blue bull, leopard, hyena, wild cat, and different types of birds. It also houses alligators.
Best Time To Visit : Throughout The Year.
---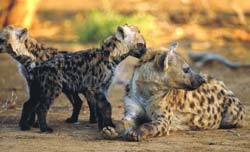 Chandra Prabha Sanctuary
Location: Near Varanasi (Uttar Pradesh).
Main Attractions : Panther, Chinkara.
Established in 1997,Chandra Prabha Sanctuary, a small sanctuary sprawling over an area of 78 sq. kms, is located on Naugarh and Vijaigarh hillocks in Vindhya forest range, in Chandauli district. The sanctuary, rich in varied types of flora and fauna is a feast to the eyes and a perfect treat for the nature lover.
Fauna
The sanctuary has a rich and varied wildlife, which comprises of panther, chinkara, sambar, chital, partridge and peafowl. Leopard, hyena, jackal, wolf and 'sehi' bear can be seen roaming around in the tranquil environs of the park.
The park is a bird watchers' paradise, as one can see around 150 species of birds. The wild vegetation comprises mahua, saagun, amaltas, tendu, koraiya, ber etc.
Best Time To Visit : Mid-November to Mid-June.
---
National Chambal Sanctuary
Location : Etawah, Agra (Uttar Pradesh).
Main Attractions : Dolphin
The rare gangetic dolphin is the main attraction of National Chambal Sanctuary. The other inhabitants of this sanctuary are magar (crocodile) and gharial (alligator), chinkara, sambar, nilgai, wolf and wild boar. Founded in 1979 the sanctuary is a part of a large area co-administered by Rajasthan, Madhya Pradesh and Uttar Pradesh.
Best Time To Visit : November to February.
---
Nawabganj bird sanctuary
Location : 45 Kms From Lucknow (Uttar Pradesh).
located 45 kms from Lucknow is Home to several migratory and water birds.
Fauna
An ideal site for bird watching and photography, this sanctuary has a huge marshland and shallow lake bordered with mixed dry forest. The avian population of the sanctuary comprises among others the pochard, shoveller, woodpecker, parakeet, coot, purple moorhen and common teal.
Main Attraction : Woodpecker, Parakeet.
Best Time To Visit : Throughout The Year.
---
Located 125 kms from Jhansi, this sanctuary is spread over an area of 5.4 sq. kms. Jhansi provides for a wonderful gateway to the Bundelkhand region and has been rendered famous by the legendary Rani Laxmi Bai. Some of the key attractions of the sanctuary are the leopard, nilgai, wild boar, sambar.
Getting There
By Air: The nearest airport is at Jhansi, 125 kms.
By Rail: The nearest railhead is at Jhansi.
Information on wildlife tours, wildlife viewing, wildlife park and nature of Uttar Pradesh - India