Traditional Crafts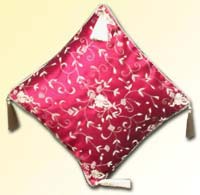 Zardozi
The craft of zardozi or silver and gold embroidery was brought into India by Delhi's Turko-Afghan sultans in the 12th century. Down the ages, the craft became equally popular with the wealthy Hindu, Muslim, and European classes. Today several families in Varanasi, Agra, Lucknow, Rampur, Bareilly, and Farrukhabad, in the state of Uttar Pradesh, have revived this old craft to supply exquisite zari embroidered bridal outfits and salwar kameezes to boutiques round the country. But prices are considerably lower in Uttar Pradesh. Innovative designers have added functional bags, belts, caps, cushions, and wall hangings to their stock of ready to wear and custom made zardozi garments. A lighter and flashier offshoot of traditional Indian zardozi finds its way to top fashion houses around the world.
Handprinting
Farrukhabad in Uttar Pradesh is a veritable treasure house of traditional designs ranging from the classical butis (dots) to the famous ' Tree of Life ', The butis are restful even though sparkling when tinted in solid colors. Mango, 'paisley' as it is known in the West, is made in a vast variety of shapes, and used in bold, medium and even fine designs.
The composition is first printed in harmonizing colors and later elaborated with delicate details painted in with a brush. A variety of blossoms merge in this luxuriant tree. It is primarily a decorative piece unrelated to any symbol but has a flavour of growth, prosperity and immorality. The spirited heraldic lions that guard the tree speak of a Hindu tradition.
Lucknow's specialty is 'paisley'. Other designs seem to be influenced by the local chikan embroidery patterns. Jehangirabad is distinguished for its bold lines and toned down colors, influenced by the jamdani and jamevar weaves.

Chikankari
Uttar Pradesh's capital, Lucknow, is closely associated with another fine embroidery, chikankari. These cool summery shadow-work saris, kurtas, and veils have been in vogue in this city for hundreds of years. Prices vary according to the quality of material used, and the work done on it. Table and household linen in white or pale pastel muslin, organdy and voile are also popular buys.
Jewelry
The jewelers of this region specialize in making lightweight, hollow gold and silver ornaments, with emphasis on filigree and open work. So the huge jhumka earrings won't hurt your ears, and the impressive gold bangles don't cost a fortune! Semi- precious stones, artificial pearls, glazed quartz, and glass are used to recreate elegant old designs, which can pass off as family heirlooms. Of course, for those with a penchant for the best that money can buy, there are centuries old jewelry shops selling the real stuff like the Basra pearls, emeralds, rubies and diamonds. Then there are hair ornaments fit for nawabi weddings, riyasati signet rings, status conferring gold toe rings, and key rings to tuck into smartly draped saris.
Metalware
The silver hookahs (hubble-bubble) and paan dans (betel nut containers) of this area are in a class of their own. Again, status symbols of the feudal zamindari era, these antiques are really replicas. Mostly made in Lucknow, Agra, Allahabad, and Rampur, they come in many sizes and designs and varied prices.
Engraved, embossed, enameled and burnished brass vessels bowls, stools, coffee tables, vases, candle stands, beer mugs, statues, door knobs and knockers, drawer handles, towel and napkin rings, and mirror frames are just some of the items made and sold in Uttar Pradesh. Benaras brass workers specialize in engraving stylized flowers, vines, leaves, birds, geometric octagons and roundels on highly polished brass. Muradabadi craftsmen turn out colorful enameled brass, good copies of famous bronzes, Tibetan tantric statues and Buddhist ceremonial vessels in mixed alloys, which can pass off as antiques.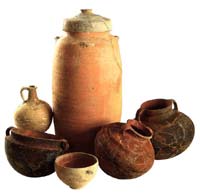 Pottery
Khurja and Cinnahat near Bulandshahr and Lucknow produce pottery, which is popular with young homemakers and single working men and women. Modern abstract or traditional animal, paisley, and floral designs decorate tea sets, dinner plates, coffee mugs, soup bowls, serving dishes, and indoor pots. Bhadoi offers stylish black pottery, which few seem to know about.
Doll Making
Handmade Indian cloth dolls dressed in colorful regional costumes are other popular, inexpensive souvenirs and gift items. Uttar Pradesh's dhoti clad peasant farmer, fez capped Nawab, sari draped bride and jeweled Kathak dancer dolls are usually in great demand by children, collectors and tourists.
Leather Craft
Leather craft in Uttar Pradesh, though largely rural based, has developed links with well-known metropolitan designing and manufacturing units having good marketing outlets, show rooms and export tie-ups. Kanpur and Agra are the main centres for shoes, sandals, chappals, country jooties, saddles, harness, leather jackets and other garments, gloves, handbags, wallets, belts, puppets, and musical instruments. Indian leather goods especially shoes and handbags are very reasonably priced compared with similar designer items available in the West.
Bangles
Firozabad's colorful glass bangles find their way into every Indian home. Opaque, clear, or decorated with silver and gold metal wire, artificial seed pearls, beads, or glittering kundan, glass bangles are must for every Indian bride.
The color and cut glass items of Firozabad include glasses, jugs, bowls, vases, animal figurines, ashtrays, and chandeliers. They don't have the perfection of Belgian, Bohemian, or Venetian crystal and cut glass, but are certainly more easy on the pocket. And the hand blown milky colored glass items are sophisticated and pretty enough to be displayed.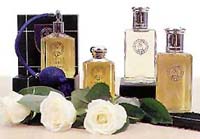 Natural Fragrances
Shakespeare may have identified perfumes with Arabia (Macbeth), but India has been the prime producer of natural fragrances since civilization began. Uttar Pradesh in particular produces not only the attar of roses popularized by the Mughal Empress Noorjahan, but also Heena, Chameli (jasmine) and Khas. Rose and jasmine farming is done at Agra, Aligarh, Meerut, Lucknow, Ramnagar, Saharanpur, Gazipur, and Kannauj. Most of this attar goes to satisfy the colossal domestic and foreign cosmetic and perfume industry demands. But tiny phials and large flagons are available from stockists.
Stone Carving
Agra's long association with the fabulous Mughal Court gave rise to many arts and crafts including stone carving. Replicas of Taj Mahal, marble boxes, wall plates, table tops, coasters, and ashtrays inlaid with semi-precious stones and mother of pearl in pleasing pietra dura designs taken from Mughal monuments and paintings are very popular purchases. The simpler Gurara stone carvings, paperweights, and Rubic cube like candleholders, which take four different sizes, make excellent gifts and mementoes.
Carpets
Quality and price wise, Indian carpets give you great value for money. The Mughal emperor Akbar established carpet-weaving centers at Lahore and Agra to supply his imperial court with good hand-knotted carpets in Persian, Turkish and Central Asian designs. These are still being made and sold in Agra, a major tourist center. The carpet weaving centers of Varanasi, Bhadoi, and Mirzapur were set up by a Persian master weaver in the 17th century. The handmade carpets, rugs and prayer mats from Uttar Pradesh, Kashmir, and Rajasthan are finding their way into Arabian palaces and American mansions.
Information on Traditional Crafts, arts, handicrafts of Uttar Pradesh - India