Shopping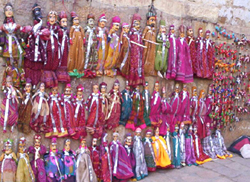 The Rajasthali Emporium sells an interesting range of handicrafts from all over the state. The Juneja Art Gallery has a fabulous range of contemporary paintings by predominantly Rajasthani artists. Jaipur is known for its semiprecious gems, marble statues, costume jewellery and textile prints. There is a timeless appeal to Jaipur's colourful bazaars where one can shop for Rajasthani handlooms, jooties (traditional shoes), sarees and trinkets.
Typical of the medieval times, almost all kinds of commodities are sold at teeny-weeny stores. Shopkeepers, hawkers and vendors all vie for space and the bazaars are as much for gatherings and socialising. All kinds of displays, advertisements, street dancers and singers find their place there.
This is one of the few places where shoppers can watch skilled artisans producing the very articles for sale. The main markets are along Jauhari Bazar, Badi Chaupar and M. I. Road. Chhoti Chaupar bursts with life every morning and winds up every evening. Shops specialising in precious and semi-precious stones, ornaments and jewellery are to be found on and along Jahauri Bazar. To see the celebrated minakars, kundan workers, gem-cutters and ornament-makers at work, you can visit Jadiyon-ka-Rasta, Gopal ji-ka-Rasta, Haldiyon-ka-Rasta and the adjoining lanes.
Information on shopping in Rajasthan - India