Pali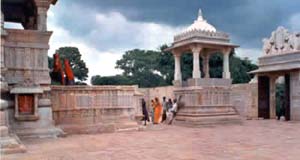 Pali is named after the Paliwal Brahmins who once inhabited the area. Ancient Pali housed a highly evolved civilization. The land, was leased by the then chief of Mandore (the former capital of Jodhpur district), was cultivated diligently by the Paliwals who abandoned their former priestly profession. The temples of Somnath and Naulakha are very old. Naulakha Jain temple has elaborate carvings while Somnath Shiv temple is known for its handsome bulling having exquisite mouldings.
The district shares common border with six districts of Rajasthan. In the north, it is bordered by nagaur and Jodhpur districts, in south east by Udaipur and Rajsamand districts, and in the north east by Ajmer district. Sirohi and Jalore are on the south west and west respectively.
Getting There
By Road
The district has direct road connections with other districts of the state. All the tehsil headquarters and important towns of the district are connected with each other by metallic roads. The National Highway No.8 linking delhi and ahmedabad passes near the boundary of pali district. The total length of roads in the district is 4,544 cm as on 31 March 2000.
By Rail
Rail trasnport is directly connected with Jodhpur and Udaipur. Marwar junction, Rani and Bali towns fall on the meter gauge Jaipur-Ahmedabad line. The total length of railway lines in the district is 264 kms.
By Air
The nearest airport is at Jodhpur (72 kms)
Distance from Major Cities
Jaipur-303 kms
Delhi-64 kms
Ahmedabad-309 kms
Mumbai- 860 kms
Weather
Maximum Temperature - 41 degrees celsius.
Minimum Temperature - 10 degrees celsius.
Rainfall - Average rainfall received is 49cms.
General Information & Accomdation info on Pali city of Rajasthan - India