Hotels & Accomodation
Alwar Hotels
The city of Alwar is referred to as the gateway to the historic and colorful state of Rajasthan, which is located in the northwestern part of India. It lies 170 km south of Delhi and is 150 Km from Jaipur.It offers the traveler many sites of historical importance. The ride on the special train, the Fairy Queen is an added attraction of Alwar.

Sariska Palace
Neemrana Fort Palace
The Hill Fort
---
Ajmer hotels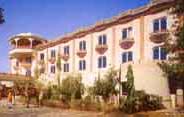 Ajmer is known throughout the Muslim world for the Dargah (the burial place) of Khwaja Moin-ud-din Chishti, a famous Sufi saint. Pushkar, one of the holiest Hindu pilgrimages is located just 11 km from Ajmer and the town is the main transportation center for any visit to Pushkar.
Mansingh Palace (Mansingh Group)
Hotel Regency
---
Bharatpur Hotels
The beautiful Indian tourist destination of Bharatpur is located in the northwestern state of Rajasthan. It is best known for it's bird sanctuary, the Keoladeo Ghana National Park. Other tourist attractions include : Lohargarh Fort, Government Museum, Jawahar Burj and Fateh Burj, Deeg(32 km), Mahaban(35 km approx) etc.
It is barely 55 kms from Agra. Bharatpur is equidistant from Delhi and Jaipur that is it is 176 kms away from both the places.

Kadamb Kunj
Bharatpur Forest Lodge (Ashok Group)
---
Bikaner Hotels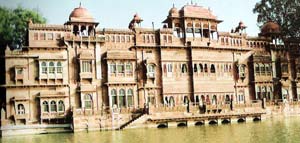 Bikaner is located in the northern part of Rajasthan. Jodhpur is the nearestairport to Bikaner. The city is surrounded by high fortifications comprising a 7-km long wall, which encircles the old city and has 5 entrance- all constructed in the 18th century. Bikaner is renowned for being the place where one can get the best riding camels for Camel Safaris. Tourist attractions include Junagarh Fort, Lalgarh Palace, Bika Ki Tekri, Museum .
Gajner Palace ( A HRH Group of Hotels ) Gajner
Karni Bhawan Palace ( A HRH Group of Hotels )
Maan Bilas Hotel ( A HRH Group of Hotels )
Lalgarh Palace ( WelcomHeritage Group Hotels )
Bhairon Vilas Hotel
---
Bundi Hotels
Bundi is located in the southern part of the state of Rajasthan, in the northwestern part of India. It is 206 km from Jaipur and 36 km from Kota. Bundi is known for its palaces, forts, baolis (step wells) and water tanks. The monuments and their architecture reflect the splendor of the local Rajput chiefs. Tourist attractions include Taragarh Fort, Bundi Palace, Waterworks etc.
Circuit House : Located near Central Bus Stand, Tel 0747 443149
Haweli Brij Bhushanji : Located near Nahar ka Chhotta Bundi.
Ishwari Niwas Heritage Guest House : Located near Central Bus Stand, Tel 0747 443541
Hotel Retreat : Tel 0747 444426
Sukh Mahal Rest House : Located near Jait Sagar Lake.
---
Jaipur Hotels
Jaipur is located in the Northern India at a distance of around 258 km from Delhi. The city would have been the part of Thar Desert, but for the Aravalli Hills that provides it with much needed security from one side. Most of the major tourist destinations in North India like Delhi, Agra, Jodhpur, Udaipur, and Jaisalmer are fairly distanced with the city and connected by road, rail, and flights. Tourist attractions in Jaipur are mainly centered in the Old City and City Palace area.

Chokhi Dhani
Rambagh Palace (Taj Group)
Jai Mahal Palace (Taj Group)
Ramgarh Lodge (Taj Group)
SMS Hotel (Taj Group)
Rajvilas (Oberoi Group)
Mansingh Palace
Mansingh Tower
The Trident
Om Tower
KK Royal Days,(Days Hotels)
The Gold Palace & Resorts
Rajputana Palace Sheraton (ITC- Welcomgroup Sheraton)

Samode Palace
Samode Haveli
Holiday Inn
Hotel Park Plaza
The Ramgarh Resort
Alsisar Haveli
Mandawa Haveli
Country Inn & Suites
Comfort Inn Hawa Mahal
Shahpura House
Hotel Clarks Amer
Umaid Bhawan Hotel
Hari Mahal Palace (Heritage Hotel)
Hotel Jaipur Ashok (Ashok Group)
Hotel Maurya Palace
Chirmi Palace
Jaipur Inn
Arya Niwas
Jai Niwas Guest House
Tara Niwas Apartments
Narain Niwas Palace
Raj Mahal Palace
---
Jaisalmer Hotels
Jaisalmer is a border district of India located in the state of Rajasthan and touching Pakistan. Most of the district is part of Thar Desert and offers excellent Camel Safari options. Jaisalmer is connected to other cities in the state as well as in Gujarat and some other places in India with National Highway No 15. Tourist attractions includes Jaisalmer Fort, Palaces, Manak chowk & havelis etc


Fort Rajwada
Mandir Palace
Gorbandh Palace (HRH Group)
Narain Niwas Palace
Hotel Rawal (Taj Group)
Rangmahal
Rajwansh Resort
---
Jodhpur Hotels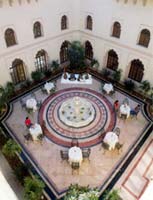 Located on the edge of the Thar Desert, Jodhpur has Jaisalmer on its west, Barmar, Jalor and Pali on its south, Bikaner on its north, and Nagaur on the eastern side. Famous for its magnificent forts and palaces, Jodhpur is the second largest city of Rajasthan and a major tourist attraction in the country. Tourist attractions include Umaid Bhawan Palace, Girdikot & Sardar Market, Mehrangarh Fort, Jaswant Thada etc.
Taj Hari Mahal (Taj Group)
Umaid Bhawan Palace (Taj Group)
Bal Samand Palace (WelcomHeritage Group) , Mandore Road
Ajit Bhawan - Heritage Hotel
Ranbanka Hotel, (A Heritage Hotel)
Fortune Ummed (Fortune Hotel)
Hotel Abhay Days
Chandra Inn
---
Kota Hotels
Kota is located in the southern part of the state of Rajasthan, in the northwestern part of India. The town of Kota was once the part of the erstwhile Rajput kingdom of Bundi. It became a separate princely state in the 17th century. Apart from the several monuments that reflect the erstwhile glory of the town, Kota is also known for its palaces and gardens.
Umed Bhawan Palace ( WelcomHeritage Group Hotels )
---
Sawai Madhopur Hotels
Sawai Madhopur is the gateway to the world renowned Ranthambhor National Park- the famous Tiger Reserve , just 12 km away from here. Generally a visit to Sawai Madhopur means a visit to the tiger reserve here. However, the place has much more to offer you in sightseeing and excursions.
The Sawai Madhopur Lodge (Taj Group)
---
Udaipur Hotels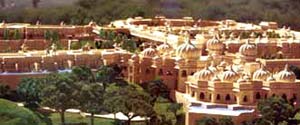 Udaipur is located in the North Western corner of India and part of Rajasthan. It is surrounded by hills, mountains, and its beautiful palaces are mirrored in the calm blue water of Lake Pichola. Places to visit are City Palaces, Suraj Gokhada, Pratap Memorial, Jagdish Temple etc.
Hotel Sarovar, Pichola
Rajputana Resorts
The Trident
Udaivilas (Oberoi Group)
Shiv Niwas Palace ( A HRH Group of Hotels )
Fateh Prakash Palace ( A HRH Group of Hotels )
Shikarbadi Hotel ( A HRH Group of Hotels )
Karni Fort, Bambora ( Welcom Heritage Group Hotels )
Lake Palace ( Taj Group )
The Grand Laxmi Vilas Palace
Rampratap Palace, Fateh Sagar Lake
Devigarh Resort, Devigarh
Udai Kothi
Jaisamand Island Resort
Hilltop Palace
Hotel Caravanserai
Hotel Lakend
Info on hotels, accomodation, budget hotels in Rajasthan - India