Traditional Crafts
Wherever one goes in Orissa, one can find almost the entire range of arts and crafts in the market places of the main towns and cities. Co-operative societies have played an important role in preserving the rich craft heritage of the State by ensuring easy access to customers and thus sustaining a continuous demand for products. But perhaps the secret of Orissa's crafts lies in their fascinating combination of beauty and utility-a tribute to the vision of the craftsmen. Instead of being merely decorative reminders of another age, the crafts of Orissa are gloriously alive-suited to modern tastes and yet retaining all the essential traditional links with a checkered past.
Palm Leaf Writing
Away from the shops and bazaars, in some friendly Oriyan household or in a temple or at an astrologer's place, the ancient art of palm leaf writing still survives. Religious texts continue to be read out from palm leaf manuscripts rather than from printed books. Horoscopes, too, are traditionally written on palm leaves by professional horoscope makers known as nahakas. Palm leaf was considered so sacred that even after printing presses began operating in Orissa, important texts continued to be printed on the leaves instead of paper. The printing of New Year cards and wedding ivitations on palm leaf is still popular in Orissa.
Patachitra

Just 70km away, on the sea coast lies Puri, a temple and beach town that shares and mirrors some of Bhubaneswar's arts and crafts, even as it nurtures arts and crafts that are uniquely its own. In the famous exquisitely carved Jagannath temple, an annual ritual has given birth to a treasured art form. Three paintings on specially treated cloth or patas are prepared by the temple painter and hung inside the sacred precincts of the temple. Originating as a ritual, patas developed over the years, as a distinct school of painting executed by the chitrakar (artist) community. Blood red, red ochre, lamp black, yellow, white and indigo blue sometimes offset each other, sometimes blend to form patachitras in the skilled hands of talented chitrakars who follow in the footsteps of their forefathers.
The word patachitra is derived from the Sanskrit word pata, which means a painted piece of cloth, a picture, a tablet or a plate. Chitra means painting or picture. Elements of folk and sophisticated art and craft characterise each finely executed patachitra.
Since olden times, pilgrims to Puri have been carrying home the colourful patas or patachitras as precious mementos- just as they carry back Ganga jal (water from the holy Ganges) form Haridwar. The patas from Puri are sought after by tourists and art lovers both in India and abroad.
The chitrakars live and practice their hereditary art in Puri and in two villages on its outskirts-Raghurajpur and Dandshahi. In Raghurajpur, there are close to fifty families of pata painters. Each of them has a family sketchbook handed down from generation to generation. Gods and Goddesses, the lilas (fanciful but allegorical activities) of Lord Krishna, legends and animals, are all depicted in the sketchbooks. These books are the chitrakars most valuable possessions and are worshipped along with the family gods. Besides pata paintings, the chitrakars also make unique, circular playing cards known as ganjifa which are popular in villages all over Orissa.
Applique Art
The appliqué art perfected by the artisans of Pipli, a village 40 km from Puri on the Bhubaneswar-Puri route, now decorates homes in various parts of the world. Like patachitras, applique work in Orissa also originated as a temple art. Coloured cloth, after being cut and shaped into the forms of birds, animals, flowers, leaves, and other decorative motifs is stitched onto a cloth piece designed as a wall hanging, garden or beach umbrella, a lamp shade and other utility items.
Since the past decade or so, saris and household linen in applique work are also being produced in increasing numbers. Tiny mirrors in a whole range of geometrical shapes and designs are then encapsulated by thread embroidery to create a striking work of art. Four basic traditional colours- red, yellow, white and black are used, while green has been added in comparatively recent times. Besides Puri, appliqué work is also practised to some extent in Chitki, Barpali, and a couple of other places.
Carving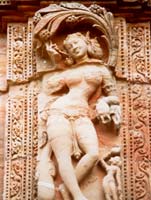 Over the centuries, Puri has preserved a superb tradition of carving, dating back to the Kalinga School. Craftsmen in Pathuriasahi at Puri use soft soapstone and hard kochila to carve replicas of temple sculptures. At Mangalpur near Balasore, skilled craftsmen carve utensils of rare beauty from the semi-grey stone of Khiching.
In addition to stoneware, stylised animal and bird toys meticulously carved out of wood, and painted wooden masks, once used in plays based on the Mahabharata and Ramayana are a feast for the eyes. The craftsmen of Khandapara in Puri are masters at carving plates, bowls, jugs, flower vases and other decorative and functional articles from a creamy white wood.
Carving in Puri is not confined to stone and wood alone. The porous roots and stem of a water plant are being used since ancient times to carve miniature statues of gods and goddesses, temple replicas, animals, decorative hangings, garlands. Known as Sholapith work, the carved articles, if left in natural off-white, look like ivory. When painted, they acquire a distinctive sheen. The papier-mâché art of Puri, Chikti Barpali, Parlakhamedi (Ganjam district), and a few villages around Cuttack has unusual features. The papier-mâché toys produced by the craftsmen have detachable limbs and nodding heads.
Metal Work
A small, select group of gifted Puri craftsmen also persevere with the traditional craft of making brass icons. Elsewhere in the state, in small places such as Behrampur and Belguntha (in Ganjam district), Tarva (Bolangir district), Chandanpur, Phulbani, and Kantilo are scattered some 15,000 families who specialise in producing a variety of brass and bell metal craft objects, which exhibit extraordinary craftsmanship. In Tarva, the craftsmen fashion beautiful utilitarian and decorative objects such as plates, ashtrays and bells out of white metal. About 230 tribal families produce prized dhokra metalware items-boxes, lamps, figures of deities-by the cire perdue or lost wax method.
The highly refined, delicate craft of tarkashi or silver filigree work is practised in Cuttack. Silver is beaten and drawn into fine wires and foils, which are then joined together to form articles-generally ornaments-of stirring beauty. The snow glazed filigree work or tarkashi of Cuttack was once sought after by royal households and merchants from far and wide. Today, the tarkashi workers continue to uphold the traditions of outstanding workmanship, but the clientele has changed, resulting in a comparatively reduced, standardised variety of articles.
Besides its f
amed tarkashi, Cuttack is also well known for its horn work. Buffalo and cow horns are used by skilled artisans toproduce tastefully designed ashtrays, jewellery, figures of birds and animals.
Silver Filigree
Trakashi, or silver filigree form Cuttack region, is one of the most exquisite renditions of silver craft. Beaten silver is drawn into fine wires and foils which are then fashioned together to create jewellery of infinite beauty. Royal households were known to hanker after the snow glazed filigree works of Cuttack. The workmanship here is similar to that done in Indonesia and it is these cross-cultural influences which may have introduced this wonderful art to India. Since silver utensils play a significant part in family life and religious rituals, some beautiful filigree works bear their mark on the silver utensils available in the state's numerous markets.
Textile Work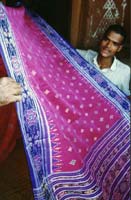 Ikat - that gloriously woven, blurry edged, gemcoloured design, in gorgeous yarns of silk and cotton has become synonymous with Orissa. Speaking eloquently of its old maritime linkages with Bali, the Ikat tradition of Orissa is the intricate process of Tie and Dye i.e., knotting selections of yarn before dipping them in separate colours one at a time and finally weaving them to produce one of the most delightful designs in multi-hued tones, in motifs drawn from the richness of nature, in threads both silken and gold. The double-ikat designs from Sambalpur are great buys as are the gold embroidered ones from Sonepur. The Bomkai ikats have motifs drawn from the Shakti Cult.
Stone Work
Stone carving is a major handicraft of Orissa. As is evident from the innumerable archaeological monuments, rock-cut sculptures, caves and temples, the art of carving in stone had reached in Orissa dizzy heights of excellence perfected through centuries of disciplined efforts of generations of artisans. Unlike sculptors of other places, the artisans of Orissa are at home with a variety of materials. They handle with equal facility the ultra soft white soap stone, or 'Khadipathara', as the slightly harder greenish chlorite or 'Kochilapathara' and the still harder pinkish Khandolite or 'Sahanapathara' or 'Baulapathara' and the hardest of all black granite or 'mugunipathara'. The craftsmen making these articles are concentrated at Baulagadia and Nilgiri.
Wood Work
Wood carving is another important handicraft of Orissa. This again can be broadly grouped into three sub-groups-painted wood carvings, plain wood carvings and wood turned items. In the first group we have painted wooden toys of Puri and Bargarh masks, and idols and chariot decorations. Usually light varieties of wood are preferred and vegetable and mineral colours are used. The plain wood carvings are mostly done on a soft creamish wood called gambhari or white teak. This variety of wood carving is mostly practiced in Cuttack town though a few craftsmen are also found at Bhubaneswar and Puri. Wood turned articles using the creamish 'gambhari' and the harder and darker sisu or rose wood is a specialty of the artisans from Daspalla area in Puri district. Popular items are small pitchers with mango leaves and coconut, glass, bowls, and incense stands.
Information on Traditional Crafts, arts, handicrafts of Orissa - India