Similipal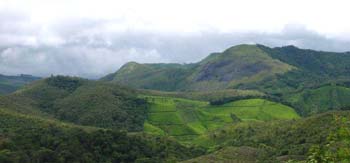 Thick and green forests, extensive grassy lands and meadows, cloud kissing peaks, precipitous and sparkling waterfalls, meandering rivers, roaring tigers and trumpeting tuskers, fleeing deer and flying squirrels, talking myna and dancing peacocks et al make Similipal a dreamland of Nature in the wilderness and an irresistible destination.
Covering a vast are of 2750 sq. km out of which 303 sq. km from the core area, thick biosphere reserve is a sanctuary and one of the Tiger Projects and National parks of India. With wide range of rain falls and edaphic variations, range from dry deciduous to moist green forests, it is suitable to different species of flora and fauna. About 1076 species of mammals, 29 types of reptiles and 231 species of birds are the proud possession of this plateau.
Average mean elevation of Similipal is 900 meters. Tall and luxuriant Sal Trees in large numbers stand like sentries. The handsome peaks of Khairiburu (1178 meters), Meghasani (1158 meters) and others welcome like smiling receptionists from the emerald heights. Sweet scented Champak flowers freshen the air. The richly hued orchids on the green foliage are soothing to the eyes. In the midst of the dense forests, the summer stands humbled and the sun gets lost.
Several rivers like Budhabalanga, Khairi, salandi, Palpala, etc. originate from the hills and meander through the forest like veins and arteries in the body. many of them have formed cascading rapids and foaming falls before leaving for the plains. The panoramic view of the waterfalls at Barehipani (400 meters) and joranda(150 meters) are simply enchanting of fish, is found in abundance in most of the rivers.
Excursion
Similipal in itself offers a complete package. But if you like, visit a few more places around Similipal.
Khiching
Khiching (149 km from Baripada and 55 km from Jashipur) is famous for the shrine of Kichakeswari and Stone Crafts made of different colour stones. There is a Panthasala here.
Chandipur
Chandipur (60 km from Baripada and 16 km from Balasore) is unique Beach Resort with a vanishing sea. the sea water recedes to a distance of about 5 km twice a day. It is a marvel of Nature, rarely found anywhere. There is a Panthanivas & Yatrinivas of OTDC. There are also private hotels.
Panchalingeswar
Panchalingeswar (85 km from Baripada and 30 km from Balasore) is a panoramic place on the lap of Nilagiri hills with a perennial stream flowing over five Lingams. there is a Panthasala of Orissa Tourism Department here.
Remuna
Remuna (60 km from Baripada and 10 km from Balasore) is famous for the shrine of Khirachora Gopinath, visited by Sri Chaitanya.
Deokund
Deokund (65 km frim Baripada and 110 km from Balasore) is an enchanting place with a series of waterfalls and a Shakti shrine set against the outer periphery of Similipal.
---
Getting there
By Road
Baripada, the district headquarters of Mayurbhanj, on the junction of NH 5 and 6, is 170 km from Bhubaneswar, 240 from Kolkata and 60 km from Balasore and 22 km from Pithabata, which is an entry point. The other entry point Jashipur is 94 km from Baripada on N.H. 6. Both the places are well connected by regular bus services. Taxis and Jeeps are available.
By Rail
Nearest railhead is Balasore (60 km from Baripada), served by major trains running on the South-Eastern sector.
By Air
Nearest airports are Bhubaneswar (270 kms) and Kolkata (240 km)
Best time to visit : Similipal is usually open for visitors from the beginning of November till the onset of the monsoons.
General Information & Accomdation info on Similipal city of Orissa - India