Raurkela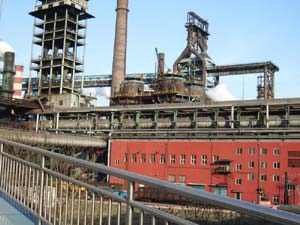 Set in the lap of nature, Raurkela has come into prominence with the establishment of the first of the three public sector steel plants set up in India in 1955. Situated in the minerally rich belt of Orissa, Raurkela marked a new era in the Steel Industry of India being the only steel plant devoted primarily to the production of flat products and sheets. Raurkela serves as the most convenient base for visiting the places of interest in the district of Sundargarh.
Excursion
Vedavyas
Situated on the confluence of the rivers Sankha and Koel, Vedavyas is not only a place of natural beauty but also considered a 'Tirtha',a place of religious sanctity. A vedic Ashram and a school on the lines of Gurukula Ashram are the added attractions of the place. An ideal picnic spot, it is 5 km from Panposh.
Junagarh
A fort of historical and archaeological importance with some ancient caves having marks of tantra worship. It is 4 km. from Hemagiri and 15 km from Kanika.
Pitamahal
Famous for a small Dam project and ideal for outing.
Ushakothi
47 km from Sundargarh, the rock-cut caves contain some pictographic writings which are yet to be deciphered.
Mandira Dam
Known for the Dam across the river Sankha, constructed for supply of water to Raurkela and other places in the vicinity. It presents a picturesque sight, ideal for holidaying and picnic. Boating facility is available in the lake on prior arrangements with the Dam Authorities. Permission to enter the Dam site is issued by the Officer-in-Charge at the main entrance.
Khandadhar
244 metres in height, the waterfall at Khandadhar is said to be the loveliest waterfall in Orissa and it is nice picnic spot.
Darjeeng
On N.H.No.23, it is a beautiful place on the river Brahmani, ideal for picnickers. 2 km away, approachable on foot is Deodarha, a gorge on the river.
Ghogar
A gorge on the river Ib, extending over 5 Km, it is popular as a picnic spot. A naturally formed Siva Lingam of black granite worshipped by the local people, is an additional attraction.
Best time to visit: October to March
General Information & Accomdation info on Raurkela city of Orissa - India