Konark

Ren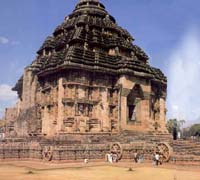 owned for its magnificent sun temple, which was constructed by Narasinha Deva of Ganga dynasty of Orissa in mid 13th century, Konark is also a lovely beach resort. It is easily approachable from BhubanesHwar-64 kms & Puri-32 kms by coaches and tourist cars. Regular bus services including conducted sigthtseeing tours are available for Konark from BhubanesHwar and Puri.

In Konark, the "Natya Mandir", the dance hall of the Sun Temple probably remains as the last remnant of the glorious temples of Orissa an extant example of the architectural excellence of the times. Built in the 13th Century, here a collossal image of the chariot of the Sun, drawn by seven horses and 24 wheels symbolises the divisions of time. The main tower of Konark stood as high as 227 feet, superceding both Lingaraja and Jagannath Temples. The Jagmohana (Porch) structure and the tower are both situated atop the stone platform supporting the 24 wheels. The Konark Sun Temple also houses a Nata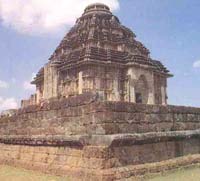 mandira or dancing hall. Only two subsidiary temples out of the 22, that were also situated inside the temple precincts, exist today. The VaishnadeviMayadevi Temple stand to the West of the towers. The Sun temple of Narasimhadeva is a depiction in stone of the life of those times – royal, social, religious and military. The intricate carvings on the walls and wheels of the chariot are unprecedented in history. The fine sculptures depicting Court life, hunting, scenes, celestial deities are epitomes of precision and grace. Graceful sculptures from the world of the Kamasutra, epic of eroticism also adorn the structures. The Sun Temple standing in solitary splendour is the relic of a great past. The history lovers can regale themselves at the Archaeological Museum at the site of the Konark Sun Temple. The majestic Sun Temple silhouetted against the setting sun remains indelibly etched in the spectator's memory.
Getting There
By Air
Nearest airport Bhubaneshwar (64 kms) is connected with Calcutta, Delhi, Hyderabad, Madras and Nagpur by Indian Airlines flights.
By Rail
Nearest railheads Puri (31 kms) and Bhubaneshwar (64 kms) are connected by rail with all the major places in India.
By Road
Konark is well-connected by regular bus-services with Puri, Bhubaneshwar as well as all the major places in Orissa.
Weather
Temperature (°C)
Summer- Max. 43, Min. 32.2;
Winter- 26.7, Min. 10.6.
Rainfall: 152.4 cms (July to September).
Clothings: Summer- Light tropical & cottons, Winter- light woollens.
Best season: Throughout the year, but preferaby October to March.
General Information & Accomdation info on Konark city of Orissa - India