Balangir
A Well laid out town from the time of the Maharajas, Balangir still possesses the charm and serenity of the old days fashion. It is one of the major commercial towns in the western part of Orissa.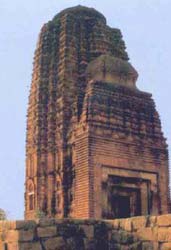 Excursion
Ranipur - Jharial
Here you will find one among the four existing Hypaethral Temples dedicated to sixty-four Yoginis in lndia - a wonder in the world of archaeology, and a cluster of other temples.
Harishankar
On the southern slope of Gandhamardan hills, Harishankar, is a place of pilgrimage and rare scenic beauty with gurgling waterfalls.
Patnagarh
The ancient capital of the kingdom of Patna, has some unique monuments.
Sonepur
Located on the confluence of rivers Mahanadi and Tel, known as Paschima Lanka in scriptures, Sonepur is a nicely laid out town. It has a cluster of temples, each having a story of its own.
Getting There
Balangir is 327 km from Bhubaneswar and has direct road connections to major towns of the State. It is also a railhead on the S.E. Railway
General Information & Accomdation info on Balangir city of Orissa - India