Traditional Crafts
Cultural Mo

saic
Moning Traditions : The pride of the village, the Morung is embellished with hunting trophies and fine wood carvingin its doorway. This all-male dormitory, where a young lad of 6 enters and leaves when he weds, is where the village's sacred hunting trophies, daos, spears and shields of the village are kept for safe keeping. It is in the Morung where the boys learn the ancestral folksongs and folktales, where decisions of war and peace are taken, but it is also a refuge for the village culprits. Yet the Morung is not common to all tribes, You will not find it amongst the Angamis, but it is central to all villages of the Ao, Lotha, Konyak and Phom. Some tribes also have an exclusive dormitory for girls where they too imbibe the tribe's cultural traditions.
Of central importance in village ceremonies too are the log drums made from hollowed tree trunks with a carved mithun head, positioned close to the Momng. Amongst some tribals, it is regarded as a deity.
Feasts of Merit
The Feasts of Merit are important features of Naga society. The performance of a series of these feasts (genna), one more costly than the last, distinguish the host's position in society. Every feast given entitled the host to progressively improve his standing and position in the village. It won him the right to wear special garments and ornaments and he also decorated his home in a special way to mark his status in society, distinguishing him from others in the village.
The dragging of a huge monolith from a distance ceremony is the special privilege of those who have performed a series of feasts. Stone pulling entails the erection of a stone at the location of the feast to commemorate it. It is an occasion of great festivity.
Woven Dreams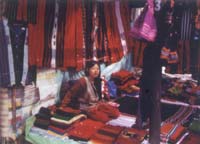 Naga shawls are not a mere wrap against the cold they are highly symbolic. Each tribe has its own special patterns and motifs and even certain ceremonies are indicated in the weaving of these beautiful wraps. The weave and patternisation of a shawl identify tribes and also indicate the social status of a man.
Among the Angami tribals, the most common pattern in these social shawls is Lohe, red and yellow bands on black cloth. The Lotha tribal shawls are woven into a graded pattern - a series of shawls indicating thegennas he has performed. A Naga who has performed the stone dragging ceremony wears the Lungpensu - five stripes of light blue on dark blue cloth. The Ao warrior shawl is embellished with the deeply symbolic mithun, tiger or elephant motif.
While in Nagaland, one should not forget to pay a visit to this center were you can make the purchase of the beautifully woven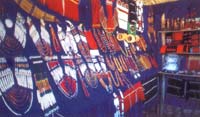 Naga Shawls and Handicrafts.
Konyak Beads
The Konyak ladies are experts in making necklaces with beads. By stringing various Colored beads, they bring out beautifully intricate patterns.
Brass / Copper Statuettes
Brass or copper ornaments are used by all the Naga Tribes. However, brass, statuettes depicting human figures were made only by the Konyaks. Brass pieces are recanted by melting and pouring it down, stone or clay moulds and thus bringing out the desired statuettes.
Musical Instruments
Music forms an integral part of Naga life. Various instruments are used to accompany the singing of folk songs. Tati, a single stringed instrument is popularly used by the Angami farmers, and young couples to sing traditional folk and love songs. There are other indigenous wind instruments made of bamboo, and buffalo horns used during festivals and other special gatherings.
Wood Carvings
Woodcarving is a common practice among all Naga tribes. Objects varying from dishes., walking sticks, smoking pipes, pounding tables to colossal carving of house beams and pillars, log-drum, village gate, etc. are done using simple tools like the hand-drill, and chisel.

Information on Traditional Crafts, arts, handicrafts of Nagaland - India