Shopping
Weaving is a traditional art handed down through the generations. Each of the major tribes has its own unique designs a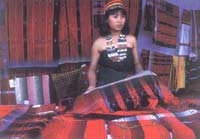 nd colours. Warm and colourful Naga shawls, handwoven shoulder bags, decorative spears, table mats, wood carvings and bamboo work make wonderful souvenirs for the folks back home.
Classical Naga necklaces, worn by tribal men and women, often consist of numerous beaded strands. The necklace-ends can be finalized by small sheep horns, wrapped threads or knitted string. The actual hook might be carved into a horn or bone, or a button made from a small bead or coin.
A wide variety of materials can also be incorporated into these finely-beaded necklaces, including semi-precious stones, metal castings, and carved bones.
A less traditional use of bead work is seen on the wall hangings and picture frames. These are covered with Tibetan three-dimensional beading techniques normally reserved for clothing (hats, chest-pieces, and purses).
Although the shop doesn't have a formal name, you can find it by visiting the Times Square Mall on 42nd Street near 6th Avenue.
Information on shopping in Nagaland - India