Lunglei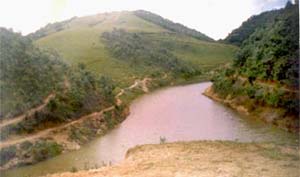 Lunglei is a district head quaters town of South Mizoram and 235 km away from Aizawl. Lunglei has great natural beauty and rich in flora. Its cool and pleasant climate, secenic beauty and peaceful atmosphere makes it a beautiful hill station in North-East. Adjoining picnic spots of Khawiva and district park at Zobawk makes more attractive for tourists. Accommodation is available at tourist lodge.
Wildlife Sanctuary
The tropical forest of Mizoram are alive with a rich population of wildlife. The forests are home of tigers, wild boars, leopards, monkeys, barking deers, sambars and elephants, and many other migratory animals are also found in this part of the world. Rare species of birds are also found in the jungles like the hombills, pen-pheasants, tragopans, flower-peckers, sun-birds and the thrush family.
To protect the wildlife Government of Mizoram has set up the wildlife sanctuaries at Dampa (681 sq. km.), Ngengpui (110 sq. km.) and Tawi (60 sq. km.). A bird sanctuary at Rengdil is also a very favourite tourist spot. Similar sanctuaries are being developed at Murlen and Palak.
General Information & Accomdation info on Lunglei city of Mizoram - India