Cherrapunjee
Situated at an altitude of 1,300 meters and about 56 km from Shillong, Cherrapunjee, once the wettest spot on earth, has yielded the title to nearb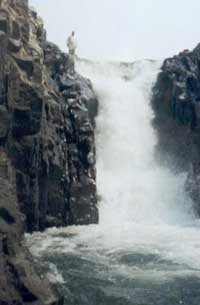 y Mawsynram. Nevertheless, it is a land of heavy rains and perpetual rainbows. During the monsoons, the place receives about 366" of rain making the area absolutely inaccessible. Dense woods are cut through by numerous meandering streams and rivulets. Frighteningly high but absolutely beautiful waterfalls drop into deep gorges with a roar.
In Cherrapunjee, there seems to be no dearth of waterfalls — one lovelier than the other. Some of the famous ones are the Mawsmai Falls, the Nohkalikai Falls which is the fourth highest in the world, the Umhein Falls, the Kynrem Falls, the Dainthlen Falls and the Nohsngithiang Falls which literally translated means "falls kissed by the sunset". These spots also make excellent places for picnicking. The Mawsmai Caves near the Mawlong Syiem Peak and the Lum Lawbath Caves are interesting mysteries in themselves.
Excursion
Mairang — a historical monument in memory of U. Tirot Singh, who fought against the British to retain independence.
Jakrem — for its hot water springs, Dawki (altitude 150 meters) — which provides an excellent view of the plains around.
Ranikor — a good spot for fishing and the Umiam Lake.
Getting There
There are regular bus services between Shillong and Cherrapunjee which is 56 km away. The MTDC organizes regular conducted tours by luxury coaches to cover places of tourist interest in Cherrapunjee.
Hotels & Accomodation
The nearest and good accommodation is available at Shillong.

General Information & Accomdation info on Cherrapunjee city of Meghalaya - India