Fairs & Festival
Ras Leela
Manipur's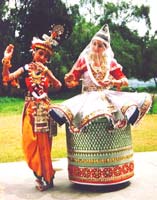 famous classical dance form. Ras Leela, is based on the legendary love of Radha-Krishna and the devotion of the Gopis to Lord Krishna. Performances (in a mandap close to a temple) can sometimes last all night. Shri Govindaji Temple is an important venue for these performances, particularly on the night of Basanta Pumima and Kartika Purnima. This performance here spearheads other performances in the city's various venues.
Lai Haraoba
The spring festival of Lai Haraoba (April / Mayl is a harmonious blend of stylised and ritualistic dances for peace and prosperity performed in honour of the local sylvan dieties in the Manipur Valley. The one at Moirang attracts huge crowds.
Yaosang
Manipur's biggest festival Yaosang is celebrated for five days commencing from the full-moon day of the lunar month of Phalgun (Feb-March). The festivities ring with the music of Thabal Chongba, a folk dance linked with the festival.
Heikru Hidongba

The high point of the annual celebrations of Heikru Hidongba or Hitongba, the colourful boat races, are held at Imphal in September.
Cheiraoba
In the month of April, the Cheiraoba celebrations are a joyous occasion for all. Houses are given a facelift with decorations and the deities bless the food eaten. Cheiraoba marks the New Year for the Meiteis. An unusual tradition is the climb of the villagers up to nearby hilltops in the belief that it enables them to rise to heights in their worldly life.
Ningol Chak Kouba
The annual Meitel festival of Ningol Chak Kouba, organised in October/November, features lavish feasts being arranged by the parents and brothers to honour their married daughters and sisters.
Gan-Ngai
Cel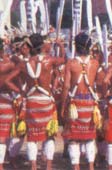 ebrated by the Kabui Nagas, Gan-Ngai is a colourful blending of rituals, feasts and dances. The five-day festival is celebrated in December-January.
Ratha Yatra
The Ratha Yatra or Car Festival is held in June / July in the Imphal Valley.
Kwak Yatra
The centuries old Kwak Yatra (corresponding to Durga Pu)a) is observed around October in the Valley.
Chumpha
The Chumpha festival of the Tangkhul Nagas is held in early December.
Info on Fairs and Festivals of Manipur - india