Nagpur
History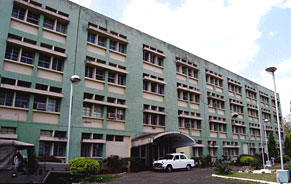 Nagpur was founded by Bhakt Buland, a prince of the Gond kingdom of Deogarh in the Chhindwara District. In 1743 the [[Marathlink titlea]] leader Raghoji Bhonsle of Vidarbha established himself at Nagpur, and by 1751 he had conquered the territories of Deogarh, Chanda and Chhattisgarh. Raghoji died in 1755, and in 1769 his son and successor, Janoji, was forced to acknowledge the Maratha peshwa of Pune's effective supremacy. The Nagpur State, however, continued to grow. In 1785 Mudhoji (d. 1788), Janoji's successor, bought Mandla and the upper Narmada valley from the Peshwa, and between 1796 and 1798 this was followed by the acquisition of Hoshangabad and the larger part of Saugor and Damoh by Raghoji II (d. 1816). Under this raja, Nagpur covered what is now eastern Maharashtra State, as well as Chhattisgarh, Orissa, and parts of Madhya Pradesh and Jharkhand.
In 1803 Raghoji II joined the Peshwas against the British in the Second Anglo-Maratha War. The British prevailed, and Raghoji had to cede Cuttack, Sambalpur, and part of Berar. After Raghoji II's death in 1816 his son Parsaji was deposed and murdered by Mudhoji, known as Appa Sahib. In spite of a treaty signed the same year with the British, in 1817 Mudhoji joined the peshwa in the Third Anglo-Maratha War, but was defeated at Sitabaldi and forced to cede the rest of Berar to the Nizam of Hyderabad, and parts of Saugor and Damoh, with Mandla, Betul, Seoni and the Narmada valley, to the British. After a temporary restoration to the throne he was deposed, and Raghoji III, a grandchild of Raghoji II, was placed on the throne. During his minority, which lasted till 1840, the country was administered by a British resident. In 1853, on the death of Raghoji III without a male heir, the British took control of Nagpur. Nagpur province, which consisted of the present Nagpur region, Chhindwara and Chhatisgarh, was administered by a commissioner under the central government from 1853 to 1861, when it became part of the Central Provinces, ruled by a British governor, with Nagpur as its capital. Berar was added in 1903.
Tata's, one of the most respected industrial houses in India started their empire from Nagpur. Mr. J. N. Tata formed a company called Central India Spinning and Weaving Company Ltd, with a starting capital of Rs. 1,500,000. The company was popularly called as "Empress Mills" as it was inaugurated on 1st January 1877 the day queen Victoria was proclaimed Empress of India. Unfortunately, today the company is closed and a huge township "Empress City" is being constructed in the company land.
Nagpur was a scene of great political activity during the "freedom struggle." Sampath came from this city.It hosted two annual sessions of the Indian National Congress and the Non Co-Operation Movement was launched in the Nagpur session of 1920. After Indian Independence in 1947, Central Provinces and Berar became a province of India, and in 1950 became the Indian state of Madhya Pradesh, again with Nagpur as its capital. In 1956 the Indian states were reorganized along linguistic lines, and the Nagpur region and Berar were transferred to Bombay state, which in 1960 was split into the states of Maharashtra and Gujarat. Nagpur is the only city in India to lose the status of a state capital during the reorganizaton of states. If the demand for separate state of Vidharbha is granted then Nagpur will become it's state capital.
Location

Nagpur City name is derived from River "Nag" which flows through the city. In the Hindi language 'Nag' means Snake. Nagpur city located near the geographical centre of India, in the state of Maharashtra. With a population of 3.5 million (2005 est.), Nagpur is the 13th largest urban conglomeration in India. It is known throughout the country as the "Orange City", as it is a major trading centre for oranges and because the entire region has a climate favourable for large-scale cultivation of oranges. Recently Nagpur celebrated 300 years of its establishment.
Nagpur is the Winter Capital of the state of Maharashtra and is also headquarters of Nagpur District and Nagpur Division administration. It is the foremost city of the Vidarbha region, which includes most of eastern Maharashtra. Vidarbha is the one of the backward regions of Maharashtra.
The Maharashtra State Legislative Assembly holds its Winter Session at Nagpur in the month of December at which time the entire political community of Maharashtra descends on Nagpur for the two-week duration of the session.
Nagpur City is situated at an altitude of 900 to 1000 feet (275 to 300 m) above sea level and has an area of 220 km². It receives an annual rainfall of 1,242 mm (48.9 in). Except for the summer months from March to June, which are extremely hot, the weather all round is moderate. There is very scant rainfall, which results in frequent water shortage, mostly in the poorer parts of the city. Winter lasts from November to January. Nagpur also has few good lakes - Ambazari, Telangkhedi, Shukrawar, Gorewada, and Sonegaon lakes are now a days maintained. Of all, Ambazari is the main lake. It has an area of approximately 15.4 km² on the western outskirts of the city. Boating facilities and good walking trails provide an interesting outdoor activity. The Ambazari Lake is one of the most beautiful spots in Nagpur, developed and maintained by the Nagpur Municipal Corporation (NMC).
Nagpur is a very important road and railway junction, a transit for almost all the trains that span the country lengthwise or breadthwise, including all four of India's major metropolitan cities. Many trains connect Nagpur to the state capital Mumbai, of which The Vidarbha Express is most popular. Nagpur has two major railway stations - Nagpur railway station and Ajni railway station. Nagpur is home to the India Zero Miletone, from which distances throughout India are measured. Domestic airlines such as Indian Airlines, Jet Airways, and Air Deccan connect Nagpur with Mumbai (5 flights daily), Delhi (2 flights daily), Hyderabad (1 flight daily and 1, 4 times a week), Kolkata (1 flight thrice a week and another twice a week). In October 2005, Nagpur was declared an international airport with Air Arabia connecting Nagpur with Sharjah thrice a week. In December, this was increased to 5 times a week. In April 2006 Indian Airlines connected Nagpur with Bangkok with a non-stop twice weekly service. Qatar Airways has announced that it will start a thrice-weekly service from Nagpur to Doha in the summer of 2006.
Hotel Tuli International, Hotel Airport Centre Point, Hotel Centre Point, Hotel Pride, and Hotel Chidambara International are the major hotels of the city. It has wide roads and has undertaken major upgradation and renewal works under National Urban Renewal Mission.
Deekshabhoomi in the city was the place where Dr. B. R. Ambedkar embraced Buddhism to overcome discrimination against lower-caste and untouchable Hindus. Dalits and Buddhists from all over the country converge to Deekshabhoomi every year on Dussera. The Vidarbha Cricket Association ground in Nagpur is one of the nine test venues in the country and has been witness to a number of exciting contests.
Nagpur is also the next most favoured IT destination in Maharashtra after the saturation in Mumbai and Pune. The Butibori industrial area near the city is one of the biggest in the country in terms of area. An international cargo hub is also coming up in Nagpur. US aircraft major Boeing has announced its intention to set up a Maintenance, Repair, and Overhaul facility in the city as well as a pilot and airlines staff training school. Nagpur also houses the Headquarters of Maintenance Command of the Indian Air Force and has an ordnance factory for Indian Armed Forces. It is also the home for Indian Air Force's giant IL-76 transport planes nicknamed "Gajraj". Kamptee, a Nagpur suburb, is home to the Regimental Centre of Indian Army's Brigade of the Guards. It has a neatly laid out cantonment area that also has National Cadet Corps' Officers' Training School and other establishments of Indian Army.
It is home to many scientific establishments including the National Environmental Engineering and Research Institute (NEERI), Indian Institute of Cotton Research, National Research Centre for Citrus, National Bureau of Soil Survey and Land Use Planning, and Jawaharlal Nehru National Aluminum Research and Development Centre making it an important city for scientific community. It is also the headquarters of Indian Bureau of Mines and has the office of Chief Controller of Explosives. The nation's Patent Information System is also headquartered in the city.
The city can be roughly divided into two distinct parts; one consisting the developed areas, in which mostly the affluent reside, and the un-developed areas, in which the poorer sections of society reside. The Vidarbha region has witnessed a massive rise in the numbers of poor farmers committing suicide due to inability to pay of mortgages. Many factions in the city are fighting for a separate state of Vidarbha with Nagpur as the state capital.
There are plenty of restaurants, for entertainment and dining. Liberty and Smruti are two popular theaters, screening all major Bollywood releases, but English movies are not screened, only dubbed versions are. The city right now lacks a multi-screen theatre (multiplex), though couples are nearing completion. The housing supply is good and moderately priced. In recent times Maharashtra state's power shortages have been felt here too with power cuts ranging from two and half to four hours in different parts of the city. It has good quality water supply.
The city also has a vibrant media scene with its own TV as well as radio station. In fact, All India Radio's Nagpur station is among the earliest set up in India. It also publishes major newspapers in Marathi, Hindi, and English languages. Lokmat, Sakal, Tarun Bharat, and Loksatta are major Marathi language newspapers published in Nagpur. Dainik Bhaskar and Nav Bharat and leading Hindi ones while The Hitavada are the leading English language newspaper.
Culture
Places of worship, of all religions, are present throughout the city. Almost every part of the city has at least one major temple. The Catholic Seminary at Seminary Hills is one of the finest in the state. The city's culture is cosmopolitan with people of all faiths and followings living in it. Though it has not kept pace with India's economic boom it remains one of the most livable cities of India. The people are friendly. Crime is by and large in control. It is a close-knit community that has remained peaceful even when other parts of the countries experienced communal conflicts for one reason or another.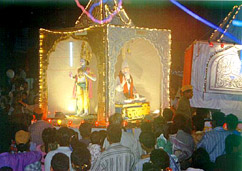 Every year on Ram Navami day (which generally falls in late March or early April), the city plays host to spectacular shobhayatra, a one of its kind event in the country. A massive procession of floats depicting various events from epic Ramayana is organized. It snakes through several important streets of the city from late afternoon to well past midnight. It is witnessed by hundreds of thousands of people. Processions are also held on other festivals such as Eid e Milad, Gurunanak Jayanti, and Mahavir Jayanti and Moharram. Days long celebrations are held on during Ganesh and Durga puja festivals.
There are regular stagings of Marathi plays that a large following though it does not have a significant theatre of its own. People are also fond of Indian classical music and dance. Several national level performances are held each year. A week long Kalidas festival is organized by Maharashtra government under which a series of music and dance performances by artistes of national repute. Besides, there are regular poets' gatherings and mushairas taking place in different parts of the city.
General Information & Accomdation info on Nagpur city of Maharashtra - India