Mahabaleshwar
Mahabaleshwar > Tourist Attractions
[ History | General Facilities | Travel Information ]
Established as a health resort in 1829, Mahabaleshwar today is regarded as the queen of Maharashtra's Hill Stations. And though time can pass rather slowly here like any other hill stations.
Mahabaleshwar has developed this skill for making sure even the high-flying types have an opportunity to enjoy its cool climate. Video Games, Slot Machines, Boating, Horse Riding, Pool and even go-karting. It's all possible here. This is the Gateway for Honeymooners, Families and all those simply looking for a change from their hectic lifestyle.
History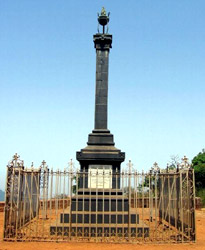 There is no authentic recorded account of the early history of Mahabaleshwar. It has, however, been ascertained that a Jadav king of Devgiri visited it in 1215 and built a small temple at the source of river Krishna. From 1318 onwards the Moguls ruled from Delhi, then around 1350, a Brahmin dynasty took over power . During the late 15th century, the Muslim kings of Bijapur and Ahmednagar conquered the Konkan and adjoining territories. In the middle of the 16th century the Maratha family of Chandarao More, became rulers of Jaoli and Mahabaleshwar, during which period the temple of Old Mahabaleshwar was rebuilt.
In the 17th century the great Maratha idol, Chhatrapati Shivaji Maharaj was inspired to free his country of foreign invaders. He collected and trained a sizeable army around him and captured many forts, amongst others Raigad in 1648. He overran Jaoli and Mahabaleshwar and constructed the impregnable fort at Pratapgad in 1656. Through his brave exploits and sparkling successes against the Moguls and other invaders, Shivaji became a national hero. After him the Peshwas ruled until their downfall in the 19th century. In 1819, the British included the hills in the territory of the Raja of Satara.
One person named Colonel Lodwick (later he became a General), was one of the first European to climb these hills. Lodwick felt so exhilarated by the invigorating cool climate and scenic beauty of Mahabaleshwar that he sent a letter extolling these points to the "Bombay Courier", thus bringing this hill station into focus. He was rewarded for extolling these features of Mahabaleshwar with a monument called "Lodwick Point". Sir John Malcolm took the hint about the beauty, sublime and the invigorating climate and in 1828 established a sanatorium for the sick and a resort for the healthy by acquiring the land from the Raja of Satara in lieu of another territory.
Old Mahabaleshwar

Panchaganga Mandir: As per the hindu mythology Panchaganga means five holy rivers krishna, venna, koyna, Savitri & gayatri. These rivers show their token appearance here in five springs flowing closely. They are seen flowing in five stone conduits & joining in one horizontal,half channel leading to the Goumukhi cowface spout. On the northen side there is a similar conduit through which the holy 'ganga' appears every twelve years. From the conduit on the southern side flows the holy saraswati when the following astrological times come together, namely, Bhadrapad month, shasthi (6th day) ,Tuesday sun in hasta nakshatra, Rohini nakshatra in predominance & Vyatipat. This miraculous yoga (coincidence) is known as the "Kapila Shasthi Yoga", which is believed to be very auspicious occassion as per the Hindu faith.
There is something for everybody here; all you have to do is take your pick.
---
Food and Purchase
Mahabaleshwar is famous for its amazing variety of berries, which you can buy fresh (in season) or in juice, ice-cream, sauces and 'creams'.
Shopping
Wander through tiny lanes of the bazaar, shopping for everything from shoes to luscious strawberries, blackberries, jams and jellies. The bazaar here is also fairly popular, with leather goods and tribal trinkets for sale. There are several small-scale home industries that make rather good jams and jellies.
---
Mahabaleshwar (Travel Information)
By Air: Pune is the nearest airport both for Mahabaleshwar (120 km and Panchgani (98 km)


By Rail: For Mahabaleshwar, the nearest railhead is Wathar (62 km) but Pune (120 km) is the convenient railhead.


For Panchgani, the nearest railhead is Wathar (45 km). Mumbai-Wathar via Pune (312 km). Pune-Wathar (120 km)


By Road: From Mumbai via Pune, Mahabaleshwar is 290 km and via Mahad it is 247 km. The State Transport buses ply from Mumbai and Pune to Mahabaleshwar. MTDC operates daily bus services except during the monsoon, between Mumbai-Mahabaleshwar-Mumbai. Also sightseeing tours for Mahabaleshwar and Mahabaleshwar-Pratapgad Fort.


From Mumbai via Pune, Panchgani is 270 km and via Mahad 266 km, from Pune 98 kilometers and from Mahabaleshwar 19 km. The State Road Transport buses ply from Satara, Pune, Wai, Mahabaleshwar and Mahad. MTDC runs a regular bus service between Mumbai and Panchgani.
Mahabaleshwar (Accommodation)
Both Mahabaleshwar and Panchgani have reasonable priced bungalows. MTDC run holiday resorts and hotels.
Local Transport
Taxis and rickshaws are easily available though bicycles and horseback are recommended for traveling long distances.
Mahabaleshwar (When To Visit)
Best time to visit Mahabaleshwar is October to June and best time to visit Panchgani is September to May.

Climate
Temperatures vary from 13oC in winter to 29oC in summer with a yearly rainfall of 663 cms.
General Information & Accomdation info on Mahabaleshwar city of Maharashtra - India