Excursion
Forts
Standing, as silent guards to history are the 350-odd forts of Maharashtra. Beaten by the sea waves, lashed at by the stormy Deccan rains, or burned in the blazing sun, stand imposing barrier and crumbling walls, the last habitual memories of Maharashtra's military times. Nowhere in the country would you encounter such plenty of forts and such variety. Most of the forts in Maharashtra whether up in the hills or near the seas are associated with Shivaji --the great Maratha warrior and an equally great fort builder. Moreover, these forts were treated as mini-cities, such as Panhala, which is now a hill station. The concept of the fort-city was, however, not peculiar to Shivaji alone. The Portuguese, who came to India as traders, built within a century of their coming, Bassein, a garden city to compete many a European capital. Today, these forts impassive by sun, has not only been witness to changing times, but also has hidden history.
[ Bassein | Daulatabad | Gavilgad | Ghodbunder | Murud - Janjira | Murud - Harnai | Panhala | Raigad | Sinhagad | Vijaydurg - Sindhudurg ]
Bassein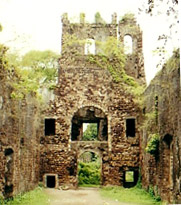 Bassein Fort, now in ruins, was under the Portuguese a flourishing protected city from 1534 to 1739 when the Marathas sacked it. The ruins of the Portuguese Fort still stand almost hidden by brushwood and palm groves. Some of the walls and churches can still be seen.
About 10 kms to the northwest lies Nalasopara village, the capital of the Konkan region from 1500 BC to AD 1300. Many Buddhist residues were discovered here. Nalasopara is believed to have been the birthplace of the Buddha in a previous life. To the north, is the Agar of Agashi and to the south is the Agar of Bassein. An hour by bus from Bassein station is the Vajreshwari Temple and Akoli Hot Springs.
Also easily accessible is Ganeshpuri with the Sadguru Nityanand Maharaj Samadhi Mandir, the Bhimeshwar Temple and other ashrams.
From Mumbai, Bassein Fort can be reached easily by local train up to Bassein or Vasai
Road station on the Western Railway and then by auto-rickshaw or taxi.
It is 77 kms along the Mumbai-Ahmedabad highway.
---
Daulatabad

Daulatabad is 600 feet above the Deccan plain. It lies 13 kms North West of Aurangabad. Once known as Devgiri, this fort served as the headquarters of the powerful Yadava rulers. In the 13th century, Mohammed bin Tughlak, the Sultan of Delhi made it his capital and renamed it Daulatabad, or City of Fortune.
Daulatabad displays many of the internal devices that made it unconquerable. Unusual underground passages lie among the fort along with series of secret. Its defence systems constituted strengthening of double and even triple rows of massive walls. It is a fort conquered only by betrayal.
The most remarkable structures at Daulatabad are the Chand Minar, Jami Masjid and royal palaces. The tapering 30-metre high tower of the Chand Minar is divided into four storeys, and was faced with glassy tiles and carved points. The Minar probably served as a prayer hall or a victory monument in its time. The Jami Masjid was a mosque built by the Khilji ruler of Delhi, Qutubuddin Mubarak. The palaces consist of spacious halls, pavilions and courtyards.
The fort is open till 6-p.m. Aurangabad is generally from where you would arrive or depart. Aurangabad airport is conveniently located, around 10 kms east of the town, and is directly air-linked to Mumbai, Delhi, Jaipur and Udaipur.
There are two trains that depart daily from Mumbai. The Tapovan Express leaves Mumbai early morning arriving in Aurangabad by late afternoon, while the Devgiri Express is an overnight train.
Daulatabad Fort is a part of the MTDC tour to Ellora from Aurangabad, but it can be accessed by private taxi or by the local bus that runs between Aurangabad and Ellora.
Accommadation: There are several luxury and budget hotels in and around Aurangabad city. The MTDC has a tourist lodge, near the Aurangabad railway station. There is also a youth hostel in the city.
---
Gavilgad

Hidden in mist and myths is the Gavali tribal fort of Gavilgad or Gavaligad, on the Chikhaldara plateau is now under the Melghat Tiger Project. Featured in the epic, the Mahabharata, this is the place where Bheema killed the villainous Keechaka in a very difficult match and then threw him into the valley. It thus came to be known as Keechakadara -- Chikhaldara is its corruption.
Built by the Gavlis, or cowherds in the 12th/13th centuries, the fort was occupied later by the mighty Gonds, the last of the sub-continental powers to fall to the Mughals. Today although no signs of dramatic battle remain, the fort walls and barrier still stand. Four gates guard the strategic entrances with only a cool wind whistling past them. There is no trace of the tunnel, reputedly linking it to the nearby Gond fort at Narnala. You could trek to Narnala, or drive through the thick forest to discover yet another blend of Gond and Mughal influence.
Weather: Chikhaldara has an annual rainfall of 154 cms. Temperatures vary from 39 C in summer to 5 C in winter. (October to June is the best time to visit)
Getting there: The nearest railhead is Badnera on the Central Railway branch line, 110 kms. Chikhaldara, 763 kms from Mumbai, is connected to most major cities by road. Regular ST buses connect Chikhaldara to Amravati, Nagpur, Wardha, Akola and other cities.
Accommadation: The MTDC has a resort in a Chikhaldara, which includes a convention centre.
---
Ghodbunder
Ghodbunder is an option that's happily pastoral to get rid of hustle bustle of cities. An option that gives you a scenic view of the Bassein Creek, Winding Rivers, lofty hills and playful little island put out by tall palms. And at Ghodbunder Forts, you can relive the excitement of the Portuguese and Maratha occupations.
Getting there: Nearest airport is Mumbai 23 kms. Nearest railhead is Borivali, on Western Railway suburban/main line 8 kms. Mumbai- Ghodbunder, 43 kms. State Transport, Best buses ply from Thane and Borivali to Ghodbunder.
Accommadation: Self-contained rooms (5 blocks). Check out time: 8.00 a.m. Reservation: Ghodbunder and Mumbai.
---
Murud-Janjira

Formerly the capital town of the Siddis of Janjira, Murud is today popular for its erotically appealing beach, whispering casurina, coconut and betel palms and an ancient fort. On a hill to the north is the shrine of Lord Dattatreya, the three heads representing Brahma, Vishnu and Maheshwara. Battered on all four sides by sea waves, its strong walls yet standing intact and 40 feet high even at full tide is the majestic island fortress of the Siddis -- Murud-Janjira.
Never conquered by an enemy for over 350 years since its construction by the Ahmednagar rulers under the supervision of their regent Malik Ambar in the 15th century, Murud-Janjira is probably the only unbeatable fort on the 720-km Maharashtra coastline. Neither the Portuguese nor the British could conquer the fort. And the Marathas, despite their repeated attempts failed to conquer the Siddi power.
The palace of the Nawab and the Janjira Caves are also a must for the tourist. And just a few kilometers away are two undiscovered beaches: Nandgaon and Kashid. Nandgaon is famous for its Ganapati temple and the annual fair held in honour of ths elephant-headed God every February.
Getting there: Nearest airport is Mumbai, 65 kms., Nearest railhead is Roha 50 kms., Mumbai-Murud-via Revdanda, 165 kms. Pune-Murud via Mahad, 230 kms. Alibag-Murud, 52 kms., State transport buses ply from Mumbai, Pune to Murud.
Accommadation: 2/4/6 bedded self-contained 14 rooms.
Checkout time: 10.00 a.m.
Reservation: Mumbai and Murud.

---
Murud-Harnai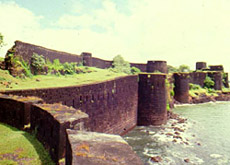 Murud-Harnai South of old Harnai fort, the palm-fringed beach of Murud is famous for its clean, white sands and safe waters. Visit the Goa Killa or Harnai Fort, which is built on different levels. See Panhale kazi, the Famous rock-cut monument, 30 kms from Murud-Harnai. Stay in MTDC's luxurious huts, and definitely sample the local Konkan cuisine.
Getting there: Nearest airport is Mumbai. Nearest railhead is Khed, 45 kms on Konkan Rly. Mumbai-Murud-Harnai, 247 kms via Panvel-Pen-Lonere Phata-Dapoli. State Transport uses ply from Mumbai, Pune, Mahad to Murud-Harnai.
Accommadation: 2/6/8 bedded huts available (Seasonal).
Check out time: 12.00 noon.
Reservation: Mumbai & Harnai.
---
Panhala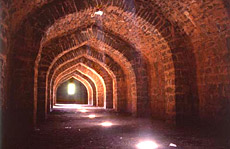 The history of Panhala Fort is also the history of the Marathas. There are innumerable places of interest, each with its share of mysterious biography. Sajja Kothi, where Sambhaji was imprisoned, Ambabai Temple, where Shivaji used to seek blessings before undertaking expeditions, Pavankhind, where Baji Prabhu laid down his life to cover Shivaji's escape.
The largest of all Deccan forts, Panhala, was built between AD 1178-1209. Though it was the seat of the Shilahara dynasty since AD 1190, and held successively by the Yadava and Bahamani kingdoms, it is today aromatic with memories of Shivaji. Not surprising, though considering that this is one of the few forts in which Shivaji spent more than 500 days. Visit the innermost castle, or march past the three magnificent double-walled gates, which guard the entry to the fort. You will be awestruck by the huge container, Amberkhana, said to contain 25,000 khandis (50,000 mounds) of corn poured into it from symmetrical gaps in the ceiling.
In addition to history, Panhala 20 kms from the industrial city of Kolhapur and at an altitude of 977 m offers some inspiring scenery and a soothing climate, providing the ideal getaway as a hill station.
Weather: An average temperature of 25 C. Getting there: Nearest airport is belgaum, 123kms., Nearest railhead is Kolhapur, 18 kms on south central Railway., Mumbai-Panhala, 428 kms via Kolhapur, Kolhapur-panhala, 18 kms., State Transport buses ply from Kolhapur, Belgaum to Panhala.
Accommodation: MTDC-self-contained 9 rooms and 4 Tents (seasonal). Privatised self-contained 12 rooms and 2 Dormitories.
Checkout time: MTDC 9.00 a.m. Privatised 12.00 noon.
Reservation: Mumbai,Kolhapur and Panhala.
---
Raigad

This is the very heart of Maratha country -- Raigad, the capital of Shivaji's kingdom. Strategically land higher a v-shaped piece block of hill, split off from the Western Ghats and inaccessible from three sides. Stories of incredible valor and heroic deeds are etched on every pebble at Raigad. It was here that Shivaji built his capital city in the 14th century, and here that he crowned himself Chhatrapati. For six years unto his death, Raigad remained the capital of the Marathas with its broad gates and magnificent monuments. There was only one pathway leading to the top, and prizes were offered to those who scaled the fort through unconventional methods. Though parts of Raigad are in ruins, yet they inspire an aura of splendor.
You can also visit Gangasagar Lake or worship at the nearby Jagadishwar Temple or pay your respects to the great Maratha warrior at his Samadhi.
Getting there:Nearest airport is Pune, 126 kms. Nearest railhead is Veer on Konkan Railway. (40 kms) Mumbai-Raigad, 210 kms. via Mahad. Pune-Raigad, 126 kms. Mahad-Raigad, 27 kms.State Transport buses ply from Mumbai, Mahad and Pune to Raigad. Rope-way is available from foot-hills to the top of the fort (seasonal). On foot, about 1450 steps from foot-hill to the top of the Fort.
Accommadation: Self-contained rooms (6 blocks) and Dormitories (2 blocks without beds - 100 tourists). Closed during monsoon.
Check-out time: 9.00 a.m.

Reservation: Mumbai/Raigad
---
Sinhagad

Sinhagad, where valor is etched on every stone and the soil has turned red seeped by the blood of martyrs. From the time when a Koli chieftain, Nag Naik fleshy defended this fort (AD 1328) against the might of the Muhammad-bin-Tughlaq for nine months to Jaswant Singh, Aurangzeb's commander, who dragged his guns up the fort's steep shoulders to avenge the insult to Shaista Khan, who was rebuffed by Shivaji, this fort has been infused by tales of bravery.
It was here that Shivaji's general, Tanaji Malusare launched an attack to recapture the fort. In the ensuing battle, Tanaji valiantly laid down his life, but captured the fort. A grieving Shivaji is known to have said,"Gad ala pan sinh gela" (The fort is won but the lion has gone). And this is how the fort got its name: sinh (lion's) gad (fort).
Lokmanya Tilak, the freedom fighter had a bungalow atop here and Gandhiji is said to have asked for water from Sinhagad, whenever he was imprisoned at Pune, a few kilometres away. You can visit the memorial to Tanaji, or the tomb of Rajaram -- Shivaji's son -- who died here. And if you are fortunate, you may find a priceless jewel or an ancient coin as Sinhgad used to serve as a storehouse of wealth for Pune merchants.
Getting there: The fort can be scaled from its many approaches. You can trek from Donaje upto the top. Donaje can be reached conveniently by bus from Pune, 25 kms away. Another shorter and less steep climb is from Kalyan village past the Kalyan Darwaza.
---
Vijaydurg - Sindhudurg

Once naval bases, Vijaydurg and Sindhudurg bear affirmation to Maharashtra's military domination during Shivaji's reign. Shivaji, to whom it owes its finest features -- the triple line of walls, the numerous towers and the massive interior buildings, strengthened Vijaydurg or Victory Fort around the 17th century. Once seized by the British and renamed Fort Augustus, Sindhudurg or the Ocean Fort at Malvan port has history etched all over.
Constructed by Shivaji in 1664, at a site personally selected by him. The construction of a sea fort is a stupendous task, and at Sindhudurg no efforts were spared. Over 2000 khandis (4000 mounds) of iron were used for casting and the foundation stones were laid down firmly in lead.
Even today, as one approaches the fort past a rocky reef, navigable through a narrow channel, one marvels at the transportation of such heavy material through such choppy waters. Within its precincts are temples holding the shrines of Maruti, Bhavani, Mahadeo, Jarimai, Mahapurush and also of Shivaji -- the only such shrine in the country. As for Vijaydurg and Sindhudurg beaches, they offer the visitor one of the most serene and beautiful coastal views in India.
Getting there: Rajapur and Kudal respectively are the nearest railheads on the Konkan Railway. Sindhudurg by road is 510 kms and Vijaydurg is 425 kms from Mumbai via the Goa highway.

Information on Tours & Travel excursion of Maharashtra - India