Bhandardhara
Bhandardhara is a small town situated at one end of the Bhandardhara Lake. There is a dam nearby called Wilson dam. The Bhandardara Lake is on a plateau 750m high. This plateau in fact is part of the Deccan plateau. The western end of the plateau gives a view of the Konkan while the other sides are almost totally ringed around by the highest mountains of the Sahyadri. The average height of these mountains is more than 1200m. The scenic view one gets from this plateau is striking. The Sahyadris are indeed at their finest here.
A quiet, away-from-it-all, little holiday resort, with lovely picnic spots. Arhur Lake set amidst scenic forests affords many hours of entertainment. The streamlet forms the lake cascades down 45m as the Randha Falls. The Wilson Dam at a height of 150 m. is yet another lovely sight. Overlooking Bhandardara is Mt. Kalsubai, the highest peak in the state.
Bhandardhara is a beautiful and quiet picnic spot where you would love to go to spend some quiet days away from the din and bustle of city life.
For adventure-loving trekkers, Bhandardhara is an ideal destination. The Ratangad Fort, one of Shivaji's favorite forts, is an interesting climb.

Bhandardhara is only 185 km from Mumbai. The nearest railway station is at Igatpuri, 45 km away. You can easily come here by car. Hotels are available in Bhandardhara. Your tour of the place will surely become memorable.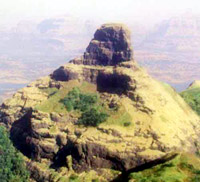 Getting there:
Nearest airport is Mumbai.
lgatpuri, 45 kms on Central Railway is the nearest railhead.
Mumbai-Bhandardhara, 185kms Pune-Bhandardhara, 191kms.
Accommadation:
Self-contained rooms (21 blocks), dormitory (1 block)
Check out time: 9.00 a.m.
Reservation: Mumbai and Bhandardhara.
General Information & Accomdation info on Bhandardara city of Maharashtra - India