Alibag
Alibag was developed in the 17th century by Shivaji's naval chief Kanhoji Angre. Alibag or Alibaug is a coastal town in the Konkan region of Maharashtra, India. It is headquarters of the Raigad district. It is situated at 18°38'29?N, 72°52'20?E, around 35 km south of Mumbai and is a popular weekend getaway for the citizens Mumbai. It is also a popular center for business conferences during rest of the week. Alibag is very popular with the Mumbai's affluent residents with most of them owning farms and bungalows here, often a few hundred metres from the seashore.
The right time to visit: November to January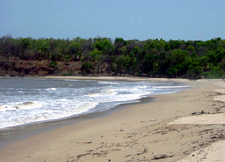 Alibag is famed for its fresh air, clean waters and clean sands.
A ferry service from Gateway of India in South Mumbai to Alibag carries most of the tourist load. The trip takes just 45 minutes. The alternate is by road, which is a roundabout route and takes about 3 hours from the city.
Beaches
Distance of various beaches from Alibag is as follows:
Alibag-Kihim=> 12 k.m.
Alibag-Saswane => 18 k.m.
Alibag-Awas => 16 k.m.
Alibag-Rewas => 24 k.m.
Alibag-Chaul Rewdanda => 15 k.m.
Alibag-Nagaon => 7 k.m.
There are many beaches in and around Alibag:
Alibag beach: It is the main beach of the town. One can see the Kolaba fort from here (not to be confused with Colaba of Mumbai).


Akshi Beach: It is situated 5 km away from Alibag.


Nagaon beach: It is situated about 7 km away from Alibag and is famous for coconuts and betel nuts.


Kihim Beach: Kihim is a secluded place at a distance of 12 km from Alibag. The Kihim beach is famous for dense cover of Coconut trees. It is also famous for woods, which are home to rare butterflies, birds and flowers.


Awas: It is situated about 16 km away from Alibag.


Saswane: It is situated about 18 km away from Alibag.


Rewas: It is situated about 24 km away from Alibag.


Chaul Rewdanda: It is situated about 25 km away from Alibag.


Mandawa: It is situated about 20 km north of Alibag. The catamaran/ferry services are available from Mumbai to the Mandawa jetty. Many Bollywood celebrities own bungalows here.


Kashid Beach: It is situated about 30 km away from Alibag, on the Alibag-Murud highway.
---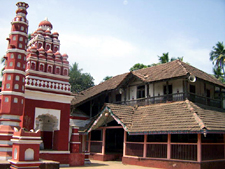 Other attractions
Kolaba (or Kulaba) fort (Not to be confused with Colaba): It is situated in the sea at a distance of 1-2 km from the Alibag shores. At the time of fall, one can walk to the fort in waist-deep water. However, during the tide, boats need to be used.
Kanakeshwar temple: It is situated on a hill near Mapgaon village, about 12 km away from Alibag and falls on the way to Mandawa.
Tower of St. Barbara.
Chaul: It is a historic town situated about 15 km away from Alibag. It is famous for its Portuguese ruins, an old church, a synagogue, Buddhist caves, the Hamam Khana and a temple.
Vikram Vinayak Temple or Birla Temple, Salav: It is situated about 20 km away from Alibag, on the way to Janjira.
Sagargarh
Kanhoji Angre Samadhi
Uma-Maheshwar temple
Balaji temple
Murud-Janjira: Janjira is the legendary fort situated not very far from Alibag.
---
Road: One can reach Alibag through Pen (124 km away), which is well connected with Mumbai and Pune. From Mumbai, one can reach Alibag by going straight on Mumbai-Goa highway till Wadkhal (or Vadkhal) and then taking right turn. The distance is approximately 130 km.


Railways: The nearest rail railway station is Pen.


Catamaran/Ferry: The nearest jetty is Mandawa, from where catamaran/ferry services are available to Gateway of India, Mumbai. From Mandawa, one can take a bus to Alibag. These services are not operational in the monsoons, due to heavy rains.
By Boat
There are boats and hovercrafts leaving from the Gateway of India on a daily basis from 0600 hrs to 1800 hrs except during monsoons. Journey time is 45 minutes to Mandwa and approximately 45 min. onwards by bus to Alibag. The fare is Rs: 50.
Small passenger service boats ply frequently between Mumbai and Mandwa or Rewas. They are cheap but take more than 90 min.
Launch Time Table: Timing depends upon high tide, low tide

By Road
There are a number of buses plying round the clock from Mumbai, Parel, Dadar, Boriwali and Thane. Alibag is on the Mumbai-Goa route (not exactly - from Vadkhal - there is a diversion) and is also accessible by Konkan Railway. Get down at Panvel and you can catch a bus.

By Rail
Only two options - Get down at Panvel (65 Km) or Pen (Only Konkan Railway - Get down at Ramawadi Station - 23 Km). You can catch a bus. I will not recommend this option.
By Air
Mumbai is the nearest airport (Approx. - 110 Km). Pune is another one (140 Km). Getting off at Pune is not a good choice. You don't get frequent buses and journey is horrible. Mumbai is always a better choice.
Get down at Alibag bus stand. It is approximately 1.1 Km from that. (Near Raigad Zilla Parishad or Civil hospital). You may hire an auto.
General Information & Accomdation info on Alibag city of Maharashtra - India