Wildlife

[ Dandeli Kali Wildlife Sanctuary | Nagarahole National Park | Bandipur National Park | Bhimeshwari | Ranganthittu Bird Sanctuary | Bhadra Wildlife Sanctuary | Biligiri Rangana Hills | Kabini ]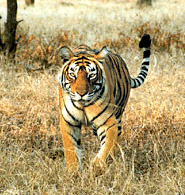 Dandeli Kali Wildlife Sanctuary
Dandeli Kali Wildlife Sanctuary, the calm and peaceful sanctuary, is the largest wildlife sanctuary in Karnataka. It is another natural habitat for the wildlife in the area.One can find very rare animal and birds here. The main attraction is the black panther which is very rare in Asia. Other species of this wild life sanctuary are sloth bear, bush grail, deer, elephant, sambar, tiger, gaur and partridge.
The Dandeli Wildlife Sanctuary also offers wildlife jeep safari, bird watching, crocodile sighting trips, fishing, coracle boat rides and trekking in its great wilds. The signing and rustic river Kali flows through this Jungle. It is worthy to see the amazing sites of crocodiles relaxing under the sun and drove of exquisite water birds flapping their wings in the tranquil waters of the river Kali

Dandeli is :
125 km from Goa
481 km away from Bangalore
95 km from Belgaum
57 km of Dharwad
Getting There:
By Train : From Bangalore or Bombay, from Dharwad/Hubli Railway Station and then continue by road. Total trip time: One and a half hours.
By Road : Buses are available daily to Dandeli from most areas. You can take an overnight bus from Bangalore to Dandeli.
By Air : Dandeli is about a 2-hour flight from Goa.
---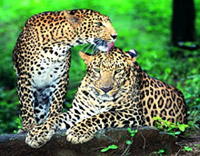 Nagarahole National Park
Nagarhole National park, one of India's best wildlife parks, was set up in 1955. It derives its name from the combination of two Kannada words-'Nagar,' means snake, and 'hole,' means streams. A number of streams snake through the rich tropical forests of Nagarhole. The Nagarhole forest was once an exclusive hunting ground for the Maharajas of Mysore. The park has been recently renamed as Rajiv Gandhi National Park .
The park is situated within the Koodogu (Coorg) and Mysore districts of Karnataka. The sanctuary borders the Kerala State. The Park is gently undulating with lush green vegetation, swamps and numerous water resources. It has a large elephant population.
Other species found in this sanctuary are the tiger, panther, chital, sambar, and sloth bear, langur, bonnet macaque and slender loris, leopard, jungle cat, jackal, wild dog and sloth bear. There are also more than 250 species of birds, including the malabar trogon and malabar pied-hornbill and birds of prey such as crested hawk-eagle and crested serpent-eagle.
The Kabini River to its northern side with a picturesque reservoir attracts thousands of people. This artificial lake attracts a large number of animals, making it an ideal spot for sighting wildlife.

Getting there :
By Road : Nagarhole National park is well connected to adjoining places of Karnataka. Motorable highways link the park to the towns of Madikere (90 km) and Mysore (96 km) . The journey from both places lasts approximately 2 hours.
By Rail : The nearest well-connected railway junction is Mysore,
By Air : The nearest international airport is Bangalore (220 km). Various airlines link Bangalore to the rest of the nation.
---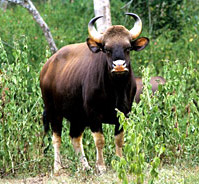 Bandipur National Park
Located along the Kerala-Tamil Nadu border and lies on the Mysore-Ooty highway, Bandipur National Park is one of the beautiful forest reserve in India. It was the private game reserve for the Maharajas of Mysore. It was created in the year 1930 from the local Maharaja Voodiyar's hunting lands, and named Venugopal Wildlife Park. The entire area now constitutes the vast Nilgiri Biosphere Reserve, one of India's most extensive tracts of protected forest. It has been a designated tiger reserve in 1973. The park is spread across 87,420 hectares.
There are an estimated 1900 Wild Asiatic Elephants who are seen in herds in the rainy season. Bandipur is also famous for tigers. There are 66 tigers in the park. Other natural inhabitants of this forest are gaur (a type of bull), sambhar, chital, mouse deer, four-horned antelope, barking deer, wild boar, jackal, sloth bear, panther, Malabar squirrel, red-giant squirrel, porcupines, and the black-naped hare.
How To Get There
By Road: Bandipur National Park is located on the highway connecting Mysore and Ootacamund (Ooty). All regular and express state transport buses plying between Ooty and Mysore pass through the park fringes and the Forest Department Center. It takes 2' hours to reach Bandipur forest from Mysore and about 3 hours from Ooty.
By Rail: The nearest rail junction is Mysore (65 km)
By Air: the nearest international airport is Bangalore (204 km).
---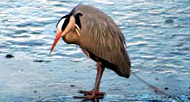 Bhimeshwari
The Bhimeshwari lies between the twin falls of Barachukki and Gaganachukki and the Mekedatu fall. It is a perfect picnic spot, where nature is at its best. It is the natural habitat for the Mahseer fish and is also known as fishing destination. A variety of exciting animals that can be found here are herds of elephants, Deers, wild Boars, Monkeys, Jackals, Crocodiles, Otters and even Leopards. And a number of species of birds like Heron, Ibis, Cormorant and Kingfisher are found here.

How To Get There
By Road: About 82 kms from Mysore.
By Rail: The nearest rail junction is Mysore (65 km)
By Air: the nearest international airport is Bangalore (204 km).
---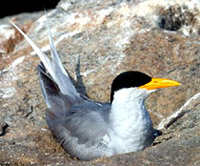 Ranganthittu Bird Sanctuary
Ranganthittu Bird Sanctuary is situated on the banks of Cauvery near Mysore. The sanctuary was declared a bird sanctuary in 1940. The sanctuary is quite popular both among Indian and foreign tourists. The sanctuary is a paradise for wildlife enthusiasts. It is home to a wide variety of animals like Crocodiles, otters and flocks of birds. Exotic birds that come all the way from Siberia, Australia, and even North America can be found here. Some of the birds you come across on your birding tour to Ranganathittu Bird Sanctuary include snake bird, darters, spoonbills, river tern, open bill storks, white Ibis, little cormorants, egret, heron, stone plougher, kingfisher and partridge.
A boat ride takes you to the six islets that teem with a number of species of birds. Oarsmen serve as experienced guide, who take you to some popular spots where you can spot birds in flocks.
Getting there:
You can take a flight to Mysore or Bangalore, which are two nearest airports to Ranganathittu Bird Sanctuary. You can also reach Mysore and Bangalore by a train. Ranganathittu Bird Sanctuary is well connected by road with other parts of the state.
---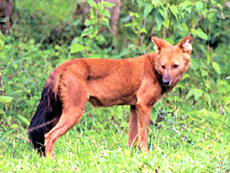 Bhadra Wildlife Sanctuary
The Bhadra Wildlife Sanctuary in the Chickmagalur and Shimoga District, is one of the best sanctuaries in Karnataka. The sanctuary gets its name from the Bhadra river, which flows through this region. In 1951, a part of this area covering 252 sq. km. was constituted as "Jagara Valley Game Sanctuary". In 1972, "Bhadra Wildlife Sanctuary" was constituted by amalgamating Jagara Valley with the adjoining Lakkavalli forests. Bhadra Sanctuary, split between Chickmagalur and Bhadravathi forest divisions, now has an area of 492 sq. kms. Its two component areas, Muthodi and Lakkavalli, are ecologically somewhat distinct and are almost conterminous with two forest ranges of the same name. The highest peak of the sanctuary is Kallahathigiri with a height of 1875M. It is a deciduous forest. More than 100 tree species find here, which include Teak, Rosewood, Mathi, Honne, Nandi, Tadasalu and Kindal. A big teak tree called Jagara Giant with a girth of 5.21 mts and aged about 300 years is one of the attractions of the sanctuary.
The sanctuary is home to the Indian Tiger, the leopard, sloth bear, giant squirrel, gaur, sambar, elephant and slender loris etc. More than 250 birds have been identified Among birds, those to be spotted are the king vulture, great horned owl, Indian tree pie, great pied hornbill, black napped flycatcher, black winged kite, ruby-throated bulbul, open billed stork, racquet-tailed drongo etc. The marsh crocodile, flying lizard, monitor lizard and different kinds of snakes are some of the reptiles found here.There are also exotic butterflies, which include yamfly, baronet, crimson rose, southern birdwing, tailed jay, great orange tip, bamboo treebrown, blue pansy.
Getting there:
By Road: 30 kms from Chikmagalur 257 kms from Bangalore
By rail: nearest rail head Kadur 40 kms.
By Air: Bangalore - 265 kms. Mangalore - 180 Kms
---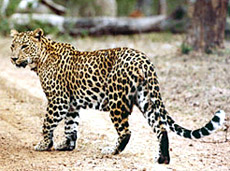 Biligiri Rangana Hills
Biligiri Rangana Betta, literally means 'Ranganatha's Whiterock Hill' in Kannada is a lofty hillock situated at a height of 5,091 ft., at a distance of 28 km from Yelandur and 90 km from Mysore. The forest around is named Biligiri Rangaswamy Wildlife Sanctuary Tall trees and the natural serenity of the forest provide home to animals like panthers, gaur, chital, sambar, bears, tigers, elephants etc. The hill near the forest was called Shwetadri, means white hill. This is because the hill's weathered granite cliff face appear white in colour. The Venkatanatha temple renamed by Tipu Sultan as Ranganatha temple and described it as a temple of Lord Ranganatha.
The serene surroundings, the soft reverberations of the bells and the songs of the birds in the background at this complex are sure to rejuvenate your souls. In the month of April a 'Rath festival' is held which is worthy to witness.
Getting there:
By Road: Situated about 120kms from Mysore city via Chamarajanagar
By rail: Nearest rail head Mysore
By Air: Bangalore - 265
---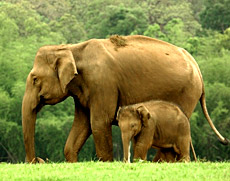 Kabini
Kabini, close to the Karapur forest, was once used as the hunting lodge of the erstwhile Mysore Maharajahs. For the adventurous spirits it offers steep valleys with rich forests, spectacular pools and rapids that provide an ideal opportunity to revive oneself. The fresh air and the whistling wind remains fresh in your memories. This jungle is home to leopard, gaur, antelope, crocodile, tigress with her cubs, cobra, python and herds of elephant among other animals.
It also have shelters of almost 250 bird species like the osprey, brown-headed fishing eagle, racket tailed drongo, goldenbacked woodpecker, stork and peafowl

Getting there:
By Road: 220 km from Bangalore and 80 km from Mysore. The best way to get here is by road via Mysore, on the Mysore-Manantawadi road - a drive of 5 hours.
By rail: Trains from Bangalore are available for Mysore, from where car rentals are possible.
By Air: Bangalore
Information on wildlife tours, wildlife viewing, wildlife park and nature of Karnataka - India