Traditional Crafts
Karnataka, the state having a rich cultural heritage, presents an enchanting range of objects of arts and crafts. The craftsmen create masterpieces out of mere wood, metal, fabric or just good earth which capture hearts of millions. The patronage of the Maharajas for centuries, these traditional crafts are preserved, developed and promoted by the state. Many great dynasties left their imprint upon the aesthetic development of Karnataka's art forms. The variety offered is really astonishing exquisite sandalwood carvings, intricate inlay work on rosewood, splendid bronzes, beautiful bidriware, colourful lacquerware toys, ethnic dhurries, batiks, stone-studded jewellery and incense sticks.
[ Woodcarving | Ivory Carving | Metal Ware | Stone Carving | Doll Making | Bidriware | Folk Art and Craft | Mysore Paintings | Mysore Silk ]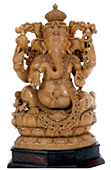 Woodcarving
South India in general and Karnataka in particular is famous for densely carved ebony wood furniture. The abundant forest resources provides sufficient raw material to the craftsmen who continue to employ ancient techniques to carve, inlay, veneer, paint, and lacquer articles in wood. The ancient temples where wood has been used extensively is a proof of their calibre. Rosewood articles are favourite with the tourists.
The city of Mysore is the centre of wood work. Craftsmen in the city of Mysore have specialised in making exquisite articles that depict landscapes, pastoral scenes, elephant herds, birds etc.
---
Ivory Carving
Ivory carving was another traditional craft of Karnataka. But due to ban on Ivory trade, the craft has received a setback. Some of Mysore's masterpieces in ivory are now preserved in the Heritage Museum in Russia and in the South Kensington Museum, London.
---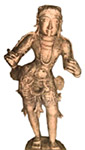 Metal Ware
Metalware in Karnataka has a rich and ancient tradition and the objects serve both religious and secular purposes. Udupi is famous for its small images and ritual objects, while Karkala is well known for its Jain icons. Mangalore boasts of domestic articles made of bell metal while Nagamangala near Mysore is celebrated as a center for bronze casting.
---
Stone Carving
Stone carving is a skilled craftsmanship prevailing among the people of Karnataka. Karnataka has a village called Shivarapatana in the district of Kolar, where every fourth house is a sculptor's studio. The stone carvers are skilled craftsmen.
Karnataka is also famous for the fragrance of sandalwood. It is used extensively to produce charming art pieces. The range of objects and designs are varied and the gudigar families of Shimoga, Uttara Kannada and Mysore districts specialize in this craft. Sandalwood lends itself to extremely delicate carving that is needed to embellish the figures of gods and goddesses. Krishna images are very popular among the devout, while many prefer to buy utility articles made in sandalwood which include lamp shades, caskets, trays, jewel boxes, combs and even walking sticks with rosewood handles.
---

Doll Making
Doll making is another famous craft in Karnataka. During the nine day Dussera festival, the homes display dools in a glass-covered shelf in the drawing room. Dolls are favourites among women and children alike and every family has a large collection of these. These are symmetrically arranged on wooden platforms. Kinnal and Gokak in north Karnataka and Channapatna on the Bangalore/Mysore highway are important centers for doll making. Most of the dolls made are painted with vegetable dyes while the Channapatna ones are lacquered. The art of making puppet has galvanized many wood artisans and painters to produce a variety of puppets. Besides puppets made of wood, Karnataka also makes leather puppets which are more extensively used.
---

Bidriware
The most popular craft of Karnataka is bidriware. This craft had its origin from Bidar, a district of the Bahmani kingdom founded in the 14th century. Bidriware-a well-developed craft, which includes the use of a metal plate of an alloy made of zinc, copper, tin, and lead. Sultans of the Bahmani dynasty were great patrons of art and were instrumental in synthesizing Mughal and Iranian culture. The technique of bidri came to India from Iran in the 14th century. Captivated with the exquisite beauty of bidriware, Sultan Ahmad Shah Wali brought from Iran the master artisan, Abdullah-bin-Kaiser along with several other craftsmen. They were entrusted with the delicate job of furnishing and decorating the royal palaces and havelis. Bidri articles include ornamental jugs, bowls, plates, penholders, candlesticks, and even paper knives.
---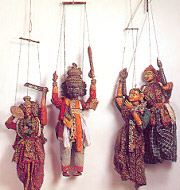 Folk Art and Craft
Karnataka has a rich tradition of folk arts - crafts and music, dance and drama forms. Some of Karnataka's folk arts and age-old rituals have given rise to many traditional handicrafts. The worship of spirits-the bhuta cult-in the coastal districts has encouraged the making of huge wooden idols, some of which are kept outside villages as guardians of the inhabitants. Likewise, the art of puppetry has encouraged many wood carvers and painters to produce a variety of puppets. In addition to puppets made of wood, Karnataka is famous in the world over for its leather products painted with epic and mythological scenes, done in gold and silver.
---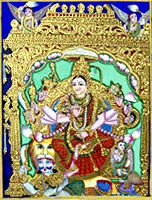 Mysore Paintings
Karnataka is famous for Mysore Painting. The Mysore art dates back to the Ajanta times and to the reign of the Vijayanagar kings. It was revived in the state of Mysore during the reign of the Wodeyar king Mummadri Krishnaraja Wadiyar . A Mysore Painting usually depicts an Indian God from the Hindu mythology and a complete Mysore Painting,made with all the sincerity and hard work is a real sight for the onlookers. It gives you a very soothing feeling, a feeling of inner peace and tranquility. The delicate lines, the graceful delineation of figures and the discreet use of bright vegetable colors and lustrous gold leaf, make the traditional paintings of Mysore very elegant and attractive.
---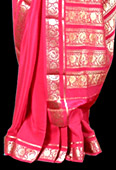 Mysore Silk
Mysore silk, with its unique sheen and regal look, amazing drape, pure yarn and zari, has held its own among all other silk fabrics from India and abroad. The contribution of Karnataka to India's silk industry is significant. Karnataka's 200-year-old silk industry owes its origin to Tipu Sultan who ruled Mysore. He showed a very personal interest in sericulture and also established 21 centers in his dominion to rear the silk. The very word silk has fascinated man for many centuries. It has become an inseparable part of the Kannada culture and tradition. No ritual in complete without the participants wearing silk in some form or another. Today, Karnataka alone is contributing 75 per cent of mulberry silk to the nation's production. Today, it is the Karnataka Silk Industries Corporation (KSIC) which holds aloft the State's supremacy in silk and silk products, from classy dress material, stoles, and furnishings to the most resplendent of saris.
Information on Traditional Crafts, arts, handicrafts of Karnataka - India