Shopping
Karnataka is a shopper's paradise. You can buy a variety of articles like sandalwood sculptures, agarbattis, perfumes, sandalwood oil, and other small gifts like pens, metal lamps, wood carvings, and inlay work. Karnataka's rich cultural heritage is evident in every product made by skilled, dedicated artisans.
[ Metalware | Wood Carvings Sandalwood Carvings | Rosewood Carvings | Mysore Silks | Bijapur Sarees, Jewellery And Handlooms | Bidriware of Bidar | Pottery | Madikeri Honey ]

Metalware
Udupi , the temple town , is famous for small metal images and ritual objects, while Karkala, an ancient Jain centre, is well known for its Jain icons. Household articles made of bell metal are commonly found in Mangalore. Mysore is famous for bronze casting. The other centres of metal craft are Bangalore, Shivarapatna, Kundapur, Shravanabelagola, and Bidar. Motifs are often taken from temple friezes. Images of gods and goddesses are amongst the more ornate metalware available plentily for shopping.
---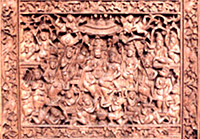 Wood Carvings Sandalwood Carvings
Karnataka is the centre of sandalwood production. The range of products and designs is varied. The Gudigar families of Shimoga, Uttara Kannada, and Mysore districts specialise in this craft. Shoppers can buy home beads, pendants, carved tables, screens, boxes, caskets, mythological figures, a host of stationery items, trays, decorative panels with intricate scenes carved on them, and even tiny bookmarks crafted from this delicately scented wood.
---
Rosewood Carvings
An ancient craft of Mysore that has found rich expression on the doors and ceilings of temples and monuments built under the patronage of various ruling dynasties.
---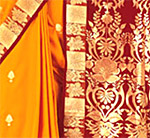 Mysore Silks
Bangalore and Mysore are reputed for their silks clothes. Woven in a unique assortment of rich colours, produced in a multitude of varieties, and interwoven with delicate gold threads, Karnataka's legendary silk sarees have become an integral part of the Kannada culture and tradition.
---
Bijapur Sarees, Jewellery And Handlooms
Handlooms from Guledgudda , handwoven Ilkal sarees, clay toys, Kinnala Paintings, and Lambani jewellery are specialities of North Karnataka.
---
Bidriware of Bidar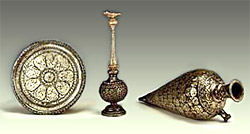 Bidar is famous as a centre for Bidriware, a well-developed craft that involves the use of metal plate on an alloy made of zinc, copper, tin, and lead. Finely crafted hookahs, goblets, paan boxes, bowls, plates, pen holders, letter openers, and bangles exquisitely embellished with interwoven vines and floral patterns are a treat to the eye. The effect of the delicate silver filigree against the metallic ebony background is striking.
---

Pottery
Belgaum and Ramanagaram , near Bangalore are Karnataka's traditional centre for terracotta,specialising primarily in the production of utility objects with a strong artistic touch. Pots of different sizes and shapes, wall panels, folk images of gods and goddesses, and animal motifs are very popular with visitors.

---
Madikeri Honey
Karnataka's finest honey comes from Bhagamandala, 30km from Madikeri, where some of Kodagu's best apiaries are located. Virajpet is also known for its honey.
Information on shopping in Karnataka - India