Excursion
[ Malpe Beach | Karwar Beach | Maravanthe Beach | Bhatkal Beach | Murudeshwar Beach | Kurumgad | Gokarna | Kaup ]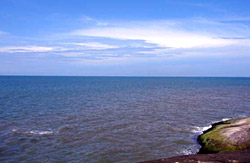 Malpe Beach
It is 66 kms north of Mangalore, about 6 kms from Udupi and around 386 km from Bangalore. It is famous for its virgin beach. The pristine beauty, the endless stretch of golden sand, pleasantly swaying palm trees, the bright blue sky and the ripple of the sea all set the perfect mood for an unforgettable holiday here. It is also an idyllic resort for boating, fishing and bathing.
A short journey by boat can take one to the uninhabited St. Mary's Isles. It's undisturbed and primitive tranquility makes it ideal for a quiet picnic. The island has an array of volcanic rocks.
Best Time to Visit: The best time to visit this beach is the season from August to March.
How to Reach
By Air - Mangalore Airport lying at a distance of 66 kms from the beach is the nearest airhead and is well connected by flights from Mumbai, Chennai and Bangalore.


By Rail - The nearest railhead is the Udupi Railway Station, which is well linked with Chennai, Bangalore, Delhi and Mumbai.


By Road - The beach is well connected by a network of roads to cities like Mangalore, Bangalore, Belgaum and Goa.
Accommodation : There are no lodging facilities in Malpe. Since Udupi is the nearest city ,only 6 kms away, people prefer Udupi for stay.
---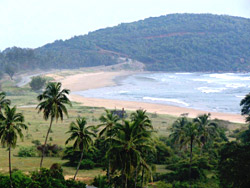 Karwar Beach
Karwar, a beautiful beach, is situated just 100 km from Goa .It is famouis for its gentle waves, palm-laced beaches, silver sand, and calm, peaceful valleys. It is an enchanting place with great scenic beauty. This beach has many attractions like the Sadashivgad Hill Fort with a Durga Temple, the unique octagonal church, the 300-year old Venkatrama Temple with ochre paintings and the Naganatha Temple, where an ant hill is worshiped. Devbagh is the most enchanting of the five islands along the Karwar coast.
Best season to visit Karwar is from September to mid May.
How to get there:
By Air - Nearest Airport is at Mangalore.
By Road - Karwar is connected by road to Goa, Belgaum, Hubli, Dharwar, Mangalore and Mysore.
By Rail - Hubli is the nearest rail junction.
Accommodation: Devbagh Beach Resort, Kiran Deluxe Hotel, Hotel Navratna, Tourist Bungalow; Circuit House; Inspection Bungalow; Hotel Badhra; Hotel Ashok.
---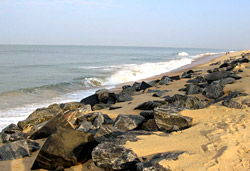 Maravanthe Beach
The beach is situated 50 kms from Udupi, a unique seaside town of Karnataka. The West Coast Highway cruises alongside the Arabian Sea on one side, with the picturesque Kodachadri Hills forming a backdrop to the Sauparnika river on the other. The beach makes quite a promising site for water sports and holidaying
Sunsets at Maravanthe are particularly beautiful when the golden rays of the Sun are reflected both in the sea and the river. A drive further up are the Belekal Theertha falls, near Baindur. Other attractions around Maravanthe are Baindur, Ottanane and Belaka Theertha falls. Best season to visit this beach is from August to March.
How to Reach:
By Air - Mangalore is the nearest airport from Maravanthe beach Karnataka. From here you can pick a bus or hire a taxi to the beach.


By Rail - The nearest railhead from Maravanthe is Kundapur (18 km) and Mangalore (110km). Take a bus or hire a taxi from here to reach the beach.


By Road - Maravanthe beach is 450 km. from Bangalore, 130 km. from Gokarna, 275 km. from Goa and 50 km from Udupi by road. Kundapur is well connected from all these cities.
Best season: August to March
Accommodation: Turtle Bay Resort
---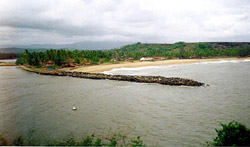 Bhatkal Beach
The picturesque Bhatkal Beach is situated 16-km from Bhatkal and 126 kms from Karwar. It was the main port of the Vijayanagar Empire in the 16th century. Marked by the flowing sea and glorious hills, this beach is a popular tourist spot and known for the gorgeous temples, the Jain Chadranatha Basadi and a 17th century Vijayanagar temple with animal carvings typical of the Vijayanagar artisans.

Best season to visit Bhatkal beach is from August to March.
---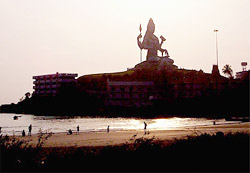 Murudeshwar Beach
It is located 16 kms from Bhatkal. Murudeshwar beach is believed to have been consecrated by a piece of the Pranalinga of Mahabaleshwara thrown by Ravana and has some beautiful carvings and statues. It is a popular picnic spot, having beautiful blue waters of the sea and the majestic mountains. Other attractions around this beach are the Murdeshwar temple, the Kanduka Giri and the fort of Tipu Sultan.
How to reach here:
Road - 500 km from Bangalore on the Hassan - Mangalore - Udupi - Kundapur route, 470 km from Bangalore on the Shimoga - Kollur route, From Kollur it is 60 kms.


Rail - The Konkan Railways Train plying on the Mangalore - Goa - Mumbai route makes a stop at Murudeshwar and other express trains too.


Air - The nearest airports are Mangalore (165kms) and Goa (220kms).
Accommodation:

Naveen Beach Resort, RNS Residency

---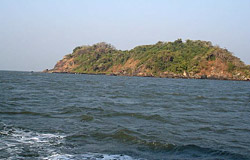 Kurumgad
Situated from 4 kms. from the mainland, this tortoise-shaped island is world famous for the hilltop Narasimha Temple. Here thousands of devotees gather during the annual jatra held on Pushya Purnima every year in early January. One can enjoy viewing the sea and the sand. One can also indulge in activities such as trekking, fishing, dolphin and seal-spotting, boat rides to neighbouring islands, diving, snorkeling, treasure hunts, guided tours, star-gazing etc.
How to reach here:
Road - NH-17 .
Rail -The Konkan Railways Train plying on the Mangalore - Goa - Mumbai route makes a stop at Karwar and other express trains too.
Air - The nearest airports is Dabolim 90 km.
Accommodation: The Great Outdoors

---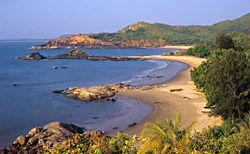 Gokarna
Gokarna is 60 km south of Karwar and 7 hours from the city of Mangalore. Gokarna means 'cow's ear'. Named for the ear-shaped confluence of two rivers which marks Gokarna. Gokarna is famous for its narrow streets, traditional houses and temples, the town of Gokarna is the favourite haunt of Hindu pilgrims, Sanskrit scholars and beach buffs. Om beach, one of Gokarna's five famed beaches, takes the shape of an 'Om,' a spiritual symbol. The other beaches, compact between gigantic cliffs that project like delicate fingers into the sea, are Gokarna, Kudle, Half Moon and Paradise.
Best time to visit: One can visit Gokarna any time round the year.
By Road -

Gokarna has good bus connections to a number of towns within Karnataka and along the west coast; Goa, for instance, is only about 5 hours away.



By Railway -

One of the best ways of getting to this town is aboard the Konkan Railway, which traverses the prettiest parts of India's western coast. Konkan Railway trains pass through Gokarna Road (10 km from the town), Ankola (25 km), or Karwar (23 km). From either of these railheads, a bus can be taken to Gokarna.

---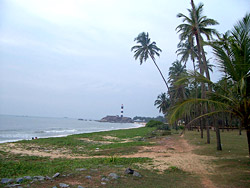 Kaup
Kaup is situated 12 kms. south of Udupi, on the coastal belt that passes through the West Coast National Highway. Kaup has a lovely beach, a ruined fort and an old 100ft. high lighthouse. There are two famous temples of Goddess Mariamma in Kaup. The Jain basadis here are in ruins, but are worth a visit.
Information on Tours & Travel excursion of Karnataka - India