Bidar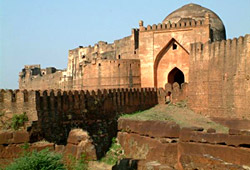 In the northern-most part of Karnataka lies Bidar - a tiny district steeped in history. As you enter the town, the Bidar Fort welcomes you with five darwazas (gates) that lead into a little town nestling within the ramparts. Enter from the Gumbaz Darwaza and steps lead you to the Rangin Mahal.
The royal residence has elaborately carved wooden pillars, Persian couplets engraved in encaustic tiles and exquisite mother - of - pearl in lay work. The Solah Khamba Masjid is the oldest Muslim building in Bidar and one of the largest in India. Not to be missed are the Gagan Mahal, the Diwan-E-Am where the fabulous turquoise throne once rested, the Takht Mahal, the Royal Pavilions, the Hazar Kothari, the Nubat Khana and the Bahamani Tombs at Asthur.
Air - The nearest airport is Hyderabad.


Rail - Bidar is connected by rail with Bangalore, Bombay and Hyderabad


Road - Bidar is connected by road to: Hyderabad (136 kms) Bangalore (669 kms) Bijapur (246 kms) Gulbarga (110 kms) Basavakalyana (73 kms) KSRTC Buses ply from Bidar to Bangalore, Bijapur, Gulbarga, Raichur and Sholapur.

General Information & Accomdation info on Bidar city of Karnataka - India