Kangra
The Kangra valley is one of the most picturesque valley of lower Himalyas. The valley, sheltered by the sublime Dhauladhar range, is green and luxuriant. It provides a tremendous contrast in nature of places to be visited. Dharamshala is full of Buddhist air whereas ancient Hindu Temples like Br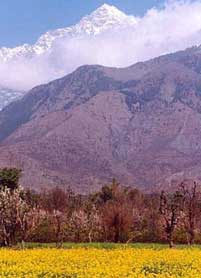 ajeshwari, Baijnath, Jawalamukhi and Chamunda Devi dot the country side.
The history of Kangra valley dates back to the Vedic times more than 3500 yrs. ago. The area was exposed to successive invasions, the last being the British domination over the princes of the hill states. Despite the onslaughts and political upheavels, the arts and crafts of the region continued to develop and found lyrical expressions. Crafts like the exquisitely designed shawls and miniature paintings of this region are internationally appreciated.
Excursion
Kangra Town
At the confluence of the Bener and Majhi streams , over looking the Ban Ganga torrent, Kangra town is famous for its temples.Notable is the shrine dedicated to goddess Brijeshwari. Kangra is steeped in history and its ruined fort - Nagarkot, stands as testimony to its glorious past. The town was attacked by Mohammed Ghaznavi and subjugated by Emperor Feroz Tuglak and Maharaja Rant Singh. Earlier, Kangra was the capital of the great hill state, its renowned ruler being Maharaja Sansar Chand Katoch, a great patron of arts. The Miniature and Rajpur Schools of hill paintings flourished during his reign.
Brajeshwari Devi Temple
Just outside the town is the temple dedicated to Brajeshwari Devi. Known once for its legendary wealth, this temple was subject to successive depredation by invaders from the North. Mohammed of Ghazni is known to have departed with a king's ransom in gold, silver and jewels in 1009. Destroyed completely in 1905 by an earthquake, it was rebuilt in 1920.
Kangra Fort
The remains of the fort of the rulers of Kangra are located on a strategic height, overlooking the Ban Ganga and Manjhi rivers.
Maharana Pratap Sagar
At an altitude of 450 metres above sea level, 32 degree north and 76 degrees east. In district Kangra 170 k.m. from Chandigarh, 110 k.m. from Amritsar, 55 k.m. from headquarters at Dharamshala. The closest railway stations are at Mukerian 30 k.m., and Pathankot at 32 k.m. The settlements of Nagrota Surian and Jawali-which are located on the sagar's periphery-are connected by the charming narrow gauge Kangra railway line that connects Pathankot to Jogindernagar. The closest airport is Gaggal 40 k.m. The lake is well served by a network of roads.
Named in honour of the great patriot Maharana Pratap (1572-97 AD). Maharana Pratap struggled valiantly for freedom of Mewar-as for the principle of independence. In words of chroniclers James Tod and william Crook, "He spurned every overture that had submission for its basis". Over the river Beas, the Pong dam was completed in 1976. Its reservoir covers an area of about 45000 hectares at maximum possible flooding.The level varies every season and averages around 30000 hectares. Over 200 villages with a population of over 85000 people lie along the wetland.
General Information & Accomdation info on Kangra city of Himachal Pradesh - India