Traditional Crafts
In this state dominated by villages, craftsmanship is largely confined to pottery and various kinds of embroidery and weaving. Theatre, an integral part of the state, is very popular here, with the themes revolving around mythology and religion.

The Kraft Bazaar is a completely new entity of Haryana Tourism that has been set up alongside the popular Oasis tourist complex. The Kraft Bazaar has beautifully designed huts/shops creating ambience of a traditional bazaar, paved paths and a tastefully landscaped environment. There are 48 shops, a stage for cultural programmes alongwith a green room for artistes, 2 exhibition halls for crafts, games for children, a welcome gate, foot paths and attractive lighting. Kiosk for ethnic fast food, children's park with fancy swings, office store, ticket counters and public convenience are other facilities being provided here. Before long, an amusement park for children will be set up in a specially ear marked area.
The Kraft Bazaar will operate round the year, with a change in craftspersons and festivities every 15 days. The Sri Ganesh Festival will be followed by the Dussehra Festival, the Kartik Fest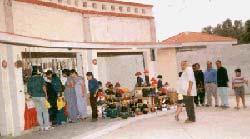 ival, the Deepawali Festival, Guru Purav, Id Festival, Christmas Carnival and the Lohri Festival.
The main attractions at the Kraft Bazaar, are cane furniture (West Bengal), decoration items & readymade garments (Nagaland), artificial flowers (Nagaland), wooden items (Karnataka), artificial jewellery (Haryana), sandalwood & bone items (Haryana), phulkari suits (Punjab), terrakotta items (Haryana), tribal metal jewellery (Orissa), dabka, patch, applique suit (Uttar Pradesh), banarsi silk items, chickan items (Uttar Pradesh), glass jewellery (Delhi), handloom products (Haryana), artificial jewellery (Delhi), wood carving furniture(Uttar Pradesh), hand embroidery(Haryana), tin and foil painting, dabka embroidery (Haryana), handloom products (Uttar Pradesh) and straw picture (Kerala). Among the participating craftspersons hailing from different parts of the country, one is a National Awardee, one is a National Merit Certificate holder and 3 are State Awardees from Haryana.
Pottery
Pottery is essentially a village craft, and Haryana is essentially a village state. The potter's wheel, dating back to pre-Aryan times, is the most common feature of any village in India.
Although numerous kinds of wheels are used throughout India, in Haryana the kick-operated type is common. With this contraption you don't use your hands to turn the wheel as in normal cases; on the other hand, you use your foot. The actual wheel may be either of cement or stone.
The material for making earthen articles comes cheap, and from the earth itself. While the potter works on the wheel, he has a helper (usually his son or a relative) mixing clay, while a woman (his wife or a sister) makes intricate designs into the finished vessel or toy.
From utensils to toys to decorative pieces, clay forms the most essential ingredient on which the potter literally survives. Seasonal festivals call for the potter to get cracking – he has to make hundreds of toys like miniature cows, horses, people, houses and sepoys which are then sold in brightly decorated stalls along dusty lanes.
Embrodiery &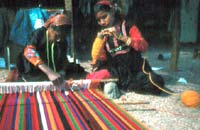 Weaving
Haryana is quite famous for its woven work, be it shawls, dhurries, robes or lungis.
The Haryana shawl, an offshoot of the shawl from Kashmir, is a work of art in itself. Known as phulkari, it is a spectacular piece of clothing, full of magnificent colours and intricate embrodiery. Worn with with a tight-fitting choli (blouse) and ghaghra (long skirt), it forms the basic winter wear for the women of Haryana.
A deviation from the phulakri is the bagh (garden). In this case, the entire cloth is covered with embrodiery inasmuch that the base cloth is hardly seen.

Phulkari
Phulkari is made by female members of a house, and takes a long time to make; sometimes even a few years.
Normally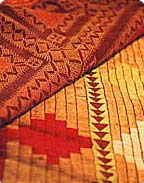 only one woman works on the design so that the uniformity is maintained. However, it is no surprise that the other women also contribute in little ways to its creation.
Traditionally, work on a phulkari commences from the time a daughter is born in the family and is given to her at her wedding.
Against a red background, motifs of birds, flowers and human figures are stitched into the cloth. The design is fed into the cloth from the reverse side using darning needles, one thread at a time, leaving a long stitch below to form the basic pattern.
The stitching is done in a vertical and horizontal pattern as well as variations from this standard format, so that when the phulkari is finally complete the play of light on its shiny surface can do wonders. Satin and silk is also used frequently to enhance the effect.
Bagh
design almost always follows a geometric pattern, with green as the basic colour probably because mainly Muslims worked on them. Although lacking in technical finesse, it makes up for the loss by a colourful display of its design.
Everything goes into its design – elephants, houses, crops, the sun, the moon, kites, gardens, anything and everything.
The embrodiery is worked into khaddar (coarse cotton cloth) with silk thread. Khaddar is cheap and locally available everywhere in India, and in making a bagh narrow pieces are used. Sometimes two or three baghs will be stitched together to for a phulkari.
Chope
Another kind of shawl is the Chope , a rather simple affair in comparison to the phulkari and bagh, and is presented to a new bride by her maternal grandmother. The darshan dwar shawl is gifted to a temple by a devotee whose wish has been fulfilled.
Durries
Haryana durries are rather coarse, although spectacular geometric designs adorn the entire rug. The Jats of Haryana are known to make durries with white triangles often set against a blue background. In Haryana, durrie making is concentrated in and around Panipat.
Karnal is a hot spot for bright robes and lungis (a skirt-like garment worn by men and originally invented by Gautam Buddha), a common garment worn by inhabitants of rural India.
Paintings
Haryana was always a rendezvous for various tribes, invaders, races, cultures and faiths, going right back to BC 2500, and it wit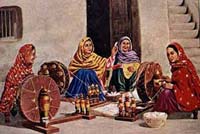 nessed the merging of numerous styles of painting.

While references to paintings are to be found of the Aryan period, art actually flourished during the reign of the Guptas (5th century BC to 6th century AD). However, these are mostly concentrtated in southern India, and nothing close to such magnificent art is to be found in Haryana.

Discoveries of earthen ware and designs painted on them in black and white in Siswal district in Haryana are the first impressions of art in this state.

Mitathal and Banwali districts have also revealed that art did exist here, but definitely on a much smaller scale than that of the Deccan and southern India. The drawings are mainly in horizontal and vertical lines, with a little more creativity allotted to floral art. During Harsha's reign art and painting received special attention for some time as the king himself was a painter of sorts.

After Harsha's death, painting flourished for a while under the Rajputs, but the establishment of the Delhi Sultanate put an end to this.

The Sultans had no love for art – they were busy fighting wars and battles and never did patronise painters. The Mughal empire was different, and art reached its zenith during this time. Jahangir was a patron of art, and during his reign the influence of the Persian painting style was happily married to the Indian style.

However, all that was happening in Delhi, and Haryana was conveniently left out in the cold. There were rich jagirdars who liked paintings, and they engaged artisans and painters to do up their houses; celings, walls, the works.

Temples were another area where the painter got to work, decorating everything within reach with landscapes, dances, hunting expeditions, wrestling bouts, birds, bees, and love scenes. Come the 18th century, and the Rewaris made sure that painters got enough work, albeit under a Rajput style.

The god Krishna was a big hit in the villages – walls, doors, windows all bore his likeness with the Mughal and Kangra styles merging with the Rajput style.

The walls of the palace of Maharaja Tej Singh in Mirpur in Gurgaon is adorned with paintings, following the Rajput pattern. The patterns on the walls express scenes from the Ramayana. The Matru Mad ki Paio in Gurgaon features mythological paintings, but these are slowly fading away.

The Asthal Bohar paintings are also in the Rajput style, and their influence can be seen even in the Shiva temples in Panchkula and Pinjore, Venumadhava temple in Kaul, the temples in Kaithal and Pabnama, the Kapil temple in Kilayat and the Sarsainth temple in Sirsa. The Rang Mahal in Pinjore is also decorated with wall paintings, an originality straight from the hands of Mughal painters.


The samadhas of Lala Balk Ram and Lala Jamuna Das in Jagadhari in Ambala are famous for their walls paintings from Hindu mythology. The entrances to both are flanked by heavily painted dwarapalas.

The Rajiwala temple near the samadhas also boasts of religious themes in its paintings. Its walls, cells and verandah have been subjected to the Jain style, while the Qila Mubarak, a two-storeyed Mughal structure is embellished with images of birds and flowers.

Kurukshetra's Bhadri Kali temple has religious themes and frescos running throughout its structure, with a broad frieze bordering the lower end. The second storey is covered with murals, as is the haveli (house) of Rani Chand Kaur in Pehowa, the temple of Shri Ram Radha in Pehowa and the temple of Baba Shrawan Nath. In fact, you'll find similar paintings in temples and holy Hindu places throughout Haryana.

The Persian style infused with script also gains prominence, especially with murals in which the Persian script is freely used. Elaborate detail forms the central theme within which verses from the Koran are written in various flowing styles, following the calligraphy method.

Mughal paintings also seeped into Hindu temples, especially in Kaithal, Kalayat and Rohtak. Here too, the subject matter is lifted right out of mythology and carry moral and spiritual messages.

In Rohtak paintings have been found which are now in possession of the Manuscripts Department of Kurukshetra University. Liberal use of blue, pink, green, orange and red enhance the beauty of these paintings which are of the Lord Vishnu and his incarnations.

Sculpture
Rock and stone were the most common subjects for the development of art, right from the Maurya period to Harshavardhana to the Mughals and the British.

However, the Mughals put a stop to carving idols and images out of rock as this was against the very basis of Islam. They went a step further, destroying temples and any such figure which crossed their path.

Sculpture in Haryana was concentrated around centrtal and northen parts and was basically religious in content. Vishnu was the most important, and he and his incarnations were enough material for sculptors to start cutting away. A figure of Vishnu found in Kurukshetra is a remarkable piece of art, showing the god with four arms gracefully reclining on the coils of Anantnag, the many-headed snake. This stone figure was probably made in the 10th century AD.

Gods formed the basis of sculpture in ancient Haryana, and likewise all over India. Sandstone was widely used, be it green, buff, grey or black. But besides the images of Hindu gods and goddesses, Jain images from the Pratihara period (9th century) have also been found, all made of sandstone. The Buddha also surfaces once in a while, like in Rohtak where he was found seated cross-legged on a lotus pedestal and made entirely of grey stone.

Information on Traditional Crafts, arts, handicrafts of Haryana - India