Sohna
A short drive from Damdama Lake, atop the Aravalli hills lies Sohna, the picturesque health-cum-holiday resort. 'Sohna' literally means `gold' in Hindi. Once, gold dust was collected from the sands of streams flowing around it and so the place came to be known as `Sona'. The last remnants of the Aravallis offer a panoramic view. Herein lies Sohna, pretty as a picture.
Adding to its beauty is a whiff of history in the form of a ruined bastion on an adjoining hill - once a glowing stronghold of local chieftains. Another hint of history comes from the Sohna town below: the waters, in times old, showed traces of gold, giving to the town the glittering name of Sohna.
To stay in Sohna is to relive some of the deepest moments of silence. Pollution and high rise sounds are a far cry. The early morning sounds are just the call of peacocks. The chime of the temple bells tom the nearby Sohna town. The greens here delight with simple groves and clusters of flowers and shrubs.
Sohna by night is breathtaking. For down below, the lights of the town glimmer like a million fireflies. A solitary vehicle shovels off the darkness once in a while. The only urban noises come from your room.

Excursion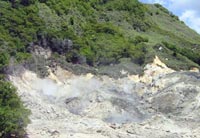 Sulphur Springs, rock climbing around Sohna – Damdama Lake – 8 kms , Sohna is also famous for its vintage Car Rally, which is held during the month of February every year
The Medicinal Sulphur Springs
Sohna is famous for its sulphur springs, reputed for their medicinal properties, with the temperature ranging from 46.10c to 51.70c. The springs are located at the feet of a perpendicular rock, and are capped by a dome believed to have been built in the 14th century. The spa complex with sauna, sulphur and steam bath facilities for the tourists is situated up on the rock. There is also a mini swimming pool, filled with water spewed from a wall mural.
---
Getting There
Sohna is 56 kms from Delhi by road.
General Information & Accomdation info on Sohna city of Haryana - India