Rewari
The district headquarter is situated in Rewari. Other smaller towns are Bawal, Dharuhera and Kosli. The total area of Rewari district is 1,559 sq km. This district borders the state of Rajasthan and the districts of Mahendergarh, Gurgaon and Rohtak.
Excursion
Historical Places
The red mosque (Lal Masjid) near the old courts (Kchahari) is among the famous historical places in the district. It was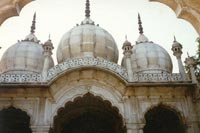 built during the regime of King Akbar in the year 1570. Also there are two monuments near the mosque.
Baag Wala Talab
This pond is situated near old tehsil office Rewari. It was built by Ram Ahir son of Rao Gujjarmal. Presently this pond is dry.
Bada Talab (Rao Tej Singh Talab)
This pond is situated near old Town Hall of Rewari. It was built (pakka-cemented) by Rao Tej Singh during the year 1810-1815. This huge pond is filled by rain/cannal water thru underground inlets. This talab had provision for separate bathing for ladies and gents.
The "Ghanteshwar Mandir" is among the famous religios places in the district. It is situated in the heart of city. The statues of all gods & goddess of "Sanatan Dharma" are eastablished in the temple. It is three storied temple. A majority of citizens come to this temple for prayers. A famus temple of lord Hanuman is situated on the bank of bada talab, this temple is visited by large numbers every tuesday. There are two church in the city since the time of British.
Apart from these are other several places in the rural areas viz: temple of "Baba Bheron Nath" at Khol, temple of "Swamy Shrnanad" at Darauli, Ashrma of "Baba Purshotam Dass" at Balwari village, temple of "Baba Raghunath" at Sangwadi village and temple of "Baba Mohan Dass" at the village Bharawas. Some of the above are monuments (Samadhi) and in the memory of these sants, the local people conduct village fairs every year.The "Bhagwat Bhakti Ashrma" of Rampura is also a famous historical place in the district Rewari.


General Information & Accomdation info on Rewari city of Haryana - India