Panipat
Situated on the banks of the river Yamuna, 92km north of Delhi , Panipat is famous in Indian history as a place where the fate of great empires was decided more than once. The cradle of ric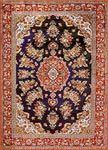 h Indian cultural heritage, Panipat is known for its handloom products.
Panipat is reputed to be one of the most fly-infested places in India. It is said that a Muslim saint, Bu Ali Shah Qalandar who is buried here had totally rid Panipat of flies. But when people complained that he had done too good a job he gave them all the flies back, multiplied by a thousand.
Since it fell on the route of land invasions to Delhi from the northwest, history was more often made at Panipat than Delhi. The repeated battles at Panipat did not leave much by way of historic relics, but the tomb of Ibrahim Lodi, the Kabuli Bagh Mosque built by Babar to commemorate his victory, the Salarjung Gate, all architectural masterpieces in themselves, bear testimony to those tumultuous times.
Today, Panipat has carved out its place among not only the first few fast developing cities, but also those having the highest per capita income in the country.
The Historical Battles
The first battle of Panipat fought in AD 1526 in which invader Babur defeated Ibrahim Lodhi, the Sultan of Delhi, on April 26. In the second battle of Panipat, on November 5, 1556, Akbar's guardian Bairam Khan defeated the Hindu ruler Hemu. Ahmad Shah Abdali, the Afghan ruler defeated the Marathas in the third battle of Panipat that took place on 13 January 1761.
Excursion
Ibrahim Lodi's Tomb
This king who was defeated by Babur in 1526 AD in the first battle of Panipat lies buried here within a tomb. The grave is simply a rectangular block placed on a high platform approached by a flight of steps made of lakhori bricks. The tomb was renovated by the British, and an inscription mentioning Ibrahim Lodhi's defeat at the hands of Babur and the renovation was included by them in 1866 AD.

Dargah Of Bu Ali Shah Qalandar
The tomb of the revered sufi saint, Bu Ali Shah Qalandar who lived in the 13th century AD has been a place of p
ilgrimage for people of religions. The grave is made of marble and decorated with beautiful sculpture. The monument underwent successive additions and alterations. Today, the Dargah beckons pilgrims from far and near and Urs Mubarak is celebrated joyously with Sufi abandon every year on the Saint's death anniversary.
Kabuli Shah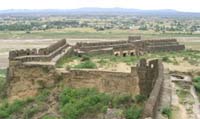 Mosque
situated 2 kms away from Panipat, Babur built this mosque. Named after his wife Kabuli Begum, it was constructedby the king to commemorate his victory over Ibrahim Lodhi. Six years later, when Humayun defeated Salim Shah, he got a platform called Chabutara Fateh Mubarak made around the mosque. The mosque is flanked by chambers on two sides and an inscription in Persian runs along the parapet.
Jain Temples
There are Jain temples in Holi Mohalla and a shrine, which is dedicated to the Muslim saint, Bu Ali Shah Qalandar. A fort rises up away from Panipat at its highest point, still guarding the city from invaders. There is a park named after the famous Urdu poet and critic Altaf Hussein Haali, who was born in Panipat in 1837 AD.
---
Shopping
Panipat is a famous handloom centre. Furnishing fabrics and woollen carpets are a speciality here. You can visit the weaving centres, see craftsmen at work and buy directly from them what is exported to markets around the world. One can expect great bargains here.
---
Getting There
By Rail
A well-developed network of rail network connects Panipat to the rest of the country.
By Road
The district is well connected by National Highway. It is connected by road and rail with Delhi (south) and Ambala (north).
General Information & Accomdation info on Panipat city of Haryana - India