Chandigarh
Chandigarh, the capital of both Punjab and Haryana, is the only Indian city to have been designed and planned by a single architect – Le Corbusier. The city, a model of wide roads and spacious residential colonies, is an excellent base for specialised sightseeing, and for visiting Sukhna Lake, Pinjore Gardens, the Rose Garden and the Rock Garden. The city of Chandigarh lies in the valley surrounded by Shiwalik Hills that hem the great Himalayas. From here one can travel northwards to the hill resorts of Shimla Kulu, Manali, Dharmashala and Dalhousie. Chandigarh is not only the most modern city in the country but has been planned to perfection by the world famous French architect le Corbusier.
Excursion
Chandi Devi Temple
The temple of goddess Chandi is approximately 15 kms from Chandigarh. The city of Chandigarh derives its name from this temple located in the vicinity of the city and a fort or 'garh' beyond the temple called Chandigarh.
Jayanti Devi Temple
This temple is 13 km from Chandigarh Bus Stand. Actually, the ancient temple of Jayanti Devi is situated in Kangra district of Himachal Pradesh but the 'Pindi' of Devi was brought here from that temple. This beautiful temple is situated on the bank of Jayanti River surrounded by Shivalik hills.
Ancient Shiv Temple of Saketri
The temple at Saketri is an ancient historical Shiv temple, just 5 kms from Mansa Devi Temple and about 20 kms from Chandigarh bus stand. Thousands of devotees throng this temple on the sacred day of Shivratri for 'pooja' andto get blessings of Lord Shiva.
Mansa Devi Temple


The temple of Mansa Devi is about 15 kms from Chandigarh bus stand and situated in the state of Haryana . Devotees from all over the country visit this temple for blessings of goddess Mansa Devi. There are two temples, one is new and the other old. The Maharaja of Patiala built the new temple.
Naina Devi Temple
This temple is situated at an altitude of around 1300 metres. The holy place is linked by a cable car. The reservoir of Bhakhra Dam presents a splendid view at the backdrop.
Gurudwara Nada Sahib
Nada was a very small village in Patiala State, which is situated in Haryana and about 15 kms from Chandigarh. On returning after his victory on Mughals, Guru Gobind Singh Ji stayed at this place and Nadu Shah, a follower of his welcomed and served him. Guruji blessed Nadu Shah and said that due to his services, the place would be known by the name of Nada Sahib. Thousands of people come here to fulfill their wishes, from all over the India and abroad.

Anandpur Sahib or Takhat Sri Keshgarh
Keshgarh Sahib is one of the five 'Takhts' (Throne) of the Sikh religion. The ancient and impressive 'Gurudwara' is highly revered by the Sikhs. Here, Guru Gobind Singh Ji baptised the first five beloved ones and created 'Khalsa Panth' in 1699 A.D. It is a revered Sikh centre, which is blessed by Guru Teg Bahadur.
Gurudwara Dukhniwaran Sahib
Situated near Patiala, Guru Teg Bahadur Ji visited this place in 1732. it is believed that by ta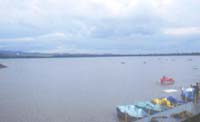 king bath in this holy place one gets cured of any disease. Basant Panchami is a special day for taking bath in this place.
Sukhna Lake
Sukhna Lake, the man made lake is located on the southeastern boundary of the Chandigarh city. The picturesque Sukhna Lake situated in the foothills of Shivalik range is an idyllic place for quiet communion with nature and for offering water sports activities such as boating, yachting, water skiing, etc. The creation of Lake was one of the greatest gifts from Le Corbusier and P. L. Varma, the Chief Engineer. To preserve its tranquility, Corbusier insisted that it be forbidden to motor boats and the top of the promenade prohibited to vehicular traffic. The lake is a perfect hangout for peaceful, romantic walks.
Rock Ga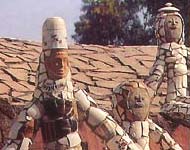 rden : A Unique Piece of Art
Next to Sukhna Lake, the rock garden is an expression of one man's whimsical but unique creativity in the city of Chandigarh, called Rock Garden. Situated in the thick forest area of sector 1, this world famous fantasy holds its own charm for the visitors. The Rock Garden can safely be billed as Chandigarh's top draw as it attracts most tourists.
The brain child of Mr. Nek Chand, the sculptures of this one of its kind garden have been fashioned out of waste and discarded material like electric wires, broken bangles, machine parts, broken ceramics and just about anything that caught the creator's fancy. Today, the park occupies an area of 10 hectares and is home to more than 5,000 sculptures. Meanwhile, Nek Chand has internationally been recognised as an important figure in the field of non-mainstream art.
Rose Garden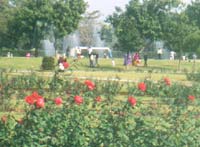 Asia's largest rose garden, Zakir Hussain Rose Garden is located next to the city centre, in sector 16. Sprawling over 30 acres of land, the garden boasts of more than 1600 kinds of roses. Affording a sight to behold during spring, the rose plants have been planted beautifully in carved-out lawns and flowers beds. Like the cultural zone, which is just across the road in Sector 10, Dr. M.S. Randhawa also planned this garden, as his interest in horticulture and fondness for flowers was profuse.
Every year, at the end of February or beginning of March, a grand festival known as Rose Festival, is celebrated at this garden. Over 20,000 people visit this festival. It's one of the great celebrations in the city. There are lots of competitions, cultural celebrations and many other events.
The Museum and Art Gallery
Located in sector 10, the building housing the museum and the art gallery, is itself, a work of great art. Historical and modern paintings and sculpture of vast range are housed in museum. There is a rich collection of rare Pahari and Kangra miniatures in the museum.
For the interest of anthropologists there is a collection of fossils of prehistoric man and his implements, unearthed in India. Within the complex is the Museum of Evolution and the exhibition gallery housing interesting features.
---
Getting There
By Air
Indian Airlines connect Chandigarh with Delhi, Jammu, Shrinagar and Leh. Vayudoot Services connect Chandigarh with Delhi, Kulu and Gaggad.
By Rail
Chandigarh, the terminus of Northern Railway, is connected with Bombay, Delhi, Kalka and other major cities in India.
By Road
Chandigarh is connected by good motorable roads with Amritsar 240 kms, Dehradhun 230 kms, Delhi 248 kms, Shimla 117 kms, Kulu 279 kms, Bhakra 116 kms, Kasauli 77 kms, Jammu 380 kms.
By Bus
Regular bus services connect Chandigarh with Amritsar, Delhi, Dharamshala, Kulu, Manali, Nangal, Pathankot and Shimla.
---
Weather
Temperature (°C)
Summer: Max 37, Min 23
Winter: Max 24, Min 5
Rainfall : 111.4 cms
Best Season: October to March.
General Information & Accomdation info on Chandigarh city of Haryana - India