Bhiwani
District Bhiwani was created on 22 July, 1972. The district headquarter is situated in Bhiwani town. Bhiwani has 442 villages, with main towns being Charkhi Dadri, Loharu, Bawani Khera and Tosham. The total area of Bhiwani district is 5,099 sq kms.
Bhiwani district has many places worth visiting. Among these are the Star Building, Loharu Fort, Tosham Hill, Gauri Shankar temple, etc. An archaeological site at Naurangabad Mound, 10 kms from Bhiwani is now being excavated.
Excursion
Star Building
Star monu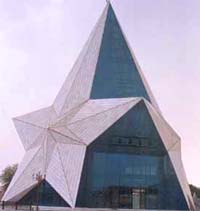 ment is one of the most breathtaking buildings in Haryana. This building houses the samadhi of Sh Tara Chand fondly called 'Maharaj ji' by his followers. The building is situated in the Radhaswami Satsang Bhawan complex, Dinaud, about 12 km from Bhiwani, Haryana.
The monument is a hexagonal pyramid, with its sides being in the shape of a star, as Maharaj ji's first name 'Tara' means a star. The height from the base platform is 88 feet, while the platform itself is raised 6 feet. Each of the six sides measure about 60 feet at the base. Out of the six, three alternative sides are covered in white marble while the other three in Italian glass. The samadhi of Maharaj ji is inside the building in the center of the floor. A unique thing about the design of this building is that it doesn't have pillars or columns to support itself.
There is a small beautifully landscaped garden around the monument. The garden houses the small hut in which Maharaj ji used to meditate. The building is not yet complete as some minor works remains to be done and it is expected to be fully completed by September, 2001. The whole cost of constructing this monument was borne by the followers of Maharaj ji living in India and abroad.
The Haryana government needs to develop the immediate area around the building and repair roads so that this spot can become one of the major tourist attractions of Haryana.
Prithviraj ki Kutchery (also known as Baradari) is where Prithviraj Chauhan, the Hindu ruler, held a durbar of sorts.
Other Attractions : Other interesting sites are shrines of Khera Baba and Lohar Pir. There's the Loharu Fort also, and an ancient Harappan mound although not much is left of what was originally on it; the 'samadhis' (tombs) of Todar Singh and Baba Shami Dayal and the mosque and tomb of Raja Khetri.
---
Getting There
By Rail
Bhiwani is an important rail junction.
By Road
The place is connected with nearby cities by a well-developed network of roads.
General Information & Accomdation info on Bhiwani city of Haryana - India