Adventures & Sports
Haryana Tourism catapulted into the arena of Adventure Sport with the forming if its Adventure Club in November ,1991. And Adventure sport had begun. The objective is to provide the young people with opportunities to realise their physical and mental potential by overcoming challenges and obstacles.Even as you read these words, some one somewhere in the state of Haryana will be venturing into our fascinating world of Adventure Sport. He might be a speak. Aboard a rubber dinghy. Speeding down on white water river-rafting. Eating away miles of the river "Yamuna, near Hathinkkund. On braving a sheer rock-face; fighting to gain a foot hold in a bid to rock climb. At Damdama lake. Or the Morni Hills near Chandigarh. Speeding past in a canoe or a kayak. Straining muscles. To be spotted a winner. At Damdama Lake. At Surajkund: or Badkhal Lake… or, simply camping and cycling near Damdama. Getting a feel of rural Haryana. Taking in a whiff of the countryside at Sohna. Or relaxing by camp fires. Listening to the sounds of silence or thrilling to the joy of hovercraft rides.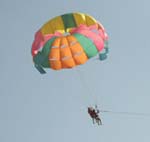 Para Sailing
Get swept off your feet and float in the air! Have a jeep pull you in to the air for short exhilarating ride under a Para Sail before floating back to mother earth; or take off from a mountain top and land in the valley below on a Para Gilder.
This is the easiest way available to get air borne for the Children and grown ups alike. The club holds regular parasailing at the Pinjore Aviation Club. This activity is also being conducted at Hisar, Karnal and Bhiwani air strips also and Adventure Club of Haryana Tourism is capable of undertaking this activity out of the state also on consult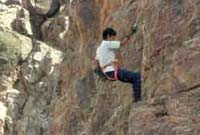 ancy basis.
Rock Climbing
Rock Climbing deals with mastering the techniques and experienceing the thrills of climbing on exposed rocks which may be from only a few meters high boulders to a few meters high boulders to a few hundred meters high rock faces of different gradients. Rock climbing is indeed the basics of sound Mountaineering.These activties are regularly being conducted at Damdama, Tikkar Tal and Solang at Manali Adventure Camps.
---
River Rafting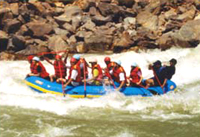 Ever thought floating down the river could be fun ? It is when you go through rapids and small water falls, fighting the waves, feeling the sheer exhilaration of coming up toppers with complete safety.
A more personal form of rafting is the kayak in which you are on a one to one basis with the water, learn to make the Kayak/Canoe to respond to your every command, enabling you to move about like an eel through the water.
The snow fed waters of the river Yamuna. Its current before it plungs into the plains… have all helped to bring white water river rafting to Haryana. In the stretch from Paonta Sahib to Hathnikund in Haryana, the river Yamuna is filled with rapids of I and II degree intensity, which are ideal for amateurs.
Rafting down the Yamuna is a splendid experience. The rafters travel past the petering hills of lower Himalays: Meander past quit stretches of the Yamuna, Fringed by forest, maneuvering rapids and shallows, till the flat lands of Kalesar arrive. The presence of the Kalesar Sal forest reserve and the Tajewala water-works close at hand, have o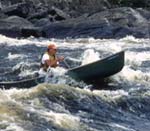 pened some of the most splendid possibilities of Adventure holidays.
Canoeing
A delightful variation in water sport is canoeing and kayaking. When days are sultry, the sport beckons. For the one who craves to exercise, there is nothing like an half hour with a kayak.
The sport can be done as two-some or alone with the safety of strapped-on life jacket. At each water front, there are experienced life guards to watch against adverse eventualities. Special water sport activities can be planned for students at Tikkar Tals at Morni Hills, Grey Pelican Yamuna Nagar and Damdama Lake.


Info on Adventures, Sports, Trekking, Mountaineering , Water Sports etc of Haryana - India