Mormugao
Close to the important industrial town of Vasco da Gama lies the main port of Goa, in Mormugao. The town has some industries and not very much e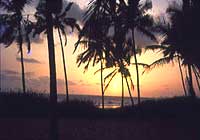 lse besides the highly dilapidated ruins of a fort, and an ironic history, which classifies it as "the town that never was".
A Ruined History
Well, leaving the dramatics aside, Mormugao was the site that was first chosen to be the capital of the Portuguese Empire. This is why, in 1685, the construction of the fort started along with the founding of a township. The Viceroy even moved to Mormugao in 1703, but the Maratha warriors (term used for Shivaji and other Hindus originating from Maharashtra, who fought against foreign rulers) attacked the site repeatedly, and Old Goa was made the capital instead.

The Port Town
Thus, Mormugao is more or less the Fatehpur Sikri of Goa, minus the monuments, of course. But with the harbour starts another lore. The port is one of India's finest natural harbours. If one wants to extricate oneself from the beaches, a sunset walk around the harbour can be a pleasant change.
Getting There
Air: Dabolim, Goa's airport, lies on top of a rocky plateau, 4-km southeast of Vasco da Gama.
Rail: The nearest railway station is situated at Vasco da Gama.
Road: Arriving by bus from Panjim or Margao, one'll be dropped off to the situated interestate Kadamba Terminus, 3-km east of the town centre from Vasco. From Vasco one can catch ferries to reach Margao harbour.
Hotels & Acoomodation
Being one of the major cities of Goa and a trade harbour, its not difficult to find good and reasonable accommodations in the city. The options include, mid-range hotels to budget hotels and tourist lodges. One can also find fine beach resort accommodations over here.
Click here for Hotels in Mormugao.
Nearby Cities
Vasco da Gama: 4-km
Panjim: 34-km
General Information & Accomdation info on Mormugao city of Goa - India