Shopping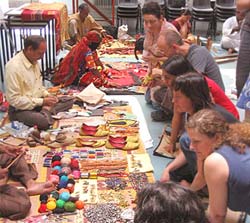 Delhi is unique in that it has representative outlets for the handicrafts of each Indian state. This in it self presents a staggering array of goods, and at very affordable prices. In the last decade there has been a dramatic change in Delhi's markets. Upwardly mobile lifestyle has led to greater sophistication in display and upgrading of various markets in terms of availability of items.

Pragati Maidan
On the left of this Zoo, there is Pragati Maidan. Founded in 1982 on the eve of Asian Games. Various Trade Fairs are being organised throughout the year. States have found their permanent stalls here with their products and merchandises. There are different museums set up here on different items of Indology. Visit Nehru Pavilion, Defense Pavilion, Indira Pavilion, Son of India Pavilion, Village Complex comprising of 7 acres of land, Energy is Life, Craft Museum with the collections of 20000 specimens of weaving products metal products - Daru and wooden products- earthen moulds and images and artifice along with other sculptural and cultural specimens for your entertainment from 10-00 to 17-00. On holidays it remains open till 20-00. At No 5 gate of Pragati, aiming at entertainment for the children, Appu Ghar Amusement Park, 3318681 has been founded, open from 12-00 to 20-00. Open from 12-00 to 20-00. Govt of India's Tourist Dept have founded Open Air Theatre here at Killa. Opp to it is Supreme Court.
Connaught Place
One of Delhi's most popular shopping centres built as early as 1931 there is nothing that one cannot buy here and it also has several eating houses. The state emporia buildings are also located in this area so are the head offices of major banks, airlines and other such things of importance to the tourist. The complex popularly referred to as CP is an important meeting points for all sections of people and is something which no tourist should miss if for nothing else then for its architecture and the humdrum of everyday life.
Janpath
Janpath is one of the busiest roads in New Delhi. Tourism Dept Office of Govt of India is at 88 Janpath. You may seek their assistance Monday to Friday from 9-00 to 18-00 and on Saturday from 9-00 to 13-00. Sunday closed. Janpath meets Rajpath going further south. To the east of Rajpath is India Gate and to the west is Parliament House and Rashtrapati Bhawan. To the further south there is the posh area of New Delhi - Defence Colony, Lodhi Colony, Greater Kailash, Basanta Bihar etc. Indira Gandhi International Airport is towards further S-West from Rajpath via Dalhousie Rd/Sardar Patel Marg/Parade Rd. On the way various foreign Consulates and Embassies there is Diplomatic Enclave Chanakyapuri. Many star hotels are also located in Chanakyapuri.
Chandni Chowk
It was the eyes and ears of the Mughal's commercial instincts and is today one of the country's best known wholesale markets for textiles, electronic goods and watches. The entire area was designed by Jahanara Begum, Shah Jahan's favourite daughter and was then inhabited by the well-to-do families of that time. There is however a word of caution and that is that there are several elements who are believed to be selling duplicate goods and the tourist needs to be careful about this.
Dilli Haat
Food and Crafts Bazaar, opposite INA Market, is a one-stop shopping place for tourists, which not only offers various arts and handicrafts of India, but also a taste of the ethnic cuisine. Visitors can also witness the different performing arts of the country.
The Haat presents a synthesis of craft, food and cultural activities. Items range from kantha saris to intricate rose wood and sandalwood carvings. One may also find beautiful footwear made of camel hide and also handloom fabrics and drapery. A touch of opulence is added with the vast treasure house of gems and bead ornaments. Live demonstration by potters and artisans is also given.
The International food plaza serves as a venue for different food festivals. In addition there are about twenty-five stalls from different states serving the special food items of those states. The stalls are let out for two years with the condition that they serve the special dish of each state.
The open-air stage is the focal point for holding special music, dance and other programs of different states. An entirely new vista opens up and the scene changes dramatically as models draped in traditional fabrics walk down the ramp in special shows.
The whole set-up and the sheer variety of items on display make a visit to Dilli Haat an attractive proposition for one and all.
Information on shopping in Delhi - India