Wildlife

The history of wildlife in Bihar commences with the legislation of Private Forests Act which restricted the Zamindar's ownership of forests. Thus, the government acquired 26,000 square kilometeres of jungle which was fast being wiped out of its fauna. Today, Bihar boasts of 2 national parks and 21 sanctuaries which includes the country's only hideout for wolves; a sanctuary for dolphins; a crocodile centre; a welcome jheel, receptive to lakhs of birds migrating from Central Asia, besides other surprises lurking from the priceless heritage of the wild denizens.
Betla National Park

Thick tropical forests adorning the surroundings, this place possesses a large variety of amazing fauna. The most important part of the sanctuary is named as Betla National park. It covers a total area of 232 sq. kilometres. A major attraction for the tourists, this place is best visited during February to April. It lies at a distance of 140 kilometres from Ranchi. Of the fauna, most noticed here are herds of Gaur and Chital. The biggest creature, the elephant, can also be seen here, when the puddles of water dry up. Among the other animals visible are the tiger, panther, sloth bear, wild bear, sambhar, nilgai, kakar, mouse deer are also permanent residents. Betla not only has exotic fauna but also plays abode to enchanting scenic views, waterfalls and hot springs. The park was declared in 1974 a tiger project reserve.
Valmiki National Park
Valmiki National Park (335 sq. km) has been created amidst 544 sq. km of Valmiki Sanctuary in the West Champaran district of Bihar, bordering Nepal. The magnificent Himalayan hills offer a relatively cooler and more picturesque hideouts to enjoy the bounties of nature. Adjacent to the sanctuary, in the forests of Nepal is the historic Valmiki Ashram amidst Chitwan National Park of Nepal. One horned rhinoceros and Indian bison often migrate from Chitwan to Valmikinagar. The forest of the sanctuary is rich in Bhabar-Dun sal, dry Siwalik sal, khair, cane etc. Tigers dominate the wildlife scene while other attractions include Chittals, Sambhars, Nilgais, Leopards, Hyenas, Indian civets, Jungle cats, Hog deer and Wild dogs. Valmikinagar ranks fourth as far as the density of tiger population is concerned.
Hazaribagh Wildlife Sanctuary

107 km from Ranchi. The best time to visit is February - March and October-November. Known for its Sal forested hills, tiger, sambar, nilgai, cheetal, leopard etcIt is situated 16 km from Hazaribagh. Set in hilly terrain, the park is a Tiger Project Reserve and is a part of the Chotta Nagpur plateau in tribal territory. Its 186 sq km is forested with grass meadows and some deep waterways The best time to visit is Feb-Apr. The park supports nilgai, deer, leopard, tiger, sambar, wild boar, chital and wild cat. There are 10 watchtowers and hides for viewing.
Palamau Tiger Reserve
180 km from Ranchi. It is also known as the Belta National Park, in the Chotta Nagpur Plateau, the park covers the area of 930 sq km of dry deciduous forest, mainly of sal and bamboo. Although it is open throughout the year yet the best time to visit is Oct-Nov. It is the second major wildlife sanctuary in Bihar which was once the home of the extinct Indian cheetah. This place is famous for its forested hills, tiger, leopard, elephant, sambar, jungle cat, rhesus macaque (monkey) and occasionally wolf. The wildlife also includes gaur, nilgai, Indian wolf and many species of birds. Over 200 species of water, woodland birds and hot springs add to interests.
Dalma Wildlife Sanctuary
10 km from Jamshedpur. The best time to visit is October-June. It is the best elephant habitat of Bihar, where the pachyderms love to spend their summer. Unlike Palamu reeling under scorching sun, Dalma continues to be pleasing with temperatures under 30 degrees C. The availability of water during summer is all the more alluring for the elephants to migrate.
Koderma Wildlife Sanctuary
Koderma Wildlif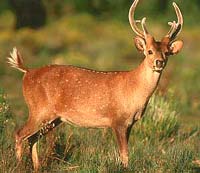 e Sanctuary (177 sq. km) situated on Patna-Ranchi highway. Besides its rich wildlife the place is famous for its numerous scenic spots. The most popular being Fhwajadhari Hillock.
Kaimur wildlife Sanctuary
Kaimur wildlife Sanctuary (1342 sq. km.) is the largest and one of the best faunal areas of the state, rich in black bucks and nilgais. Other wildlife denizens include chinkaras, tigers, leopards, hyenas, sloth bears, etc.
Bhimbandh Sanctuary
(682 sq. km) close to Bhagalpur is another home to a variety of wildlife. Besides tiger, panther, wild boar, sambhar, chittals and nilgai, the forests here are famous for hot water springs which are said to contain traces of radio active materials.
Jaivik Udyan (Zoological Garden)
Jaivik Udyan (Zoological Garden) is about 16km from Ranchi town on Ranchi - Patna road near Ormanjhi, is the zoological garden named Jaivik Udyan. A number of mammalian faunas have been collected there for visitors gaiety.
Other Wildlife Sanctuaries
Lawalong Wildlife Sanctuary - which is 100 km from Gaya.
The best time to visit is October-June.
Rajgir Wildlife Sanctuary - 102 km from Patna.
The best time to visit is October-June.
Topchanchi Wildlife Sanctuary - 100 km from Dhanbad.
The best time to visit is October-June.
Kabar Lake Bird Sanctuary - 22 km from Begusarai.
The best time to visit is November - March.
Information on wildlife tours, wildlife viewing, wildlife park and nature of Bihar - India