Vaishali
Vaishali today is a small village surrounded by banana, mango groves and rice fields. But excavations in the area have brought to light an impressive historical past. The epic Ramayana tells the story of the heroic King Vishal who ruled here. Historians maintain that one of the world's first democratic republics with an elected assembly of representatives flourished here in the 6th century B.C. in the time of the Vajjis and the Lichchavis. And while Pataliputra, capital of the Mauryas and the Guptas, held political sway over the Gangetic plain, Vaishali was a rich center for trade and industry.
Excursion
Ashokan Pillar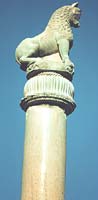 Emperor Ashoka built The Lion Pillar at Kolhua. It is made of a highly polished single piece of red sandstone, surmounted by a bell shaped capital, 18.3 m high. A life-size figure of a lion is placed on top of the pillar. There is a small tank here known as Ramkund. This pillar beside a brick stupa at Kolhua commemorates Buddha's last sermon.
Bawan Pokhar Temple
An old temple built in the Pala period stands on the northern bank of Bawan Pokhar and enshrines beautiful images of several Hindu gods
Budha Stupa-I
The exterior of this stupa which is now in a dilapidated condition has a plain surface. One eighth of the sacred ashes of the lord Buddha were enshrined here in a stone casket.
Budha Stupa-II
Excavation at this site in 1958 led to the discovery of another casket containing the ashes of the Lord Buddha.
Abhiskek Pushkarn (Coronation tank)
It contains water that was believed to be sacred in the old days. All of Vaishali's elected representative were anointed here before their swearing in. The Lichchavi stupa was located near here.
The stone casket of the sacred ashes of Lord Buddha were enshrined here in Vaish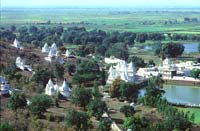 ali.
Kundalpur
Birth place of Lord Mahavira. 4Km.It is believed that the Jain Tirthankar, Lord Mahavirwas born over 2550 years ago. Mahavir is said to have spent the first 22 years of his life here.
Raja Vishal ka Garh
A huge mound with a circumference about one Kilometer and walls nearly 2 m high with a 43m wide moat around them, is said to be the ancient parliament house. Over seven thousand representatives of the federal assembly gathered here to legislate and discuss the problems of the day.
Shanti Stupa
On the south bank of the coronation tank, built by Buddha Vihar Society.
---
Traditional Crafts
Several villages around Vaishali make delightful home made toys.Sikki Work, the humble blade of grass is hand-woven into delightful baskets and mats. Lac bangles, these handmade lac bangles come from nearby city Muzaffarpur.
---
Getting There
By Air
The nearest airport is Patna (70 Kms).
By Rail
Hajipur on the north eastern railway station (35 Kms) from Muzaffarpur Railway station (40 Kms)
By Road
Vaishali is well connected by road to Patna (56 Kms), Muzaffarpur (36 Kms) and Hazipur (35 Kms)
---
Weather
Temperature (Max / Min) Deg C:
Summer 44/21
Winter 23/6
Rainfall:120 cms
Best Season: October to March
General Information & Accomdation info on Vaishali city of Bihar - India