Jamshedpur

This is the place where the foundation of Indian Steel Industry was laid in the end of the last century. Late Jamshedji was the founder of this city who founded Tata Iron and Steel Company at this site. This city is named after the founder and has two names Jamshedpur & Tatanagar. It is heavily industrialized but very clean and modern.
Excursion
Jaduquora
Located on Hata-Musabani road and is about 40 kms from Jamshedpur.
Musabani
40 kms from Jamshedpur, Copper Mines are located.
Noamundi
64 kms South West of Chaibasa. It is mining centre for Iron ores.
Ghatshila
23 miles east of Jamshedpur, Ghatshila is the birth-place of late Bibhuti Bhushan Bandyapadhaya, a famous writer. Timber industries are situated here.
Jubilee Park
This is 200 Acre Park with a mini golf course and a lake.
Dimna Lake
8 miles from Jamshedpur nestling at the foot of Dalma hills.
Rivers Meet
The confluence of rivers Kharkai and Suberurekha is located.
Dalma Hills
North of S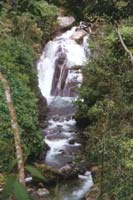 ubarurenkha river it stretches from east to west by about 16 kms. It is accessible by Jeepable road.
Water Falls
Durga Mahadeva
4miles of Tromundi has 6 water falls from a height of 50 ft.
Hirni falls
42 miles north of Chaibasa on Ranchi - Chaibasa Road.
Accommodation : There is an Inspection Bunglow here.
Dasam falls
62 miles from Jamshedpur on Tata - Ranchi Road.
Forests
Kolhan Forest, Chaibasa Forest, Saranda Forest, Dalbhum Jungle, Porhat Forest.
---
Getting There
By Air
Tatanagar is connected with Calcutta by Vayudoot Flights which in turn is connected to major cities in India.
By Rail
Tatanagar (Jamshedpur) is an important railway junction station on the South Eastern Railway and is connected directly to all the major cities of India, viz. Calcutta, Bombay, Patna, Ranchi, Puri etc.
By Road
Jamshedpur is connected by road with most of the major cities in India. Regular bus services are available from Jamshedpur to Ranchi 131 kms, Patna, Gaya, Calcutta 252 kms, Hazaribagh etc.
Internal Transport
Mini Buses, Taxies, Auto Rickshaws and Cycle Ricksaws are available in all parts of the town.
Weather
Tropical Max 46.7 C, Min 6.1 C.
General Information & Accomdation info on Jamshedpur city of Bihar - India