Gaya




Bihar has some of the most sacred Buddhist and Hindu shrines. Gaya is one of the most important pilgrimage places for the Hindus. It is believed that a Hindu will reach heaven if his last rites are offered under the celebrated 'Akshayabat' or immortal banyan tree, standing in the yard of Vishnupad temple. Believed to be built on the footsteps of Vishnu, the grand temple was renovated by Ahalyabai, queen of Indore.



Deo
20 km from Gaya, Surya temple here is the site of famous Chhath puja in November. Kurkihar - ancient habitation with ruins. Presumed to be the Kukkutapadagiri mentioned by Hiuen Tsang in 7th century.

Barabar caves
40 km from Gaya, earliest Buddhist rock cut caves. Sasaram – 123 km from Gaya, tombs of Sher Shah Suri, his father and son. There is a cave with Ashokan edicts and a Dargah on Chandan Pir Hill.

Pawapuri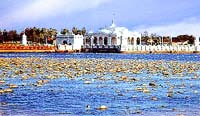 In Pawapuri or Apapuri, 38 km from Rajgir and 90 km from Patna, all sins end for a devout Jain. Lord Mahavira breathed his last here and was cremated here. People took away not only the ashes but also the scooped out earth and thus a tank came into being. Now the famous Jalamandir marble temple stands at the site. There is another Jain temple here viz. Samosharan.
Parasnath hill
It is believed that 22' tirthankars' out of 24 attained salvation here and is one of the most sacred pilgrim centres for the Jains.
Call of the hills
The Chotanagpur plateau is one of the most beautiful areas in Bihar. Studded with hills 300 – 900m in altitude and covered with verdant virgin forests, this area of rivers, lakes, meadows and valleys is an ideal retreat of peace and beauty. Rich in wildlife, these forests are an anthropologist's delight, since the ancient lifestyle of the tribes like Santhal, Ho, Munda, Oraon, Koi, Chero, Kharia, Paharia has remained essentially unaltered.
Ranchi
This erstwhile summer capital of Bihar is 676 m in altitude and is a beautiful hill station. There. are beautiful water falls around, with lilting names like Hundru, Jonha, Dasamghagh and Himi. Other landmarks are a Shiva temple on a hill top with Ranchi lake at the foot of the hill, and Morabadi hill and Tagore hill.
Hazaribagh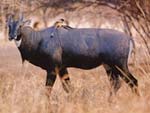 A small hill resort 93 km from Ranchi and 616 m above sea level, though having usual lakes and hills, is more famous for its wildlife sanctuary. Wildlife like bear, nilgai, sambar, chital, tiger, panther, kakar, etc. can be viewed from 10 watch towers.
February – March and October – November are the best seasons for visiting here. Tilaiya dam 63 km away is a picnic spot.
Netarhat
Called the 'Queen of Chotanagpur' this exquisite little hill station has fantastic sunrise and sunset. Situated 1127 m above sea level, it has beautiful waterfalls around, like Upper Ghagri and Lower Ghagri.
Palamau
A popular tourist resort 140 km from Ranchi. Betla National Park is nearby where gaur, chital, elephant, sloth bear, wild bear, sambar, nilgai, kakar, chinkara, mouse deer, dhole, tiger and panther can be seen. This is one of the Tiger Project Reserves. There are tree top towers, watch towers and ground level hideouts for professional photographers. February – March and October - November are the best seasons and excellent accommodation is available here.
Jamshedpur
It is one of India's earliest planned cities and to this day beautifully maintained and managed, in spite of being an industrial township. Industrial giants like TISCO, TELCO are situated here. Surrounded by the Dolma hills, it has retained its hill station atmosphere.
Damodar Valley
Site of one of the earliest power projects, river Damodar is harnessed here in a massive network. Maithon. Panchet and Tilaiya are the major dams.
Bhagalpur
Famous for its silk and a university town today, it has a long heritage of learning. The ruins of the ancient Vikramshila university is 42 km away. Rock cut temple at Colganj and Vishnu temple on a hill top are tourist attractions.
Monghyr
The little town has nothing to show today for its long history except a Mughal fort and a temple, but it was once the capital of the ancient Anga kingdom. The British conquered Bihar in the battle of Buxar at Buxar nearby. There is a sound and light show at Buxar recounting the story of Ramayana and history of India.
Getting There
Gaya is an important railway junction. There are bus services from all important towns of Bihar.
General Information & Accomdation info on Gaya city of Bihar - India